MAX BLAIR LIKED EAST BAY RACEWAY PARK AS A KID COMING WITH HIS FATHER, BUT HE LIKES IT BETTER AS A DRIVER WHO CONTINUES HIS WINNING WAYS FOR A SECOND YEAR IN THE SUNSHINE STATE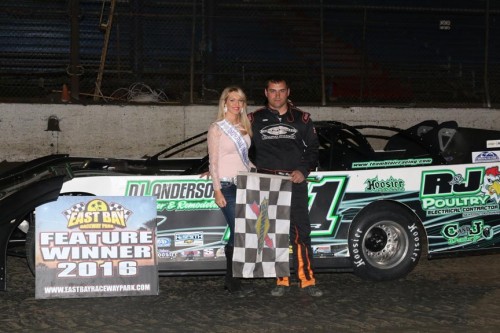 Tampa, FL (2/5/16) – The 40th Annual East Bay Raceway Park Winternationals for Crate Late Models got underway on Friday February 5 after a one day delay for rain, but Max Blair put the time to good use and kept up to the race track and dialed his new Rocket chassis in perfectly for the $2,500 to win race.
It was off to a rough start as many yellows were displayed to the field as Ken Monahan and Mike Pegher, Jr .brought the field to the green for the first of 35 laps, but it was Pegher, Jr. who led the way after several attempts and got things going with Blair close behind. The two survived several more restarts until got by on lap 12 to take the lead briefly but not for long as Pegher regained the top spot one lap later.
But action came to a halt on lap 15 when Ralph Morgan, Jr. got upside down and Jimmy Sharpe, Jr. landed on top of him resulting in seven more cars being collected, and fortunately no drivers were injured. When the race continued Pegher led for two more laps before Blair took command in his new Rocket.
Blair thanked Mark and Josh Richards, Steve Baker for building his winning car, his girlfriend Brandy and her whole family, Ron and Lori Previty for keeping the food supplied and helping on the car. He appreciated held from sponsors Murphy's Logging, R&J Poultry, Moody and Son Welding, C&J Dairy and Genesis Shocks and most of all my Dad, Robbie Blair.
"I've won the RUSH Touring Series and had my biggest win, $20,000 in a Crate Fastrak Race, but I love it here at East Bay."
Tim Dohm finished second, Bryan Bernhardt, Jason Welshan and Doug Horton was fifth. Mike Knight, Mike Pegher, Jr., Jamie Slatton, Keith Nosbisch, and Josh Peacock rounded out the top ten.