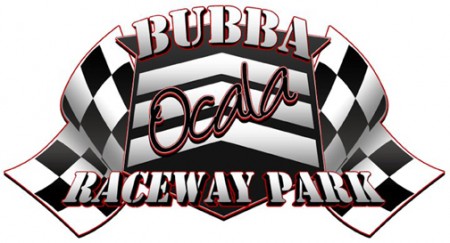 Jim Rouse (11-19-12) Ocala, FL – Bubba Is Thankful Weekend will see 6, maybe 7, champions crowned over the 2 days as the RaceCar Engineering Late Models, Scorpion Racing Products Modifieds, Buddy's Home Furnishings Limited Late Models, 1-800-ASK GARY Thunder Stocks, Barfield Law Group Mini Stocks, Rent-N-Roll Gladiators, and Twisted Tea Top Gun Sprint Cars all get at least 1 more shot on the clay. Friday's event will host Modifieds, Thunder Stocks, and Gladiators as well as the finale for Late Models and Sprint Cars.
Mark Whitener and the #58 Big Frog Motorsports team have put up some big numbers in 2012 and it seems inevitable that "The Magic Man" will take the title back to Middleburg. There's still plenty to fight for, however, as glory and $3000 sits on the line. Christian Augspurger, fresh off of a win at his home track in the UDLMCS, will try to take home another big win (yes, his other win did come in a $3000 race over? #58). Ivedent Lloyd, Jr., Tyler Ivey, Richard Ferry, the Nosbisch brothers, Bo Allen, and Jeff Mathews will throw their hands into the mix and show what an All-Star caliber race is all about. A champion will receive his crown and it's going to be magical.
Kyle Bronson and the #40B Hammond Motorsports team never flinched and have never trailed in the title battle. Bronson has been so dominant in 2012 that, with a weekend sweep, he will set a Modern Era record for most wins in a season (over all divisions). Incredibly, he's won 12 of 18 races (with 3 runners-up and 3 DNFs) in a masterful season. Kyle Strickler, the Reutimann's, Jeff Mathews, Wayne Hammond, and Mark Whitener are the only drivers to beat him, including Winter Nationals events! (Those make him 14/20 but the record only counts points races) Dalton Lanich comes off of a huge win and could prove to be a thorn in KB's side as they fight for $2000. History is on Bronson's side AND out his windshield!
Early in 2012 it seemed nobody wanted to win the title as 4 drivers were within 1 night of the lead. As the year progressed, however, Jonathan Appleby used the points system to his advantage and is 1 of just 2 drivers with back-to-back wins this year. Appleby, however, began to falter as Shane Nichols put up a span not to be forgotten: 1-1-4-1-1-1-1-2 (on a tie-breaker). That equates to 392/400 under the old system and 36 bonus points in the new system. Unfortunately, his car was totalled in a nasty crash last week which means Appleby, barring a miracle from Nichols' camp, may cruise to a title. Don Winne and Appleby have sacraficed much in 2012 and the work may have paid off.
It's down to this: 4-Cylinders, 3 Drivers, 2 Races, 1 Champion. Tony LaPorta, the gray-haired driver, is still in with a chance but it seems as though driver #3T is done after a dominant year. Steve Johnson, the touch-of-gray driver, unofficially leads by 1 point but the S&S Roofing machine has had plenty of mechanical problems the last month. "The Youth" Brandon Haseleu, the no-gray-whatsoever kid, came out of nowhere to join the title fight back in September. Winless in over 50 features he's taken 5 since Mid-August and could become the youngest champion in the Modern Era (possibly in track history) by 1 year and 76 days over Bubba Christian. Pick your generation- it's gonna get wild!
Matt Kurtz and the #92 team will clinch the Twisted Tea Bubba Raceway Park championship by scoring 14 points (showing up, barring a DQ). Mark Ruel, Jr. must finish 6th to have a shot while Tony Agin would have to finish 5th AND 2 spots ahead of Ruel to take the hardware home. On the Top Gun Sprint Car Series it's also Kurtz and Ruel 1-2 while Danny Martin, Jr. is 3rd over Agin. Those 4 can all win it but Martin and Agin will be eliminated if Kurtz starts (without a DQ) on either night. Kurtz will clinch with 1 race remaining if he wins and Ruel finishes 4th OR beats Ruel by 4 spots (Kurtz holds tie-breaker in any case). Ruel is currently 142 down (150 to win) so it's Kurtz's to lose at this point. Anything could happen, however, but the Peruvian Outlaw will have to hope for problems on the Jacksonville Jet's side.
Bubba's Pit Stop opens at 1 while pits open at 4, stands at 5, and racing at 7. For more info reach us on Twitter (@BubbaRacewayPrk), Facebook (Bubba Raceway Park), on-line (www.bubbaracewaypark.com), or by phone at 352-622-9400. Cash is up for grabs, titles are on the line, and it's going to be a show you don't want to miss! See ya at the track!