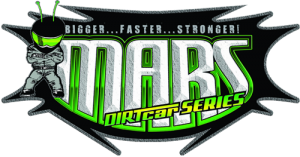 By Ronnie Williams – Springfield, MO.- The racing action at the "Quick Quarter" of the Springfield Raceway will be back in high gear Saturday Night September 15th with the running of the 12th Annual Larry Phillips Memorial featuring the MLRA and MARS Super Late Models as the speedway pays honor to the Springfield "Living Legend" Larry Phillips as Joplin's Home Pro Improvement Store will be the event sponsor for the second straight year. Rain Date will be Saturday September 22nd.
This will be the 4th round of Super Late Model Dirt Racing action at the Springfield Raceway this season between the two Regional Late model Sanctions as there has yet to be a repeat feature winner.
Defending event and MLRA Champion John Anderson of Omaha, Nebraska will be leading a star studded field of cars featuring current MARS Series point leader Jesse "The Undertaker" Stovall, Tony Jackson Jr., Mark Dotson, Justin Asplin, Former Turkey classic winners Justin Wells, Ken "The Flying Farmer" Essary, Brandon Morton, 3 time event winner Terry Phillips of Springfield, and many more of the top Dirt Late Model Drivers in the 4 State and Regional Area.
This will be the 4th LP Memorial held at Springfield Raceway after Lebanon I-44 Speedway had shut down after the 2008 season.
Support Action will feature the USRA Modifieds competing in a $500 to win and $100 to start feature and awarding USRA National Points, B Modifieds (No National Points Awarded) in a $300 to win and $45 to start feature, Midwest Modz competing with the winner gathering $150 to win and $35 to start, Pure Stocks (Must Bring your home track rules to compete or run under Springfield Rules), Legends, Young Lions and Street Stocks.
Drivers will draw for heat spots and passing points will set the feature line-up. The top 8 from the USRA Modifieds will redraw.
Pit Gates will open at 3:30 with local drivers meeting at 5:20 and Hot laps starting at 5:40. Racing action will begin at 6:30 PM. Drivers draw cut-off is 5:45 and drivers after that will start tailback in heat with No Passing Points awarded. Pit Passes will be $35.
The Grandstands will open around 5PM and Adult Admission for the Larry Philips Memorial Presented by Home Pro of Joplin will be $20 for Adults with kids 6-12 only $5 and Under 5 Free.
Late Model Tire Rule will be the Hoosier WRS D55 or LM 40 with UMP National Points Awarded.
For more information visit the website at WWW.SpringfieldRaceway.Com or contact Jerry Hoffman at 417-673-7426 and be sure to visit and like the Facebook page
Home Pro has a rich history of racing tradition as owner John Tullis and his family have rich racing roots in the Missouri area as John's father, "Fast" Freddie Tullis Sr was a many time champion in the 4-state area in Stockcar racing not only at the Joplin area tracks but also at the big 1/2 mile Dirt track in Springfield,Mo.  John Tullis himself was a very established racer with father Fred Sr helping him along until his passing.  Fred Sr is a member of the Ozarks Area Racers Hall Of Fame and went head to head against Larry Phillips many times at the Fairgrounds in Springfield.