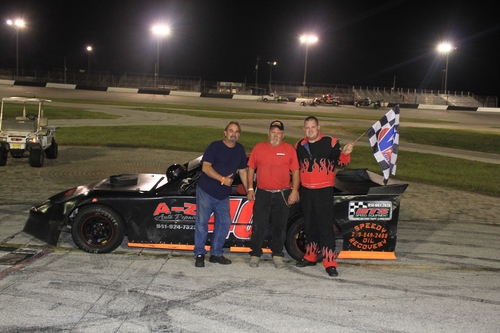 In auto racing, they like to say that it's not where you start, it's where you finish. At the Full Throttle Speedway Saturday night, it was a case of where you restart that decided where you finish. Bill Vandeveder of North Fort Myers led for the first 30 laps of the Street Stock 35 lap featured race before a restart enabled J.R. Welding of Sarasota to seize the lead and take the checkered flag.  "I knew the restart was going to kill me," Vandeveder said. "My tires were five months old and I couldn't get a grip." In spite of numerous caution flags, assorted spinouts and falling sheet metal and steel from various race cars, Vandeveder maintained his narrow lead. Almost as remarkable as Vandeveder's gritty performance was a third place finish by Bobby Fisher of Naples. On the 18th lap, Fisher tapped out for causing Vandeveder to spin out on the straightaway. That moved Fisher to the back of the pack. In 17 laps, Fisher skillfully moved from last place to third. Twenty one cars came to do battle and after all the smoke cleared and the checkers were flying, thirteen cars crossed the finish line. Some of the cars were clearly not in the same shape as they arrived in with fenders, hoods and a lot of missing sheet metal missing but the drivers put on a great battle to the end for the fans. There was an autograph session for the Street Stock drivers before their featured event, that had many fans and lots of kids down on the track, up close and personal to meet and greet them.
In the heat races, Rob Kehler won in the Dwarf Cars competition. Billy Campbell won in the 6-lap Outlaw Modified race.
John Pummel Jr. of Arcadia was tops in the Cowboy Cadillacs heat. In the Junk Yard Dogs heat, a trio of racers from Myakka City – James Widner, Daltin Ellis and Josh Widner finished – 1,2,3.
In the pre-race qualifications Bobby Fisher turned in the fastest lap by navigating the 3/8ths of a mile track in 16.861 seconds.
The 20-lap Dwarf Cars feature race was won by John Bailey of Sarasota. Port Charlotte's Roger Richmond was second and Rob Kohler of Naples was third.
Mike Endee won the 25-lap Outlaw Modifieds feature by making a low side pass of Billy Campbell on the first lap. Campbell briefly led before Endee retook the lead. Tom Meyer finished third. "Billy got inside me, but then he got ahead of me," Endee said. "He surprised me, but I got out ahead."
The 20-lap Cowboy Cadillacs feature was full of restarts, hard nosed racing and wheel banging action. After a double file restart on lap 4, the yellow flag came out one lap later when a fire extinguisher littered the track. On lap 16, a collision between fellow Arcadians John Pummel Jr. and Mike Bialecki on the front straightaway brought out the caution flag for the fourth time. The racers exchanged a few words before the race resumed. After the restart, Kris Bridges of Venice raced to his first win at the Full Throttle Speedway. Bialecki placed second and Ed Snyder of North Port came in third. Bridges hadn't expected to be racing that night. His initial win had him at a near loss for words. "I really don't know what to say," Bridges said. "(I hope) that this is the start of many more (wins). I wasn't expecting to be here tonight."
Bridges went on to thank the Holmes family for allowing him to get his first win.
Racing action at the Full Throttle Speedway resumes on Saturday, October 19th. A  50-lap Open Wheel Modified feature race and a 35-lap Road Warriors feature are two of major races scheduled. Also racing will be Pro 4, Rookie 4, Junk Yard Dogs and the Cowboy Cadillacs return.
Full Throttle Speedway
We are located 9 miles east of I75 (exit 220) on SR64 in Bradenton , Florida
Address: 21000A SR64 E Bradenton , FL 34212
Tel: 941-748-3171
General Admission price
13.00 Adults
11.00 Seniors
kids 12 and under FREE with adult
Saturday gate times
Pit Gates open at 1:30
Front Gates open at 4:30
www . fullthrottleracepark .com
10-12-2013
FULL THROTTLE SPEEDWAY RACE RESULTS
STREET STOCK
1. 40 J. R. Welden Sarasota
2. 33 Bill Vandevender N. Ft. Myers
3. 2 Bobby Fischer Naples
4. 6 James Nanny Bradenton
5. 7 Blaine Baer Port Charlotte
6. 71 Darrin Ellis Myakka
7. 19 Jim Medendorf Naples
8. 57 Jim Brenner Bradenton
9. 3x Dwayne Best Myakka City
10. 10 Tim Miller Bradenton
11. 9 Donnie Ollie Sr. Lehigh
12. 64 Bill Bowman Bradenton
13. 36 Stuart Vandevender N. Ft. Myers
14. 50 Dave Blanchard Bradenton
15.80 Richard Nelson Port Charlotte
16. 97 Chris Scott Nakomis
17. 91 Ander Jackson Punta Gorda
18. 1 Mark Pickelsimer Palmetto
19. 88 Derek Lucus Sarasota D.N.S.
20 67 Jimmie Best Sarasota D.N.S.
21. 26 Brian Hillyer North Port D.N.S.
OUTLAW MODIFIED
1. 26 Mike Endee
2. 00 Billy Campbell
3. 04 Tom Meyer
4. 51 Mark Datton
5. 5 Kevin Endee
6. 22 Jim Lafere D.N.S.
7. 61 Paul Richards Jr. D.N.S.
COWBOY CADILLAC'S
1. 6 Kris Bridges Venice
2. 8 Mike Bialecki Arcadia
3. 5 Ed Snyder North Port
4. 63 James Wright Naples
5. 86 John Pummell Jr. Arcadia 5 Ed Snyder North Port
4. 63 James Wright Naples
5. 86 John Pummell Jr. Arcadia
JUNK YARD DOGS
1. 5 James Widner Myakka City
2. 171 Dalton Ellis Myakka City
3. 8 Josh Widner Myakka City
4. 27 Austin Lykins Parrish
DWARF CARS
1. 17 John Bailey Sarasota
2. 33 Roger Richmond Port Charlotte
3. 56 Rob Kohler Naples
4. 2 Larry Hubbard jr. Cape Coral
5. 77 Larry Hubbard 3 rd . Cape Coral D.N.S