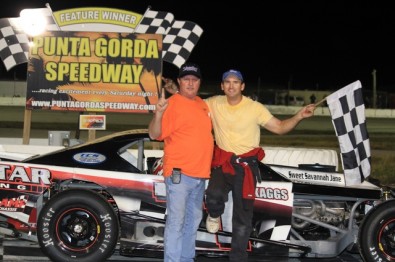 Fans were not disappointed with the full night of racing action at the Punta Gorda Speedway, they saw flips, spins, wrecks and tempers flared.
The first feature up was the Perfect Pest Control Pro 4 were Kris " the Man" Bridges jumped into the lead on lap two. While Paul Richards Jr worked his way through the field, trying to keep his winning streak alive, other drivers were trying to break that streak and take the win. Bridges had a fast car running as the leader, while Skyler Null was hooked up and chasing him down. Richards tried several times to past Null but could not, until lap thirteen when Richards gave himself a flat tire trying to pass Null. The field bunched back up for the restart and Bridges took off and Null went with him for that second spot and that is how it finished with Richards coming in third but would be D.Q.ed for unsportsmanlike conduct in the winners circle, giving third place to Ryan Collver.
T.Q. Midgets were up next and another flip over, coming out of turn four by the 7 of Jamie Barnum who was ok and walked it off down the front stretch to the pit area. The winner was young Chris Gimmler who made the pass on Mike Belusar with five to go who finished second and a hard charging Rob Kohler was third.
Becca Monopoli continued her winning streak in the Legend class when she jumped out to the lead on lap two and never looked back. Mike Verhaagh was running a strong second till something broke and forced him to the pits and bringing out the only caution on lap sixteen. That turned the second spot over to Tony Steinbuck and third went to Joey Langis.
Dwarf cars had an exciting race that saw Andy Pryor of Bonita Springs dominate the entire feature while being chased closely by Darren Bass until Bass pulled into the pits with five to go. Ray Gonzales took over the second spot on the restart and hung on while Rob Kohler gave it his all and had to settle for third in this race also. Two great finishes for Kohler in two different classes.
The race the fans were waiting for was the Open Wheel Modifieds, who were lined up straight from their heat race finish. Two fast cars sat on the front, it was Ted Head on the pole and Steve Arnold outside while returning driver Terry Vaughn and L. B. Skaggs were second row. The green flag dropped, and dropped and dropped as there were four cautions in the first two laps and some heated tempers. After a few points of the black flag to the drivers by the flagman and cars lined up were they should be instead of were they wanted to be, it was back to racing. Arnold was out to the lead while being chased by L.B. Skaggs, till Skaggs made the move and passed Arnold on lap fifteen. A lot of good hard racing going on behind the leader for position but when the checkers flew, it was L.B. Skaggs that had the fastest car and wining the race. Steve Arnold of Cape Coral was second and Eric Rudd of Naples was third.
Street Stock had a caution free twenty five laps that saw the top three cars run bumper to bumper the entire race and it could have been any ones race. It was Bobby Fischer of Naples in the lead while Ryan Pancoast of N. Ft. Myers second and Richard Nelson of Port Charlotte was third that made it look like a 3 car train race. Was Fischer going to hang on and break Pancoast's winning streak, five laps to go and still bumper to bumper. Three laps to go, Pancoast takes it to the outside and makes the past on Fischer to bring home his third win in a row and making it his ninth win in nine races. After a "lengthy" tech inspection, all drivers were awarded their finishing positions, with Fischer second and Nelson third.
Outlaw Modifieds were here to race the Merle Caswell Memorial Challenge Race that qualified for position and saw the 19 of Kevin Campbell of Tampa set fast time but would start in the rear for the feature. It was Ric Mills of Arcadia that led the first lap until Mike Endee of North Port took over the lead on lap two and ran the entire race as the leader. Fast qualifier Campbell chased Endee the entire twenty five lap feature but came up short finishing second and Mills hung on to round out the top three.
The last race of the night was the Road Warriors and the fans that stuck around till the end were not disappointed as sixteen hard fighting racers went at it for twenty five laps. The first lap was something to watch as it seemed there was not enough asphalt to go around as coming out of turn three, cars were squeezed high and low. The 29 of Phil Ellis took the low road and bounced through the grass while others took the high road and barley made it through but everyone was still going in the right direction so the race was on. Chris Scott of Nakomis came out of that as the leader on the first lap with Jason Miller second till some didn't fair to well and the caution came out on lap two, with some having to make a quick pit stop or not able to return. The 80 of Richard Nelson had to pull into the infield with what appeared to be a broken drive shaft and ended his night. The green was out and it was Chris Scott that held off a hard charging Jason Miller for the entire race while the battle was going on for positions behind them. Phil Ellis had the third spot till Chris Loney made his way by with nine laps to go for that third spot and Ellis hung on for fourth while Ann Marie Ricardi, the only woman driver in the class brought home a great fifth place finish.
Next week DEC 8th- LATE MODEL SPORTSMAN RETURN, PRO TRUCK,
ROOKIE TRUCK, PRO4, COWBOY CADILLACS, AND ROAD WARRIORS
visit our web site for all up to date information at www.puntagordaspeedway.com
or find us on facebook at PuntaGordaSpeedway
PUNTA GORDA SPEEDWAY RESULTS
12/01/2012
Open Wheel Modified
1. 71 L.B. Skaggs
2. 19 Steve Arnold 2Cape coral
3. 12 Eric Rudd Naples
4. 1 Roger Blevins Auburndale
5. 17 Scott McDaniel Cape coral
6 . 92 Ted Head Auburndale . 92 Ted Head Auburndale
7. 8 Johnny Allen LeHigh 8 Johnny Allen LeHigh
8. 33 Chico Alberto St. Pete
9. 2r John Rogers Naples
10. V1 Terry Vaughn
11. 67 James Dubose Arcadia
Outlaw Modified
1. 26 Mike Endee North Port
2. 19 Kevin Campbell Tampa
3. 22 Ric Mills Arcadia
4. 24 Don Peacock Key West
5. 61 Paul Richards Jr. Naples
6. 7 Brian Nanticole Canada
7. 15 Dan Nanticole Canada
8. 51 Mark Patten N. Ft. Myers
9. 56 Jim Lafreniena
Street Stock
1. 47 Ryan Pencoast N.Ft. Myers
2. 2 Bobby Fischer Naples
3. 80 Richard Nelson Port charlotte
4. 7 Blaine Baer Port Charlotte
5. 57 David Bowman Bradenton
6. 33 Jim Middendorf Naples
Road Warriors
1. 97 Chris Scott Nokomis
2. 10 Jason Miller Lehigh Acres
3. 33 Chris Loney Naples
4. 29 Phil Ellis Nakomis
5. 22 Ann Marie Ricardo Naples
6. 13 Justin Teston Lehigh
7. 43 Mark Petty
8. 5 Jeremy Daring Lehigh Acres
9. 44 Rick Hess Englewood
10. 98 Aaron Hardgrove Lehigh
11. 17 Chris Ferguson
12. 8 Jeff Deeble Port Charlotte
13. 80 Richard Nelson Port Charlotte
14. 11 Mike Kohut Lehigh
15. A1 Jesse Gargus Naples
16. 1 Rick Reed Punta Gorda D.N.S.
Pro 4
1. 63 Kris Bridges Venice
2. 87 Syler Null Fort Myers
3. 04 Ryan Collver Ft. Myers
4. 91 Jessica Ostrovskis St. Pete
5. 99 Johnny Marra Cape Coral
6. 00 Dan Collver N. Ft. Myers
7. 56 Steven Babcock Punta gorda
8. 13 Alex Teston Lehigh
9. 61 Paul Richards Jr. Naples D.Q.
Legends
1. 59 Becca Monopoli Lakeand
2. 54 Tony Steinbuck Tamarac
3. 26 Joey Langis Coral Springs
4. 48 Carl Haag Port St. Lucie
5. 55 Conrad Molter Naples
6. 7 Mike Verhaagh Fort Myers
7. 01 Mike Endee North Port D.N.S.
T. Q. Midgets
1. 51 Chris Gimmler Palm Beach Gardens
2. 63 Mike Belusar Punta Gorda
3. 30 Rob Kohler Naples
4. 11 Jimmy Wilkens 3 rd . Fort Pierce
5. 17 Ray Smith Port Charlotte
6. 2 Geoff Styner Cape Coral
7. 6 Jay Stutz Riverview
8. 58 Stu Chamberlain Pine Island
9. 7 Jamie Barnam Brooksville
Dwarf
1. 4 Andy Pryor Bonita Springs
2. 17 John Bailey Sarasota
3. O8 Rob Kohler Naples
4. 2 Larry Hubbard Jr. Cape Coral
5. 56 John Athorton Cape Coral
6. 75 Ray Counts North Port
7. 25 Darren Bass Clarenton
8. 77 Larry Hubbard 3 rd . Cape coral