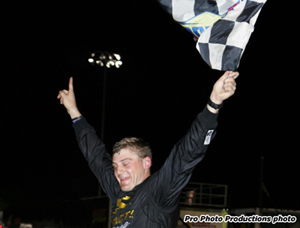 Charlotte, NC 7/30/12– Kyle Grissom was declared the winner of the PASS South Southern Sizzler 150 at the Orange County Speedway Saturday night when rain showers moved in on the 3/8th mile track with just five laps remaining picking up his third series win of 2012. Grissom took the lead down the back stretch from the fourth starting position and never looked back leading all 145 laps of green flag racing.
"We had a real good car here this weekend at Orange County and it showed. Greg Marlowe has really worked hard on this car to get as much speed out of it as possible so I have to say thanks to him," stated Grissom in a rain soaked victory lane. "This is a big win for us when it comes to the points standings. I know the #62 team had some problems, so that will help us build a little gap but we can't let up as we get ready for the next one at South Boston."
Sunshine and hot temperatures were the story throughout the day, but soon after PASS South rookie Nate Caruth scored his first ever fast time award during qualifying rain showers soaked the Orange County Speedway delaying the start for approximately ninety minutes. After superior track drying efforts by officials, Preston Peltier and series newcomer Jody Measamer lead the field to green. It was Kyle Grissom though from the fourth starting position who put his #31 Harrison's Workwear machine out front to lead lap one.
With the reoccurring threat of rain in the area it didn't take long for two and even three wide battles to breakout throughout the field. Many drivers took the approach that the event may only last past the halfway point on lap seventy-five making for some intense racing early on. Lap seventeen was a result of that hard racing as Austin Reed brought out the yellow after spinning hard into the turn three wall. With the field back under green single file racing settled the chaos allowing drivers to save their equipment and tires with the hope of completing all 150 laps.
With the halfway point in the books business once again picked up on track as David Latour Jr, Preston Peltier, Gray Gaulding, and veteran Jay Fogleman rode nose to tail and often side-by-side on several occasions for positions second through fifth while leader Grissom made his way through lapped traffic a half straightaway ahead. Just shy of the lap 100 mark defending spring event winner Ross Kenseth pulled into the pit area with a mechanical issue that eventually ended his night erasing any chance of his plans to sweep both events at Orange County. The biggest story of the night came on lap 108 however as Brandon Ward who entered the night just two points behind leader Grissom in the championship standings pulled into the pits without power under green flag conditions. Ward's wiring harness melted against the #62 machine's headers ending his night.
With the laps winding down and lightning intensifying a battle between Landon Cling and Jody Measamer for the seventh position sent Measamer's #98 machine into a spin cycle bringing out the yellow for the third time on lap 145 erasing Grissom's massive lead. Just as the field doubled up to go back to green flag conditions the bottom fell out with rain soaking the Orange County Speedway for good forcing officials to call the race complete on lap 145. The third victory this season for Grissom is the most by any driver this season as was Preston Peltier's sixth podium finish in a row. Gray Gaulding's third place finish was his best career PASS South Series finish after finishing fifth his last outing at Motor Mile several weeks prior.
Next up for the "BIG BOYS WITH THE BAD FAST TOYS" PASS South Super Late Model Series is the Southern Virginia 150 at the South Boston Speedway located in South Boston, Virginia on Saturday night August 18th. For more information on the PASS South Series or any of the PASS sanctioned series visit http://www.proallstarsseries.com/.
PASS South-Southern Sizzler 150
Orange County Speedway-Rougemont, North Carolina
Official Results
1)      #31 Kyle Grissom
2)      #26 Preston Peltier
3)      #2 Gray Gaulding
4)      #4 Jay Fogleman
5)      #19 Nate Caruth
6)      #29 Landon Cling
7)      #89 David Latour Jr.
8)      #98 Jody Measamer
9)      #72 Scott Hecker
10)   #12 Scott Hensley
11)  #11 Mark Gibson
12)  #71 Jimmy Doyle
13)  #101 Erik Nash
14)   #09 Randy Gentry
15)  #62 Brandon Ward
16)  #43 Van Knill
17)  #25 Ross Kenseth
18)  #33N Roger Lee Newton
19)  #48 John Batten
20)  #18 Bill Catania
21)  #14 Austin Reed
22)  #22 Josh Morrow