By- Jim Rouse, BRP Media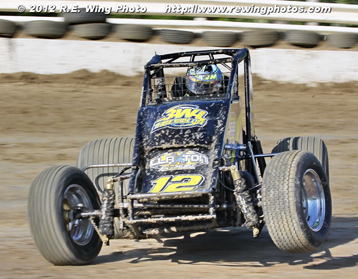 The storm of racing at Bubba Raceway Park continues after a break for rain and the Top Gun Sprint Cars are back! Joining them and gunning for $1000 are the Hobby Stocks, 1-800-ASK GARY Thunderstocks, Barfield Law Group Mini Stocks, and Rent-N-Roll Gladiators. And Bubba's Pit Stop opens at 1 PM on Saturday so arrive early for a Happy Hour for the thirsty!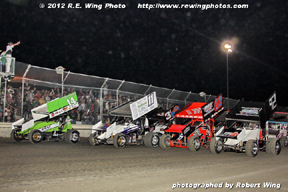 At the center of the Sprint Car storm are points leaders Danny Martin, Jr. (1-time winner) and Mark Ruel, Jr. Martin has looked strong in his Crawford Tire #82 while Ruel has been the same but hasn't put his Xpress Graphixx #83 in Coors Light Winner's Circle yet. Just 2 points behind is the 2-time winner Matt Kurtz. Those 3 are within 2 points while 5th is only 34 out. "Flyin" Ryan Partin and Andrew Griffin round out a very strong top 5.
A tie in the 2nd storm sees the Rick Friend driver Trevor Gamble, 3-time winner, and "Raging" Rodney Wright, 2-time points winner, up front. Wright, the GSR Designs/Sheffield Motorsports driver actually tried a Modified out 2 weeks ago and looked just as comfortable as he does in the #99. "Flyin" Brian Shea is 78 back in his BP Electric #19 and leads Mike Stalnaker, also a Thunderstock-turned- Hobby Stock driver, by over 40 points. Stalnaker has been overtaking almost everybody both on track and on the points board and "Dedicated" Mark Maresca was his last victim. Maresca, the Studio 19 sponsored driver, has been flying in from Minneapolis on racing weeks to earn those valuable points in his #77M. $1000 reasons for him to win and the same for the other drivers in this field.
The bar was set late last season. Down to the wire in heats, B Mains, and Features. Can they beat the Bubba Clem Era record of 43 cars entered for 1 feature? They are the 1-800-ASK GARY Thunderstock drivers and will be taking part in their 14th feature of 2012. Cheater Racing's Brian Mullins holds a 37 point lead over the high-side presence Jason Gamble. Gamble has a win already in his Certified Automotive Repair #21 while the Appleby-Winne Racing driver Jonathan Appleby has climbed back to within 50 points of the leaders. Justin Durbin, the Candler, FL driver, has had rough luck but still holds onto 4th through sheer perseverance. Durbin could become our 8th different winner while 2-time winner "Sweet Feet" Shane Nichols looks to gain those valuable tallies back. With 94 drivers having scored points you can see why this is the most highly competitive division at Bubba Raceway Park.
"Rockin" Reid Christensen leads the Barfield Law Group Mini Stocks by 32 over Charlie Staats and the 9AR Ford crew. Buddy Pope, already a multi-time winner, has his Marion Pawn An Gun Ford just 8 behind Staats in a tight division. Nick Kerr has the Dan's Discount Feed #75 placed 4th after a big win just a few weeks ago. Rounding out the top 5 is the other Sunshine State Ford driver Travis Staats. This storm has many clouds with it but the lightning is blue in a very strong division.
"Terrible" Tony LaPorta leads "Scooby-Doo" Steve Johnson and the S&S Roofing Team by 21 points in a very tight Rent-N-Roll Gladiator division. "Rockin Reid" is 35 back after a big win last time out in his 17D but he still must hold off "Little Silver Bullet" Jordan McMillon and the 68 crew. These young drivers are chasing the old dogs as is 5th place Brandon Haseleu. The young Groveland, FL driver and his father have big plans for the future and a win on the big stage is in those cards. Haseleu hopes to deliver and pocket that $1000. This division is always lightning and with no one reigning on this division it's all class.
Bubba's Pit Stop opens at 1 (don't get caught speeding)and closes at 3. Pits open at 4 and grandstands at 5. Racing is scheduled for 7. For more information you can go to www.bubbaracewaypark.com or call the Speedway at 352-622-9400!