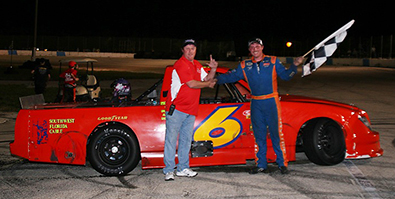 It was called Family Fun Night at Punta Gorda Speedway, were speedway owner Kevin Williams prides himself on making his race track fun for the entire family. There were some fun races on tap for the night but also some big races for the Pro Trucks and Late Model Sportsman. It's all about having a clean, safe and fun place to take the entire family on a Saturday night that's also affordable.
It was features only, and the first class to take to the track was the Rookie Trucks were the 36M of Travis Miller from N. Ft. Myers jumped out to an early lead. Three times the caution came out for the 00 of Corey Bigley who had problems keeping the truck running in the right direction and also tightening up the field. Miller went on to win the feature, leading all twenty five laps with Chad Chastain second and Corey Bigley battled back for third.
The Cowboy Cadillacs ran a thirty lap feature that fifteen laps were ran in the right direction and then they were stopped on the track and turned around to run fifteen more in the opposite direction. A real battle was going on between Mike True and Mike Bialecki as True finished the first fifteen in first. The trucks were turned around and the two battled back and fourth again and it was the 92 of Mike Bialecki that came across the stripe in first place.
Pro 4 car were up for the same kind of race and it was Stephen Babcock that came home the winner with Alex Teston second and Johnny Marra third.
Pro Trucks were up for seventy five lap feature race were Michael Burns of Port Charlotte set fast time but would start second row inside. Sixteen Trucks took the green and Darrin McCurdy led the first two laps till Burns got by him on lap three. It was Burns in first and Steve Darvalics had made his way into second by lap eight with Brent Huber in third and Whitney Poole fourth. It takes patience and a little luck sometimes in racing and knowing when to make your move and go for the win. While Burns was cursing around in first, the trucks were battling behind him for position and some not so patient and some were waiting to make the right move. Travis Gossard had made his way up to second but got called for a caution on lap sixty two sending him to the rear while Josh Williams had made his way up to third. On the restart it was Burns on the pole and Williams outside, Williams knew what he had to do and got by Burns on the start and went on to win the featured event. Williams was smoking the tires after the win and then the whole JWM crew came on the front stretch to celebrate. Michael Burns from port Charlotte hung on for second Whitney Poole third after a last lap caution involving Kelli Burns and Brent Huber.
The mens and woman's switch off race was up and the men started the race with running twenty laps.
The nine car driven by J.R. Fitch was fast and out to the lead on lap one, while Chris Scott tried to chase him down. There were husbands and wives, Father and daughter, girlfriends and boyfriends and just friends that entered this race. When the twenty laps was done it was Fitch that was in first place, Chris Scott was second and Chris Loney was third. The men got out and the ladies got in and after making sure the ladies were all belted in, it was their turn to go at it for twenty laps. Whitney Poole got to start the race on the pole while Mandy Berend was outside, Dawn Jericka had to start one lap down and in the rear. For some of the woman it was their first time in a race car like Michelle Ellis and Faith Durkee, while some drove a race or two before and then Poole and Monopoli, that race on a regular basis. With five to go, Faith Durkee got loose coming out of turn four and the car started left and then right and then a hard hit into the front stretch wall. Durkee smashed up her finger and a bit shaken and the car was totaled. The race restarted and it was Whitney Poole/ J.R. Fitch first, Becca Monopli/Chris Loney second, Janine Perkins/Justin Testin third, Dawn Jericka/Don Jericka fourth.
Late Model Sportsman took to the track for thirty five laps and it was Donnie Ollie that set fast time but would start third row back on the inside. Thirteen year old Michael Atwell of Naples sat on the pole, the youngest of the drivers while veteran driver Danny Yates was outside. Before there was even a green flag thrown the cars got together in turn one and the cars had to be relined to start the race. The race ran twenty nine laps with no more cautions and it was young Atwell who had a good lead on the field and was running a smooth line. Behind Atwell was fast qualifier Donnie Ollie Jr in second and Gary McFall trying to chase him down but could not come close. Lap twenty nine Ollie and McFall brought out the caution and it was Ollie that got sent to the rear and on the restart, King Jame Dubose got by McFall to take over second. Dubose brought the veteran driver Danny Yates with him when he made the pass on McFall and that is how it would end with young Michael Atwell leading start to finish, James Dubose second and Danny Yates third.
The last race of the night was the Road Warrior thirty lap were they ran fifteen laps in one direction and then stopped and went the other way for the other fifteen laps. At the end of the race it was J.R. Fitch who was the winner and a close second was Chris Loney and Chris Scott.
Next week racing action will be
JAN 12TH -OPEN WHEEL MADNESS NIGHT
OPEN WHEEL MODIFEDS 50 LAPS
1200 TO WIN IF 15 OR MORE CARS
STREET STOCK,
PRO 4 -DOUBLE POINTS, 35 LAPS,
ROAD WARRIOR,
DWARF CARS, LEGENDS AND T.Q. MIDGETS
visit our web site for all your information and updates at www.puntagordaspeedway.com
PUNTA GORDA SPEEDWAY RESULTS
1/05/2013
Late Model Sportsman
1. 51 Michael Atwell Naples
2. 67 James Dubose Arcadia
3. 22 Danny Yates Cape Coral
4. 68 Gary McFall Venice
5. 47 Ryan Pancoast Lehigh
6. 09 Donnie Ollie Jr. Lehigh
7. 82 Josh Calvert Port Charlotte
8. 6 Greg Gorniak Homestead
9. 81 Larry Braswell Bartow
10. 14 John Garrett Port Charlotte
11. 8 Dan Scott Naples
12. 98 Danny Brown Lehigh
13. 9 Shane Poling Port Charlotte
14. 02 Josh Williams D.N.S.
Pro Trucks
1. 6 Josh Williams Port Charlotte
2. 14b Michael Burns Port Charlotte
3. 00 Whitney Poole Vero Beach
4. 4 Kelli Burns Port Charlotte
5. 25 Darin McCurdy Port charlotte
6. 41 Steve Darvalics Venice
7. 36 Chad Chastain Alva
8. 59 Becca Manopoli Lakeland
9. 64 Brent Huber Venice
10. 29 Bobby Mobley Auburndale
11. 77 James Dellea 3 rd . Port Charlotte
12. 36m Travis Miller N. Ft. Myers
13. 47 Travis Gossard Naples
14. 32 Dylan Bigley Naples
15. 14 Sam Scott Naples
16. 45 Michael Wear Fort Myers,
Road Warriors 30 laps (15 each way)
1. 9 J. R. Fitch Vero beach
2. 33 Chris Loney Naples
3. 97 Chris Scott Nokomis
4. 13 Justin teston Lehigh
5. 29 Phil Ellis Rotonda D.N.S.
6. 29j Don Jericka Port Charlotte D.N.S.
7. 29x Ander Jackson Punta Gorda D.N.S
Cowboy Cadillac's (15 LAPS Each Way) (15 LAPS Each Way)
1. 92 Mike Bialecki Arcadia
2. 26 Mike True Port Charlotte
3. 88 Chris Scott Nokomis
4. 5 Ed Snyder Port Charlotte
5. 32 Lance Sober Punta Gorda
Pro 4 (10 Laps Each Way) (10 Laps Each Way)
1. 56 Stephen Babcock Punta Gorda
2. 13 Alex Teston Lehigh
3. 99 Johnny Marra Cape Coral
Rookie Trucks
1. 36m Travis Miller N. Ft. Myers
2.36 Chad Chastain Alva
3. 00 Corey Bigley Naples
4. 77 James Dellea 3 rd . Port Charlotte
5. 32 Justin Bond Vero Beach
Road Warrior-Men/Women Switch
1. 9 J.R. Fitch /Whitney Poole
2. 33 Chris Loney/ Becca Monopoli
3. 13 Justin Teston/ Janine Perkins
4. 29j Don Jericka/ Dawn Jericka
5. 97 Chris Scott/ Mandy Berend
6. 29 Phil Ellis/ Michelle Ellis
7. 29x Ander Jackson/ Faith Drukee