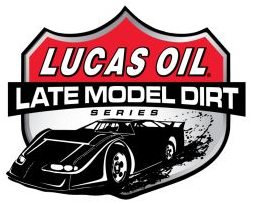 BROWNSTOWN, IN (September 21, 2012) – Reigning Lucas Oil Late Model Dirt Series Champion and current point's leader, Jimmy Owens of Newport, TN topped the 40-car field for Red Buck Time Trials for the 33rd Annual Jackson 100 on Friday Night at Brownstown Speedway.
Owens; Hillbilly 100 winner, Mike Marlar of Winfield, TN; Jared Landers of Batesville, AR; and Brad Neat of Dunnville, KY will be the pole-setters for Saturday Night's four heat races.
Scott Bloomquist of Mooresburg, TN, the only four-time winner of Brownstown's biggest race, is seeking an unprecedented third straight win in the annual event.  LOLMDS series regular and two-time track champion, Don O'Neal of Martinsville, IN, who has won the Jackson 100 three times, timed in only 16th fastest in his group of qualifiers and will have to start deep in the field in the second heat on Saturday Night.
In preliminary action, Jimmy Owens set the Red Buck Cigars Fast Time amongst the 40 entrants, with a lap of 15.281 seconds. Jared Landers set the fastest time in Group B with a time of 15.563 seconds.
Tomorrow Night, action from the 33rd Annual Industrial Solutions Technology "Jackson 100" at Brownstown Speedway in Brownstown, IN will continue with Heat Races, B-Mains, and the 100-Lap, $20,000-to-win Feature. For more information, log onto www.brownstownspeedway.com.
For the latest breaking news on the Lucas Oil Late Model Dirt Series, log onto www.lucasdirt.com and be sure to follow the series at www.facebook.com/lucasdirt and www.twitter.com/#!/lucasdirt.
Lucas Oil Late Model Dirt Series
Race Summary
Friday Night, September 21st, 2012
33rd Annual Industrial Solutions Technology "Jackson 100"
Brownstown Speedway – Brownstown, IN
Red Buck Cigars Fast Time Group A: Jimmy Owens / 15.281 seconds
Red Buck Cigars Fast Time Group B: Jared Landers / 15.563 seconds
Wiles Driveshafts First Heat Line Up (10 Laps – Top 4 Transfer):
| | | | |
| --- | --- | --- | --- |
| Jimmy Owens | 20 | 11T | Tyler Reddick |
| Terry Casey | 42c | 24H | Greg Johnson |
| Earl Pearson, Jr. | 44 | 57J | Chad Stapleton |
| Dustin Neat | 25n | 18k | Brandon Kinzer |
| Jeremy Hines | 5H | 49 | Joe Godsey |
U. S. Steel Second Heat Line Up (10 Laps – Top 4 Transfer):
| | | | |
| --- | --- | --- | --- |
| Mike Marlar | 5b | 18e | Eric Wells |
| Scott Bloomquist | 0 | 15b | Brian Birkhofer |
| Tim Rivers | 46 | 23 | John Blankenship |
| Matt Boknecht | 22 | 71 | Don O'Neal |
| Wayne Chinn | 1c | 93 | Zak Blackwood |
Simpson Performance Products Third Heat Line Up (8 Laps – Top 4 Transfer):
| | | | |
| --- | --- | --- | --- |
| Jared Landers | 5 | D8 | Dustin Linville |
| Jonathan Davenport | 15d | 6J | Joe Janowski |
| Billy Moyer, Jr. | 21JR | 41 | Josh McGuire |
| Justin Rattliff | 16 | P1 | Scott James |
| Shelby Miles | 76 | 7m | Alan Magner |
HAWK Brakes Fourth Heat Line Up (10 Laps – Top 4 Transfer):
| | | | |
| --- | --- | --- | --- |
| Brad Neat | 41n | 18 | Shannon Babb |
| Steve Casebolt | c9 | 9J | Mike Jewell |
| Steve Francis | 15 | 49x | Matt Patus |
| Steve Barnett | 89 | 44k | Greg Kendall |
| Chris Streeval | 30s | 42 | David Ross |