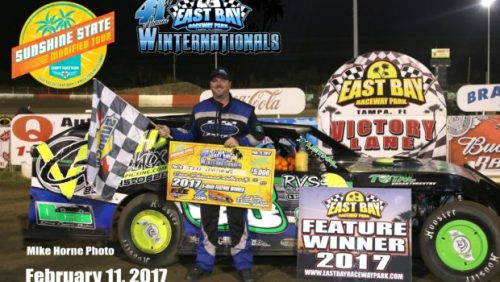 Tampa, FL (2/10/17) – It was local driver Jeff Mathews who set quick time in the Brandon Ford Fast Time Award.
For the 30-lap feature it was Imperial, Missouri's Kenny Wallace on the pole with Zanesville, Ohio's Brad Goff.
On the start it was Buzzy Adams charging from the fourth spot to make his way up front to battle with Kenny Wallace for the lead out of turn two. Adams would lead the first fifteen laps until Jeff Mathews battled with Adams at the line and taking over the lead.
By lap twenty two it was Mathews starting to get into lap traffic trying to pick and choose his line while Adams, Wallace and Strickler were all battling for the second spot.
When the checkered waved it was Jeff Mathews picking up the win after a second place finish last night. "I can't thank my guys enough back at the shop for all their hard work to get us where we are. Also wanted to thank Lethal Race cars as this is a new car" Jeff also stated.
Rounding out the top ten were Kevin Adams, Kenny Wallace, Brad Goff, Mavrick Varnadore, Trent Young, Lucas Lee, Ray Bollinger, Todd Shute and Todd Neiheiser.
The top six locked into tomorrow's A-Main will be by points and they are Kevin Adams, Jeff Mathews, Kenny Wallace, Brad Goff, David Reutimann, Mavrick Varnadore.
Racing continues tomorrow night with the final night of the Sunshine State Mod Tour as they race for $5,000 to win with a  75-lap A-Main.  For more information you can visit our website at www.eastbayracewaypark.com
Thanks, East Bay Raceway Park
Professional MotorSports Services
Modifieds 2/10/2017
A-Main:
Jeff Matthews (Apollo Beach, FL), 2. Kevin Adams (Cameron, WI), 3. Kenny Wallace (Imperial, MO), 4. Brad Goff (Zanesville, OH), 5. Mavrick Varnadore (Dover, FL), 6. Trent Young (Crofton, KY), 7. Lucas Lee (Paris, TN), 8. Ray Bollinger (Kewanee, IL), 9. Todd Shute (Des Moines, IA), 10. Todd Neiheiser (Panama City, FL), 11. Ashley Newman (Ripley, TN), 12. Preston Seratt (Finley, TN), 13. David Reutimann (Sherrills Ford, NC), 14. Roger Crouse (Plant City, FL), 15. Travis Varnadore (Dover, FL), 16. Dale Kelley (Plant City, FL), 17. Nathon Loney (Danville, OH), 18. Curt Myers (Cameron, WI), 19. Rick Conoyer (St Peters, MO), 20. David Wietholder (Liberty, IL), 21. Mike Potosky (Guys Mills, PA), 22. Jason Gross (Cushing, WI), 23. Shon Flanary (Surgoinsville, TN), 24. Allen Weisser (Peoria, IL), 25. Kyle Strickler (Mooresville, NC),
B-Main 1:
Lucas Lee (Paris, TN), 2. Mike Potosky (Guys Mills, PA), 3. Matt Miller (Tampa, FL), 4. Dugan Thye (Burlington, IA), 5. Devin Dixon (Apollo Beach, FL), 6. Brad DeYoung (Wheatfield, IN), 7. David Mitchell (Robards, KY), 8. Tommy Powell (Belpre, OH), 9. Keith Williams (Wheatfield, IN), 10. Tyler Jones (Hamilton, OH), 11. Gary Bentley (St Charles, MO), 12. Robbie Eilers (Highland, IL), 13. Tyler Nicely (Owensboro, KY),
B-Main 2:
Ashley Newman (Ripley, TN), 2. Curt Myers (Cameron, WI), 3. David Wietholder (Liberty, IL), 4. Eric Moon (Zephyrhills, FL), 5. Dave Baldwin (Perrysville, IN), 6. Bryan Bernhardt (Clearwater, FL), 7. Kory Maurice (Greenville, MI), 8. Craig Christein (Proctarville, OH), 9. Johnny Fennewald (Appleton City, MO), 10. Dennis Haven (Brentford, SD), 11. Scotty Kincaid (Rising Sun, IN), 12. Daren Krockenberger (Terre Haute, IN),
B-Main 3:
Allen Weisser (Peoria, IL), 2. Travis Varnadore (Dover, FL), 3. Rick Weekly (Buffalo, IL), 4. Rich Pratt (Anthoney, FL), 5. Chad Williamson (Watertown, SD), 6. Buzzie Reutimann (Zephyrhills, FL), 7. Mike Weber (Cincinnati, OH), 8. Mike VanGenderen (Newton, IA), 9. Jessie Hoskins (Longdale, OK), 10. Tait Davenport (Benton, KY), 11. Steve Miller (Tampa, FL), 12. Wesley Summers (Odessa, MO),
Heat Race 1:
Brad Goff (Zanesville, OH), 2. Jason Gross (Cushing, WI), 3. Shon Flanary (Surgoinsville, TN), 4. Lucas Lee (Paris, TN), 5. Tommy Powell (Belpre, OH), 6. Matt Miller (Tampa, FL), 7. Robbie Eilers (Highland, IL), 8. Dugan Thye (Burlington, IA), 9. Keith Williams (Wheatfield, IN), 10. Gary Bentley (St Charles, MO),
Heat Race 2:
Rick Conoyer (St Peters, MO), 2. Roger Crouse (Plant City, FL), 3. Dale Kelley (Plant City, FL), 4. Ashley Newman (Ripley, TN), 5. Curt Myers (Cameron, WI), 6. Craig Christein (Proctarville, OH), 7. Eric Moon (Zephyrhills, FL), 8. Dennis Haven (Brentford, SD), 9. Wesley Summers (Odessa, MO),
Heat Race 3:
Ray Bollinger (Kewanee, IL), 2. Todd Shute (Des Moines, IA), 3. Trent Young (Crofton, KY), 4. Allen Weisser (Peoria, IL), 5. Jessie Hoskins (Longdale, OK), 6. Chad Williamson (Watertown, SD), 7. Tait Davenport (Benton, KY), 8. Rick Weekly (Buffalo, IL), 9. Steve Miller (Tampa, FL),
Heat Race 4:
Kenny Wallace (Imperial, MO), 2. Mavrick Varnadore (Dover, FL), 3. Preston Seratt (Finley, TN), 4. Mike Potosky (Guys Mills, PA), 5. Tyler Jones (Hamilton, OH), 6. Devin Dixon (Apollo Beach, FL), 7. Brad DeYoung (Wheatfield, IN), 8. David Mitchell (Robards, KY), 9. Tyler Nicely (Owensboro, KY),
Heat Race 5:
Jeff Matthews (Apollo Beach, FL), 2. Kyle Strickler (Mooresville, NC), 3. Nathon Loney (Danville, OH), 4. Dave Baldwin (Perrysville, IN), 5. David Wietholder (Liberty, IL), 6. Kory Maurice (Greenville, MI), 7. Bryan Bernhardt (Clearwater, FL), 8. Scotty Kincaid (Rising Sun, IN), 9. Daren Krockenberger (Terre Haute, IN),
Heat Race 6:
Kevin Adams (Cameron, WI), 2. David Reutimann (Sherrills Ford, NC), 3. Todd Neiheiser (Panama City, FL), 4. Mike VanGenderen (Newton, IA), 5. Travis Varnadore (Dover, FL), 6. Rich Pratt (Anthoney, FL), 7. Buzzie Reutimann (Zephyrhills, FL), 8. Mike Weber (Cincinnati, OH), 9. Johnny Fennewald (Appleton City, MO),
Qualifying 1:
Brad Goff (Zanesville, OH), 2. Shon Flanary (Surgoinsville, TN), 3. Jason Gross (Cushing, WI), 4. Gary Bentley (St Charles, MO), 5. Tommy Powell (Belpre, OH), 6. Keith Williams (Wheatfield, IN), 7. Lucas Lee (Paris, TN), 8. Matt Miller (Tampa, FL), 9. Dugan Thye (Burlington, IA), 10. Robbie Eilers (Highland, IL),
Qualifying 2:
Rick Conoyer (St Peters, MO), 2. Roger Crouse (Plant City, FL), 3. Wesley Summers (Odessa, MO), 4. Ashley Newman (Ripley, TN), 5. Dale Kelley (Plant City, FL), 6. Curt Myers (Cameron, WI), 7. Craig Christein (Proctarville, OH), 8. Eric Moon (Zephyrhills, FL), 9. Dennis Haven (Brentford, SD),
Qualifying 3:
Ray Bollinger (Kewanee, IL), 2. Todd Shute (Des Moines, IA), 3. Trent Young (Crofton, KY), 4. Allen Weisser (Peoria, IL), 5. Tait Davenport (Benton, KY), 6. Jessie Hoskins (Longdale, OK), 7. Rick Weekly (Buffalo, IL), 8. Chad Williamson (Watertown, SD), 9. Steve Miller (Tampa, FL),
Qualifying 4:
Kenny Wallace (Imperial, MO), 2. Preston Seratt (Finley, TN), 3. Tyler Nicely (Owensboro, KY), 4. Mavrick Varnadore (Dover, FL), 5. Mike Potosky (Guys Mills, PA), 6. Devin Dixon (Apollo Beach, FL), 7. Brad DeYoung (Wheatfield, IN), 8. Tyler Jones (Hamilton, OH), 9. David Mitchell (Robards, KY),
Qualifying 5:
Jeff Matthews (Apollo Beach, FL), 2. Kyle Strickler (Mooresville, NC), 3. Bryan Bernhardt (Clearwater, FL), 4. David Wietholder (Liberty, IL), 5. Nathon Loney (Danville, OH), 6. Kory Maurice (Greenville, MI), 7. Dave Baldwin (Perrysville, IN), 8. Scotty Kincaid (Rising Sun, IN), 9. Daren Krockenberger (Terre Haute, IN),
Qualifying 6:
Kevin Adams (Cameron, WI), 2. Mike VanGenderen (Newton, IA), 3. Todd Neiheiser (Panama City, FL), 4. David Reutimann (Sherrills Ford, NC), 5. Rich Pratt (Anthoney, FL), 6. Travis Varnadore (Dover, FL), 7. Johnny Fennewald (Appleton City, MO), 8. Buzzie Reutimann (Zephyrhills, FL), 9. Mike Weber (Cincinnati, OH),
Limited Modified 2/10/2017
A-Main:
David Reutimann (Sherrills Ford, NC), 2. Kevin Adams (Cameron, WI), 3. Jason Garver (Starke, FL), 4. Butch Weisser (Peoria, IL), 5. David Simpson (Thunder Bay, ON), 6. Robin Lashley (Buffalo, OH), 7. Nate Huffington (Earlton, FL), 8. Thomas Sigler (St. Mary's, WV), 9. Randy Shields Jr. (Tampa, FL), 10. Michael Stalnaker (Ocala, FL), 11. Chris Combs (Hamilton, OH),
Heat Race 1:
Jason Garver (Starke, FL), 2. Butch Weisser (Peoria, IL), 3. Nate Huffington (Earlton, FL), 4. Chris Combs (Hamilton, OH), 5. Randy Shields Jr. (Tampa, FL), 6. Thomas Sigler (St. Mary's, WV),
Heat Race 2:
1. David Reutimann (Sherrills Ford, NC), 2. Kevin Adams (Cameron, WI), 3. David Simpson (Thunder Bay, ON), 4. Michael Stalnaker (Ocala, FL), 5. Robin Lashley (Buffalo, OH),