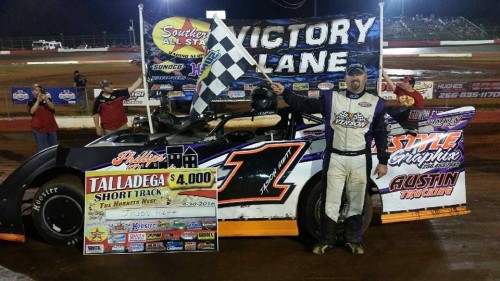 EASTABOGA, AL–The Southern All Stars Dirt Racing Series made its first stop of the 2016 season Saturday night at the Talladega Short Track for the annual NASCAR weekend show and Jason Hiett of Oxford, Al., pick up his first career series win as he dominated from the drop of the green flag to the checkered flag worth $4,000.
35 cars took laps in White Performance group qualifying and Hiett set fast time for his group at 14.564 with Dale McDowell second, Jake Knowles third, Terry Smith fourth and Tim Roszell fifth in group A, in group B Riley Hickman was the man on top with a lap of 14.732, with Dylan Ames, Cory Hedgecock, William Thomas & Todd Morrow rounding out the top five.
In four PPM Racing Products B Mains, Joseph Joiner took the win in the first one David Seibers in the second, David Breazeale the third one and Jason Wilson the fourth one.
In the 40 lap main Hiett and Hickman were side by side at the drop of the green but Hiett moved ahead of Hickman down the backstretch and then proceeded to build up a huge lead at time of Hickman who later discovered he had a slowly leaking tire, but Hickman said that he had nothing for Hiett as he was the dominate car. Hickman brought home the second place and got him closer to the top of the points as he is in pursuit of his 4th straight series title which has not been done before as to a four in a row champion, but also will put him in line to time Clint Smith as the only four time champion. Cory Hedgecock of Loudon, TN., made a charge late in the race on the high side and got Dale McDowell of Chickamauga, GA., at the line to take third with McDowell falling to fourth and Jake Knowles of Rome, GA rounding out the top five.
Finishing in the sixth spot was Tim Roszell of Anniston, AL., , seventh to William Thomas of Phenix City, AL., , eighth to Dylan Ames of Harvest, AL., , ninth to Todd Morrow of East Ridge, TN., and tenth to Joseph Joiner of Milton, FL.
Hiett was very excited in SUNOCO victory lane as he exited his car after making a victory lap with the checkered flag. "We have tried awful hard to win a Southern All Star race, we have led a few of them over the years, but have never got here in victory lane, it feels great" said Hiett. Hiett is sponsored by Vinson Race Engines, Freestyle Graphix, Phillips Properties, Austin Trucking, and Capital Race Cars.
35 cars from 5 states were on hand for a very successful night of racing and the Southern All Stars Saturday night May 7th at the Thunderhill Raceway in Summertown, TN., a 40 lap $4,000 to win event along with a full racing program.
For more information concerning the Southern All Star contact Lynn Acklin – General Manager: 256-924-4546 www.sasdirt.com or www.thunderhillracewaypark.com
TALLADEGA SHORT TRACK FINISH: 1.Jason Hiett; 2.Riley Hickman; 3.Cory Hedgecock; 4.Dale McDowell; 5.Jake Knowles; 6.Tim Roszell; 7.William Thomas; 8.Dylan Ames; 9.Todd Morrow, 10.Joseph Joiner; 11.Jason Wilson; 12.Tim Busha; 13.Dallas Cooper; 14.Adam Cummings; 15.David Breazeale; 16.Mark bangs; 17.Brad Skinner; 18.Jim Rogers; 19.Terry Smith; 20.Douglas Stewart; 21.Brad Berry; 22.Tommy Taylor; 23.Scott Cook; 24.David Seibers
DNS: Austin Kirkpatrick; Brandon McCallum; Lucas Burns; Kitt Sealy; Dillon Tidmore; Cale Finley; Adam Giles; Ahnna Parkhurst; Tony Thompson; Tristan Sealy; Doug Showah
SOUTHERN ALL STAR POINTS STANDINGS: 1.Brad Skinner 378; 2.Riley Hickman 374; 3.Casey Roberts 348; 4.Jim Rogers 344; 5.Brandon Overton 286; 6.Dale McDowell 256; 7.Todd Morrow 242; 8.Jordy Nipper 184; 9.Chris Ferguson 182; 10.Ahnna Parkhurst 158.
CRUISE WITH THE CHAMPIONS/DIRTONDIRT.COM ROOKIE OF THE YEAR: 1.Brad Skinner 374; 2.Jay Rogers 344
SPECIAL PRODUCTS AWARDS
White Performance Group Qualifying: Group A: Jason Hiett Group B: Riley Hickman PPM Racing Products B Main: Joiner; Seibers; Breazeale; Wilson AR Bodies Last Car Lead Lap: Joseph Joiner COR Suspensions 10th Place Finisher: Joseph Joiner
36 Racing & Fabrication Hard Charger: Tim Busha Race Car Engineering Hard Luck Award: Austin Kirkpatrick
AR Bodies Challenge: 1.Brad Skinner 124; 2.Dillon Tidmore 78; 3.Dennis Franklin 46; 4.Shannon Buckingham 26; 4.James Kelso 24; 6.Robby Moses 23, 7.Billy Ogle Jr 22 8.Jim Rasey 21 9.Tim Allen 19.
UPCOMING SOUTHERN ALL STAR DIRT RACING SERIES EVENT:
May 7-Thunderhill Raceway-Summertown, TN-$4,000 May 14-Senoia Raceway-Senoia, GA-$5,025 May 21-Volunteer Speedway-Bulls Gap, TN-$5,200
2016 Southern All Star Dirt Racing Series Sponsors:
*Hoosier Racing Tire "The Official Race Tire" of the Southern All Star Dirt Racing Series *Patriot Sports "The Official Merchandise Vendor" of the Southern All Star Dirt Racing Series *Sunoco Race Fuel "The Official Racing Fuel" of the Southern All Star Dirt Racing Series
2016 Southern All Star Dirt Racing Series Marketing Partners Include: AR Bodies, Brodix Cylinder Heads, Butlerbuilt Racing Seats, COR Suspensions, Cruise with the Champions, DirtonDirt.com, H3 Performance Graphics, Integra Racing Shocks, , MSR Mafia Web Design and Service, PPM Racing Products, RockAuto.com, The Joie of Seating, WhitePerformance.com, 36 Racing & Fabrication, Racecar Engineering