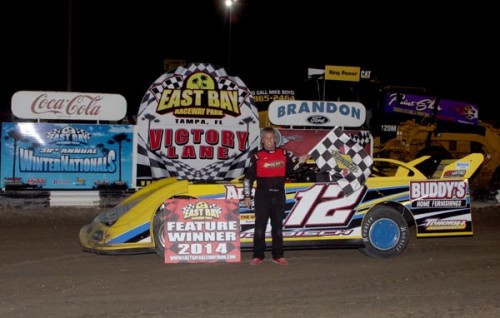 TAMPA, FL – Jackie Nosbisch, Jr. now has six top 10 finishes in the Crate Late Model portion of East Bay Raceway's Winternationals, but he never had a win beforeThursday night nor won $2,000 in such a convincing style.
His new Rocket launched ahead of the 22 car field at the half-way mark of the 30 lap feature and finished one-half  a lap ahead of the rest of the competition for an 8.79 second margin of victory over Shan Smith, Josh Peacock, David Pollen, Jr. and Keith Nosbisch.
"The car was working flawlessly,"  said the soft-spoken winner.  "We changed stuff around to run the outside because I figured everyone would be on the bottom and right about lap 16, three of us were battling for the lead.  Peacock, who had led the first 13 laps until I passed him on the outside on lap 14, and Keith Nosbisch got in the mix also before I decided 'outside' was the only way to go."
"It's nice to start the season with a win!  I'd like to thank my sponsors Buddy's Home Furnishings, Deland Truck Center, Adam's Used Auto Parts of Tampa and the UPS Store in Riverview."
Phillip Cobb and Josh Peacock brought the field to the green, but it was Peacock that led through the first three yellow flags and until the half-way mark when Jackie tried the outside to be scored as the leader on lap 14.   A rash of yellow flags for minor spins on laps 17 and 18 happened before the Nosbisch machine started to distance its self from the field.
With five laps to go, the winner had a five second lead over Smith and K. Nosbisch who faded at the end to finish fifth with Peacock landing a third and Pollen, Jr. advancing to fourth.  Rounding out the top 10 it was, David Schmauss, Bryan Bernhardt, Travis Varnadore, Kolby Vanderbergh and Bob Gardner.
The heats were won by Cobb, K. Nosbisch and Peacock.  Time trials were interrupted for 35 minutes when a brief shower hit the track, but when action resumed Keith Nosbisch of near-by Valrico was the new track record holder of with a time of 15.0380 seconds.
Professional MotorSports Services
Crate Late Models 2/6/2014
A-Main:1. Jack Noshbisch Jr (Riverview, FL), 2. Shan Smith (Dade  City, FL), 3. Josh Peacock (Dover, FL), 4. David Pollen Jr. (Tampa, FL), 5. Keith Nosbisch (Valrico, FL), 6. David Schmauss (Tampa, FL), 7. Bryan Bernhardt (Clearwater, FL), 8. Travis Varnadore (Dover, FL), 9. Kolby Vanderbergh (Ashland, IL), 10. Bob Gardner (Germantown Hills, IL), 11. Steve Miller (Tampa, FL), 12. Bobby Richardson (Eusts, FL), 13. Kurt Waush (Shawano, WI), 14. Bill Tesh (Germanton, NC), 15. Doug Horton (Sundance, FL), 16. Jeremy Adamik (Leechburg, PA), 17. Derek Brown (Rural Hall, NC), 18. Kyle Musselman (Lutz, FL), 19. Tommy Prince (Mulberry, FL), 20. Phillip Cobb (Plant City, FL), 21. Megan Meyer (Tampa, FL), 22. Jamie Slatton (Thonoatasso, FL), 
Heat Race 1:1. Phillip Cobb (Plant City, FL), 2. Travis Varnadore (Dover, FL), 3. David Schmauss (Tampa, FL), 4. Jeremy Adamik (Leechburg, PA), 5. Kyle Musselman (Lutz, FL), 6. Kurt Waush (Shawano, WI), 7. Bob Gardner (Germantown Hills, IL), 8. Bill Tesh (Germanton, NC), 
Heat Race 2:1. Keith Nosbisch (Valrico, FL), 2. Steve Miller (Tampa, FL), 3. Doug Horton (Sundance, FL), 4. Shan Smith (Dade  City, FL), 5. Bobby Richardson (Eusts, FL), 6. Derek Brown (Rural Hall, NC), 7. David Pollen Jr. (Tampa, FL), 
Heat Race 3:1. Josh Peacock (Dover, FL), 2. Jack Noshbisch Jr (Riverview, FL), 3. Kolby Vanderbergh (Ashland, IL), 4. Bryan Bernhardt (Clearwater, FL), 5. Jamie Slatton (Thonoatasso, FL), 6. Tommy Prince (Mulberry, FL), 7. Megan Meyer (Tampa, FL), 
Qualifying 1:1. David Schmauss (Tampa, FL), 2. Phillip Cobb (Plant City, FL), 3. Kurt Waush (Shawano, WI), 4. Bob Gardner (Germantown Hills, IL), 5. Travis Varnadore (Dover, FL), 6. Kyle Musselman (Lutz, FL), 7. Jeremy Adamik (Leechburg, PA), 8. Bill Tesh (Germanton, NC), 
Qualifying 2:1. Keith Nosbisch (Valrico, FL), 2. Steve Miller (Tampa, FL), 3. Doug Horton (Sundance, FL), 4. Bobby Richardson (Eusts, FL), 5. David Pollen Jr. (Tampa, FL), 6. Derek Brown (Rural Hall, NC), 7. Shan Smith (Dade  City, FL), 
Qualifying 3:1. Jack Noshbisch Jr (Riverview, FL), 2. Josh Peacock (Dover, FL), 3. Bryan Bernhardt (Clearwater, FL), 4. Jamie Slatton (Thonoatasso, FL), 5. Kolby Vanderbergh (Ashland, IL), 6. Tommy Prince (Mulberry, FL), 7. Megan Meyer (Tampa, FL),