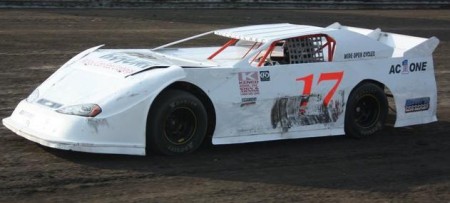 The team went into this Friday night with high expectations given the recent performance of the car and Blaise's experience in the Limited Late.  First up was practice which once again was nothing more than running the track in and making sure everything was tight on the car.
The heat race however did not leave us disappointed as Blaise went on to lead all six laps and pull out to half straight lead, beating both last weeks winner and the eventual winner of this nights race. Unfortunately the invert had us starting 5th for the feature race.
We decided not to make any changes to the car which would later cost us as the track lost some bite.  When the race went green Blaise struggled for forward bite and drove hard trying to maintain and make passes.  As the race went on there were several cautions including one that had the flipping 21 car ripping the right side spoiler off.  Despite the body damage Blaise drove hard and managed to claw to a third place finish. Very good run and a small change could have had us winning that race.
Next race will be Blaise, Saturday 8-25-2012 at New Smyrna Speedway back in the 17 Sportsman. Thanks to all our sponsors and friends who make these runs possible.
AC One with American Standard
Al's Signs
Magga CNC
Cloyes Products
Doug Lenz Auto Electric