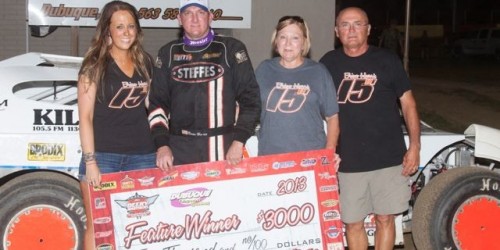 DUBUQUE, Iowa (July 14) – Brian Harris returned to victory lane Sunday night at Dubuque Speedway, at the expense of the driver who had snapped his four-race Deery Brothers Summer Series winning streak.
Harris led most of the IMCA Late Model tour 50 lapper from the pole but the 12th starting Justin Kay didn't give up his own three-race streak easily.
They traded the front spot four times over the final seven circuits, with Harris gaining the edge for the final two go-arounds after Kay missed his mark in the first set of turns.
Finally able to get some breathing room after a side-by-side battle that lasted most of 20 laps, Harris beat Kay to the checkers by three car lengths for his fifth $3,000 checkers of the season.
Luke Merfeld, Ray Guss Jr. and Dan Shelliam completed the top five. Hard charger Jeff Aikey advanced a dozen spots to seventh. 
Six cautions slowed the first nine laps. Kay moved through the field slowly but surely, finally getting to second on lap 26. With Harris primarily running the top side, Kay challenged from the bottom and finally came away with the lead on lap 43.
What proved to be the final caution came out with four to go, right after Harris regained the front spot. Kay was scored first on laps 47 and 48 before getting out of his line in the first set of turns.
Harris was quick to take advantage, rocketing past and leading to the finish for his career 10th Deery victory.
Harris has yet to finish worse than third in a series event this season, counting a record-tying four consecutive wins before Kay, the $250 Sunoco Race Fuels feature qualifier drawing winner at Dubuque, embarked on his own streak.
The 12th of 17 dates for the 2013 series is Monday, Aug. 12, at the Iowa State Fairgrounds Speedway. The State Fair main event also pays $3,000 to win.
Feature results – 1. Brian Harris, Davenport; 2. Justin Kay, Wheatland; 3. Luke Merfeld, Dubuque; 4. Ray Guss Jr., Milan, Ill.; 5. Dan Shelliam, Hazel Green, Wis.; 6. Andy Eckrich, Oxford; 7. Jeff Aikey, Cedar Falls; 8. Denny Eckrich, Tiffin; 9. Luke Goedert, Guttenberg; 10. Joel Callahan, Dubuque; 11. Curt Martin, Independence; 12. Tyler Bruening, Decorah; 13. Jeremiah Hurst, Dubuque; 14. Rob Moss, Iowa City; 15. Darrel DeFrance, Marshalltown; 16. Jason Utter, Columbus Junction; 17. Kyle Hinrichs, Swisher; 18. Nate Beuseling, Silvis, Ill.; 19. Scott Riechers, Belmont, Wis.; 20. Jon Poll, Delmar; 21. Nick Marolf, Moscow; 22. Ron Klein, Sherrill; 23. Bobby Hansen, Center Point; 24. Ryan Hill, Dubuque; 25. Keith Kiernan, Dubuque; 26. Steve Schueller, Dubuque. 
1st heat – 1. Andy Eckrich; 2. Denny Eckrich; 3. Klein; 4. DeFrance; 5. Beuseling; 6. Callahan; 7. Hurst; 8. Kiernan; 9. Marolf.
2nd heat ­– 1. Merfeld; 2. Kay; 3. Harris; 4. Guss; 5. Martin; 6. Riechers; 7. Hansen; 8. Schueller; 9. Hill.
3rd heat – 1. Utter; 2. Bruening; 3. Hinrichs; 4. Shelliam; 5. Moss; 6. Goedert; 7. Aikey; 8. Poll.
"B" feature – 1. Beuseling; 2. Moss; 3. Martin; 4. Callahan; 5. Riechers; 6. Goedert; 7. Aikey; 8. Hurst; 9. Poll; 10. Hansen; 11. Kiernan; 12, Hill; 13. Schueller; 14. Marolf.