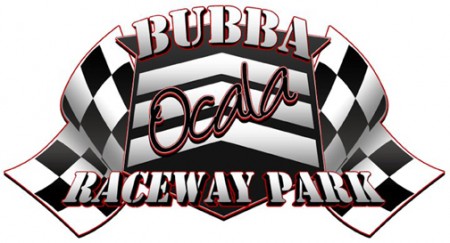 Jim Rouse, BRP Media, Ocala, FL – The Hobby Stocks and Thunder Stocks took to the track for 50 laps and $3000 while the UMP DirtCar Modifieds and Limited Late Models put on spectacular 20-lappers for the crowd.
Limited Late Models started the night off right with Roger Crouse dominating all 20 laps of the event. He had to hold Forrest Gough and Tyler Clem off, however, through a few cautions. A 9 lap run ended the race with Clem learning from the veteran and cutting the lead down to about 2 car lengths at the checkers. Crouse and Clem went 1-2 with Waylon Haynes, David Cline, and Ricky Land the top 5.
Next up were the Hobby Stocks who put on a show for the ages. Devin Walker drew pole position and led lap 1 but Kevin Durden quickly snatched it away. Walker actually cut a left front tire on lap 5 which forced him to restart 25th! A few laps after the restart Tim Gay got around Durden for the lead and 6 laps later Tim Powers had jumped to the lead! They would swap the lead back-and-forth 3 times each up to a lap 41 spin from Glenn Baum. Baum collected Don Woosley with him and both got to watch the finish. Gay stole the lead from Powers who fell back to 3rd while Durden gave chase to Gay. On lap 48 the final yellow slowed the field with Gay, Durden, and Powers the top 3. At the white flag Devin Walker had jumped up front and 4 drivers had the checkers in sight. Walker wound up spinning to the infield while Tim Gay picked up a cool $3000. Durden, Powers, Grady Christian, and Brian Morgan were the top 5.
UMP Modified action was crazy as usual and Kyle Bronson was ready to show that he still owns the joint. Rich Pratt spun from 2nd on lap 6 and parked the car at that point. On a lap 14 restart Bronson spun while leading leaving Buzzie Reutimann, Roger Crouse, and Paul Snyder as the top 3. With 6 laps left Bronson had work to do- he did it and led the final 2 laps to take home another win. Crouse ended up 2nd with Snyder, Reutimann, and Barry Sheffield the top 5.
Thunder Stocks went at it last and the word of the night was survival. Jeff Stalnaker, Jr. started the night wrong when a yet-to-be-identified-by-the-driver piece broke and sent the #33 around. Joe Boyd, Daniel Keene, Ryan Lisak, and Jimmy Carter also found a piece of the action and only Boyd continued on. Chad Scranton held the lead until lap 9 when Jason Gamble used the high line to pass driver #27. As the pack neared half-way Gamble was overtaken by Jonathan Appleby as Scranton faded before just pulling off course. Cautions marred the entire night but the last 15 were accompanied by a light drizzle and sparks everywhere. Appleby refused to let anyone bye him and Gamble found out when he got squeezed between the #69A and the wall. Coming to the white flag Shane Nichols drove in and sideswiped Appleby but both continued on! Appleby took the big win, his 8th career victory, over Nichols, Gamble, Tommy Hill, and Ray Wheeler.
Keep up with all of the WinterNationals news at www.bubbaracewaypark.com! NeSmith Crate Late Models, 410 Sprint Cars with Tony Stewart scheduled to race, UMP DirtCar Modifieds with Kenny Wallace and David Reutimann, World of Outlaws Late Models with a $20,000 to win race, and USAC! You won't want to miss any of it!
Bubba Raceway Park Results (1/5/13)
UMP DirtCar Open-Wheel Modifieds
1- 40B Kyle Bronson
2- 15 Roger Crouse
3- 54S Paul Snyder
4- 00 Buzzie Reutimann
5- 41 Barry Sheffield
6- 00D Shaun Daugharty
7- 1K Scott Kurtzner
8- 10 Scott Mooers
9- Z06 Larry Mott
10- 12M David Moheng
11- 09 Rob Underwood
12- 0 Rich Pratt
Limited Late Models
1- 45 Roger Crouse
2- 14 Tyler Clem
3- 11H Waylon Haynes
4- 71 David Cline
5- 66 Ricky Land
6- 10 Donald Sniff
7- 21 Forrest Gough
8- X Rick Martin
Hobby Stocks
1- 90 Tim Gay
2- 17D Kevin Durden
3- 44 Tim Powers
4- 36 Grady Christian
5- 9L Brian Morgan
6- 18 Eric Moon
7- 15 Hunter Gustafson
8- 83 Joe Boyd
9- 19 Chad Scranton
10- 84 Ron Whitley
11- 55JR Devin Walker
12- 14 William Edwards
13- 12 Donnie Ashford
14- 54S Paul Snyder
15- 13 Tom Burnside
16- 94 Robert Sirmons
17- 95JR Jeff Rodgers
18- 56 Patrick Williams
19- 77M Rodney Wright
20- 05 Alan Lane
21- 81 Don Woosley
22- 23 Glenn Baum
23- 75 Jason Gamble
24- A2Z Chuck McHone
25- 21 William Gardner, Jr.
Thunder Stocks
1- 69A Jonathan Appleby
2- 58 Shane Nichols
3- 21 Jason Gamble
4- 5H Tommy Hill
5- 27W Ray Wheeler
6- 3 Jeff Baer
7- 114 John Thorpe
8- 16 James Erickson
9- 98T Mike Tovet
10- 3H Buddy Pope
11- 12 Bubba Durbin
12- 83 Joe Boyd
13- 27 Chad Scranton
14- 36 Bubba Christian
15- 9 Mike Stalnaker
16- 28E Brandon Elwood
17- 66 Harold Erickson
18- 11H Jimmy Holley
19- 9D Robert Donaly
20- 28 Brian Mullins
21- 24 Randy Strehle
22- 47 Daniel Keene
23- 17L Ryan Lisak
24- 4 Jimmy Carter
25- 33 Jeff Stalnaker, Jr.