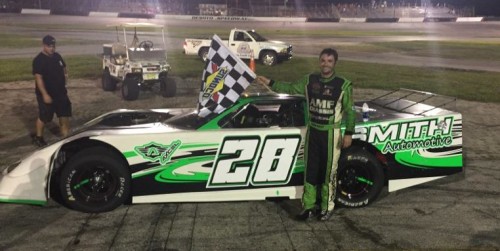 SCOTT LOCKWOOD – Kenny Gibson and Sean Bass outlasted the competition – and the sweltering heat – to take victories in the main events on an action-packed night at Desoto Speedway on Saturday.
Gibson and Jeff Firestine, who set the third and fastest times in qualifying respectively, started 10th and 12th in the 21-car field after a 12-car inversion. The pair wasted no time charging to the front of the field and were both in the top five by the time the caution flew for Joe Gerard's fire on lap seven. After a rash of caution flags and a restart on lap 17, Firestine went from fifth to first by passing Gibson and then with a dramatic three-wide pass of early leader Travis Barfield and Mike Rowland. He was pulling away from the field when a debris caution flew on lap 24.
James Nanney used a series of cautions and restarts to work his way up to second place. He spent several laps on Firestine's rear bumper before losing a little ground to the leader. Firestine was starting to catch the back of the field when a rear tire flew off Danny Daniels' car right in front of the leaders to bring out another caution. Nanney was in position to challenge Firestine for the lead in the final laps before nearly spinning off turn four. Nanney's misfortune moved Gibson up to second behind Firestine, who crossed the line first for an apparent victory. However, Firestine's car failed post-race technical inspection, which handed the victory to Gibson – his first win of the season in the Street Stocks.
Danny Caylor recovered from a mid-race spin to finish second, while Rowland, who nearly spun and lost several spots after battling for the lead early, rounded out the podium. Barfield and Pete Close completed the top five in the seventy five lap, Summer Sizzler, Take Aim gun Range Street Stocks.
The Desoto-Auburndale Sportsman Series (DASS) was also on hand for Sportsman Madness 50, the last race for the class before their 200-lap Fall Brawl next month. Colin Allman and Patrick Thomas were battling for the lead on the seventh lap when they got together coming out of turn two. Thomas made hard contact with the outside wall, and several other cars – including Earl Beckner and Mike Smith – were collected in the melee. Beckner, who was running third at the time of the accident, was able to continue with very little damage and assumed the lead with fast-qualifier Sean Bass in the runner-up spot. Bass needed just five laps to get by Beckner for the top spot and quickly set sail from the rest of the field. His lead was evaporated when the caution flew just past the halfway point for Josh Borem's spin.
Bass looked like he was on cruise control out front when another caution for Roger Welch's blown engine bunched up the field again with 10 laps to go. During the caution, Beckner went into the pits a flat tire and lost his chance at a win. The final restart allowed Jason Vail and George Gorham one final shot at Bass for the lead, but Bass easily fought the pair off and drove away for the win. Vail held off Gorham for second, while Tom Zimmerman and Bruce
Bennett rounded out the top five.
In other action Saturday night, Aaron Holmes passed Bobby Mobley for the lead for the final time on lap 18 and went on to his first Bomber win at Desoto Speedway; Blaine Baer went through the middle on a three-wide pass on the first lap and went on to win the 25-lap LKQ Pick-Your-Part Pure Stock feature; Darrin Ellis won the 20-lap Pep Boys Speed Shop Modified Mini Stock feature; and Johnny Marra won the 25-lap Mini Stock feature.
Racing action returns to Desoto Speedway on July 30 with the Sunoco Challenge Series Super Late Model, Desoto Pro Trucks, Pure Stocks, Street Stocks, Modified Mini Stocks, Mini Stocks and Bombers.
07-09-2016
DESOTO SPEEDWAY RACE RESULTS
Sportsman
1. 28 Sean Bass
2. 171 Jason Vail
3. 29 George Gorham
4. 01 Tom Zimmerman
5. 24 Bruce Bennett
6. 9 Brooke Storer
7. 172 Joey Sims
8. 25 Timothy Todd
9. 71 Earl Beckner
10. 111 Josh Borem
11. 4 Rick Reed
12. 23 Mike Smith
13. 98 Roger Welch
14. 199 Bret Jenkins
15. 111r Patrick Thomas
16. 67 Colin Allman
17. 45 Mike Karrivan
18. 99 Jamie Kennedy
Street Stock
1 23g Kenny Gibson
2.7 Danny Caylor
3 52 Mike Rowland
4 11 Travis Barfield
5 86 Pete Close
6 73 Jason Bartrum
7 6 James Nanney
8 74 Bobby Huffstutler
9 96 Joe Humet
10 01 Bobby Destler
11 4p Donnie Power
12 51t Garrett Thompson
13 9 Danny Daniels
14 40 Scott Finch
15 69 Keith Neff
16 23b Todd Brown
17 45 Adam King
18 63 Duane Best
19. 51J Joe Gerard
20 1 James Knight
21 Jeff Firestine Dqed in tech
Pure Stock
1. 7 Blaine Baer
2. 73 Jacob Berkevich
3. Sherry Best
4. 71 Dalton Ellis
5. 72 Roger Dufrense
6. 7 Travis Todd
7. 12 Bill Osborne
Bombers
1. 57 Aaron Holmes
2. 75 Jeff Warren
3. 7 Josh Todd
4. 22x Randy Spicer
5. 2g Bobby Mobley
6. 12 Doug Radley
7. 21 Josh Hall
8. 22 Ann Marie Ricarrdi
9. 23 Kenny Gibson
10. 14 Adam Briggs
11. 1 Rick Norman
Modified Mini
1. 71 Darrin Ellis
2. 45 Mike Karrivan
3. 17 Brad Blanton
4. 6 Jimmie Frazier
5. 94 Keith Roggen
6. 2 Jimmie Wood D.N.S.
Mini Stock
1. 99 Johnny Marra
2. 6 Jimmie Best
3. 08 Ren Wright Jr. D.Q. in tech
4. 05 Ronnie Robinson D.Q. in tech
5. 77 Laura Mammina D.Q. in tech
6. 37 Todd Wozniak D.Q. in tech