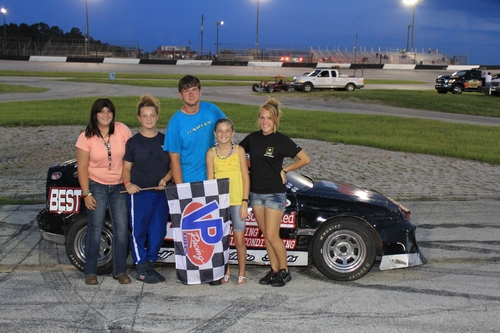 BRADENTON – A hard rain brought an abrupt end to the racing action at the Full Throttle Speedway Saturdaynight. Still, the sudden showers failed to dampen the enthusiasm of the fans and drivers. All of the preliminary races and two of the nine scheduled feature races were completed before the change in the weather forced the cancellation of the remaining race action.
Prior to the prelims, Michael Atwell of Naples turned in the fastest qualifying time for the feature events. Atwell circled the 3/8ths of a mile track in an impressive 16.151 seconds in the Sportsman category. Atwell also had the second fastest time when he completed his second lap in 16.221 seconds.
Before the rains came, four 6-lap preliminary races were completed. A fast paced Dwarf Car race had John Bailey of Sarasota taking the checkered flag ahead of Larry Hubbard III of Sarasota and Roger Richmond of Port Charlotte.
John Pummell Jr. of Arcadia started in the pole position for the Cowboy Cadillacs race. Pummell held on to the lead by fighting off challenges from second place finisher, Mike Bialecki of Arcadia and James Wright of Naples.
The first of the feature events was a five car, 15-lap Rookie 4 race for divers sixteen and younger. Sherry Best of Myaka City was indeed the best. She edged Zach Rogers of Clearwater and her family rival, Jimmy Best.
The 20-lap TQ Midget race saw Mike Belusar of Punta Gorda overcome a too close for comfort brush with the wall on turn two. Belusar recovered quickly and went on to beat out Chris Gimmler of Palm Beach Gardens and third place finisher, Rob Kohler of Naples.
The scheduled 35-lap Road Warriors race had an early lead change, a two caution flags, and double file restart before rain halted the action. After seizing an early lead, mechanical difficulties caused Richard Nelson of Port Charlotte to leave the track during lap four. That enabled Duane Best of Myakka City who also set fast time of 17.860 to take the lead. The Yellow flag came out again on lap nine. Brian Hillyer of North Port was victimized by an engine fire and forced to drop out. Rain then halted the race on lap 9.
All features except the rookie 4 and T.Q, Midgets were a wash and will be rescheduled.  Check our web site for make up dates to be announced.  You must have your armband for your next race, NO EXCEPTIONS.  Racing will resume at the Full Throttle on Saturday, September 28th.  A full card of exciting racing is scheduled.
Turner Tree & Landscaping Super Late Model 75
75 Green Flag Laps
J.D. Byrider Pro Trucks 40 laps
Legends 35 Laps
Bandoleros
Road Warriors
Modified Mini
Perfect Pest Control Pro 4/Rookie 4
Q Auto & Injury Junk Yard Dogs
For further details, fans are encouraged to visit the racetrack's website at www.fullthrottleracepark.com.
Two Bradenton racers -Ronald Robinson and Randy Johnson – finished 1-2 in the Perfect Pest Control Pro 4's heat race. Jessica Ostrouskis of St. Petersburg was third.
In the Junk Yard Dogs heat race, James Widner of Myaka City took the checkered flag while Jason Shulko was second.
The TQ Midgets heat race was won by Rob Kohler of Naples even though he started in the last (3rd) row. Jimmy Wilkins III of Fort Pierce was second and Chris Gimmler of Palm Beach Gardens was third.
John Bailey of Sarsota was the winner of the Dwarf Cars heat race. Larry Hubbard III of Cape Coral was second and Roger Richmond of Port Charlotte came in third.
Jon Pummell Jr. of Arcadia won the Cowboy Cadillacs heat race over Mike Bialecki (2nd) of Arcadia and James Wright of Naples.
Twenty Street Stock drivers showed up to run thirty five laps which saw Richard Nelson set fast time of 16.930.
Full Throttle Speedway Results 9-14-2013
T.Q. Midgets
1. 63 Mike Belusar
2. 51 Chris Grimmler
3. 30 Rob Kohler
4. 7 Ernie Tead
5. 11 Jimmie Wilkens III
6. 23 Steven Maier
Rookie 4
1. 3 Sherry Best
2. 67 Jimmy Best
3. 15 Caylee Best
4. 41 Marina Pety
5. 11 Zach Rogers
6. 5 Erin Yahnke