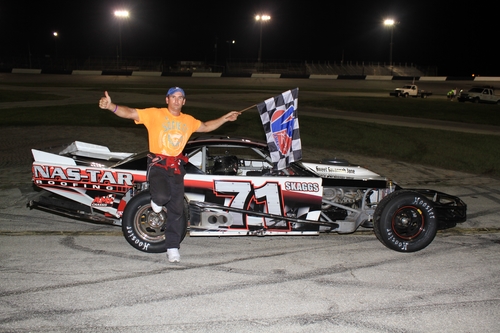 After an exciting third place finish in the 35-lap Open Wheel Modified Race at the Full Throttle Speedway, driver Doug Moff insightfully explained racing's broad-based appeal.
"Smoke, tires, rubber and racing, that's why you come out. You don't come out to watch follow the leader," Moff said. "Good competitive racing, that's why you come out.
Saturday night, the racing fans got all that and more.
The card of full throttle racing the night after a full moon began with five 6-lap heat races.
In the Junk Yard Dogs heat, a trio of Myakka City drivers took the top three spots. James Widner took the checkered flag by finishing ahead of Dalton Ellis and family rival Josh Widner.
The Pro 4 heat featured a spinout, a caution flag and a restart before Randy Johnson of Bradenton finished ahead of David Patterson of Port Charlotte and Johnny Marra of St. Petersburg.
The Road Warriors division had two heat races. Chris Loney of Naples took the first heat and Shane Leonard of Cape Coral won the second heat.
John Pummell Jr. of Arcadia won the Cowboy Cadillacs heat by outracing Richard Nelson of Port Charlotte and Kris Bridges of Venice.
In the first of six feature races, 13-year old Zack Rogers of Clearwater raced to victory ahead of Jimmy Best and Marina Petty of Venice.
The 15-lap Cowboy Cadillacs feature saw James Dellea of Port Charlotte taking the lead on lap 3 and holding on to it to finish ahead of Richard Nelson and Kris Bridges of Arcadia.
"They've been thrashing on the truck all week to get it ready," Dellea said. "I'd like to thank everyone that got the truck ready."
The 30-lap Road Warriors feature some exceptional driving to avoid what could have been a multi-car accident. On lap 13, Chris Loney of Naples spun out on the back straightaway after coming off of turn 2. The spinout put Loney in harm's way, but all the drivers in the nine car field were able to drive around him. Loney was leading the race before his spinout. After a restart, Loney
retook the lead on lap 16 and held it for the rest of the race. Shane Leonard placed second and Dellea placed third. Loney noted that it was his first win since getting a set of four new tires. Nelson said that he hoped to win his next race after having to settle for second place."It wasn't where I wanted to be," Nelson said. "I'll get em next time." Nelson was found illegal in the tech inspection after the race, giving second place to Shane Leonard and James Dellea III was third.
In the 30-lap Open Wheel Modified feature. Nick Hernandez of Palmetto and Steve Arnold of Cape Coral took turns leading before L.B. "Watch This" Skaggs took the lead on lap 7. There
were a couple of delays after Hernandez spun out on lap 13 and tapped out Wayne Jefferson on lap 21.
Despite the delays, Skaggs held off a strong challenge from Steve Arnold of Cape Coral and Doug Moff of Fort Myers. Skaggs credited the addition of a new motor giving him the added horsepower on the straightaways to maintain his lead. Skaggs clearly crossed the stripe in first place but Moff tapped Arnold as they were racing to the line and both crossed sideways and second was awarded to Arnold.
Randy Johnson of Bradenton won the 25-lap Pro 4 feature by fighting off a strong challenge from Ronald Robinson, also of Bradenton. Jessica Ostrovskis of St. Petersburg finished third.
"He (Robinson) was aiming hard that I was going to lose," Johnson said. "He gave me a workout that I haven't had in a while."
"I was trying to get him with everything I had," Robinson said. "But I had some shaky steering, something went out."
In the night's final feature, James Widner won the 15-lap Junk Yard Dogs race over Dalton Ellis and Josh Widner. Widner told the fans that if they've got an urge to go racing, then the Junk Yard Dogs competition is a great place to start.
"It's a fun class," Widner said. "Take a car away from your daughter or son, put a cage in it and go racing man."
Racing resumes at the Full Throttle Speedway on Saturday, October 26th.
October 26 th , 2013
We have great news to announce …. the TBARA Winged Sprint Series and Full Throttle Speedway have reached an agreement to race on October 26th. Yes, next weekend.
We are excited to have TBARA back at FTS , along with a lot of Trick or Treating.
FTS will have a costume contest, Bike give away and more for all the fans to enjoy.
This will be a night filled with "Thrills & Chills" for all, so bring your friends and family to Full Throttle Speedway October 26 th .
Kids remember to bring your Trick or Treat Bags, drivers will be handing out candy.
Featured with the TBARA Winged Sprints will be
Late Model Sportsman for 50 laps,
Sponsored by Take Aim Gun Range,
Pro 4, Rookie 4,
Junk Yard Dogs, Sponsored by Q Auto & Injury Attorney's ,
Legends, Bandos and the S. E. Champ Karts.
10-19-13
FULL THROTTLE SPEEDWAY RACE RESULTS
OPEN WHEEL MODIFIED
1. 71 L.B. Skaggs Riverview
2. 79 Steve Arnold Cape Coral
3. 46 Doug Moff Ft. Myers
4. 03 Kyle Bookmiller Riverview
5. 1 Wayne Jefferson Pineallas Park
6. 29 Chris Zimmerman Largo
7. 37 Nick Hernandez Palmetto
8. 11 Jimmy Thompson D.N.S.
ROAD WARRIOR
1. 33 Chris Loney Naples
2. 8 Shane Leonard Cape Coral
3. 81 James Dellea 3rd. Port Charlotte
4. 57 Ben Kelly Venice
5.44 Rick Hess Englewood
6.18 Logan Leonard Cape Coral
7. 63 Kyle Best Myakka City
8. 97 Chris Scott Nokomis
9. Richard Nelson Port Charlotte D.Q.
COWBOY CADILLAC'S
1. 77 James Dellea Port Charlotte
2. 80 Richard Nelson Port Charlotte
3. 22 Ric Mills Arcadia
4. 6 Kris Bridges Venice
5. 86 John Pummell Jr. Arcadia
6. 5 Ed Snyder North Port
7. 8 Mike Bialecki Arcadia D.Q.
JUNK YARD DOGS
1. 5 James Widner Myakka City
2. 171 Dalton Ellis Myakka City
3. 8 Josh Widner Myakka City
4. 01 Aaron Widner Bradenton
5. 27 Austin Lykins Parrish
PRO 4
1. 73 Randy Johnson Bradenton
2. 05 Ronald Robinson Bradenton
3. 91 Jessica Ostrovskis St. Pete
4. 63 David Patterson Port charlotte
5. 99 Johnny Mara Cape Coral
6. 1 Rob Boos St. Pete
ROOKIE 4
1. 11 Zack Rogers Clearwater
2. 67 Jimmy Best
3. 171 Marina Petty Venice
4. 3 Sherry Best Myakka City D.N.S.