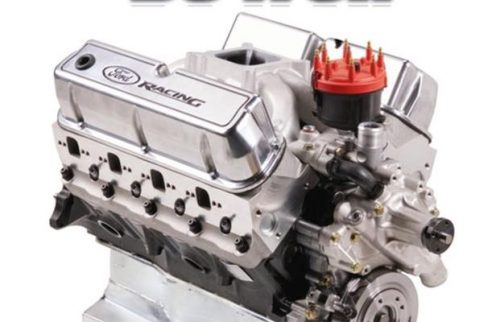 Mooresville, NC 2/14/17– Since day one Ford Performance has supported the CARS Tour and its competitors that utilize Ford Performance products. With the 2017 CARS Tour season opener at Concord (NC) Speedway on March 11 quickly approaching, officials from Ford Motor Company and Ford Performance are proud to announce record financial support to CARS Tour competitors this season. Almost $14,000 will be up for grabs throughout the course of the year for the Ford Performance loyalist.
The following financial incentives will highlight Ford Performance's contribution to series competitors in 2017:
*First ten (10) Late Model Stock competitors utilizing the Ford 347SR that enter the Short Track US Nationals at Bristol will receive $150 cash bonus. Competitors must attempt to qualify for the event.
*Ford Performance will award cash bonuses of $500 to 1st, $250 to 2nd, and $100 to 3rd place Super Late Model finishers at Bristol that utilize either the Ford 347SR or Ford 374D
*Ford Performance will award cash bonuses of $200 to 1st, $100 to 2nd, and $50 to 3rd place finishers that utilize the Ford 347SR in all eleven (11) CARS Tour events (except Bristol) in both the Late Model Stock and the Super Late Model divisions in 2017
*Ford Performance will continue their support of the CARS Late Model Stock Tour Loyalty Program and award $300 cash bonus to the top three (3) highest finishing Ford 347SR competitors in races #10 and #11 who have shown perfect attendance. Once the award has been won by a competitor it will go to the next highest Ford finisher.
*The "Ford Performance Paid to Perform" will award $1,500 cash bonus to the Ford Performance Late Model Stock driver that qualifies in the top four at the Mid Atlantic Classic on July 22 at Orange County Speedway and chooses to start in the rear and wins the feature event.
*Ford Performance will award a cash bonus of $350 to the highest finishing Ford 347SR or Ford 374D at the Mid Atlantic Classic on July 22 at Orange County Speedway
"Ford Performance has already shown their growth and commitment to increase their support of stock car racing on the NASCAR level and now they are doing the same in the CARS Tour. That says a lot for our series and our competitors going forward," noted Series Director, Chris Ragle.
Mike Robins, Ford Performance's new Circle Track Racing Manager, had the following to say about Ford's commitment to stock car racing and the CARS Tour program in particular when discussing the 2017 season.
"We are proud to continue our relationship with the CARS Tour and our dedicated racers. We're thrilled by the success of our racers in the past and are eager to continue that success into the 2017 season. Ford's line of Sealed Racing Engines are engineered, tested, and manufactured to professional racing series standards and deliver reliable and lasting performance, lap after lap."
All 2017 forms for the upcoming season including rulebooks, owner/driver registration forms, annual race entry, and the hard card applications have been released on the CARS Tour website at www.carsracingtour.com.