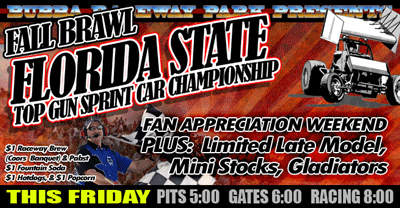 Jim Rouse, BRP Media (10-8-12)  Ocala, FL – This week we host our last of the 4 majors with our Florida State Sprint Car Championship races. Joining them this Friday will be our Buddy's Home Furnishings Limited Late Models, 1-800-ASK GARY Thunder Stocks (to make-up last weekend), Barfield Law Group Mini Stocks, and Rent-N-Roll Gladiators. It's also Fan Appreciation Night this Friday as we have Raceway Brews (Coors Banquet and Pabst), fountain sodas, hotdogs, and popcorn for just a dollar! Don't miss this great action and Fan Appreciation!
Our Twisted Tea Top Gun Sprint Car drivers will fight for a beautiful ring and some valuable championship points that leader Matt Kurtz would like to have. Kurtz has been dominant and made 2 beautiful last lap passes on some of the best in the business. Chasing driver #92 down is "Flyin" Ryan Partin. Partin, the 2010 champion, may have to go all-out-RoGro to take a win as he has a heavy downforce wing compared to the rest of the pack. AJ Maddox took a win earlier in 2012 and could very easily visit Coors Light Winner's Circle again if he could buy a break. Tony Agin is in the top 5 as he methodically works his way into relevance every race. You never hear about his #38 but by the end he' s made a statement. Mark Ruel, Jr. led the standings early in the year but has fallen off the pace since his big win a few weeks ago. Never count anyone out as there are plenty of other drivers- Danny Martin, Jr., Robbie Smith, Tyler Godwin, and Colin Cabre- who could take home a nice trophy and maybe even a ring.
Up front, as it has been in most features, in our Buddy's Home Furnishings Limited Late Models is JO Nobles. Nobles leads a nice duo of drivers in David Showers and Forrest Gough as all 3 have shown their veteran status means something. Gough, however, is still winless in the Bubba Clem Era and he'd like to scratch that from his record before too long. Then, in a fight from drivers who are maybe Freshman in high school, Christian and Caleb McGillivray fight for supremacy of the house while Carter Stokes, coming off of his big win in the RCR Developmental car, chases them down. Eddie Gainey, Kyle "Budda" Chappell, Phillip Cobb, and Kevin Mills have also won in 2012 and plenty of others could break through as well and show that they can fight for a title next season.
Cheater Racing's Brian Mullins and Appleby-Winne Racing's Jonathan Appleby continue to fight for the 1-800-ASK GARY Thunder Stock title while others take home the wins in this tight division. Mullins continues to use consistency while Appleby has racked up the wins- 6, so far- in his chase for a title. TNT Automotive driver Jason Gamble has driven 4 different cars to top 5 finishes in a season he may want to forget. Other than a win in April it's benn dismal for the team that finished runner-up last year. Brandon Elwood is towards the top as is John Thorpe who both struggle to keep up on the engine developmental side but they use their driving talent to take their equipment to the front. Plenty of other drivers can win and many could take career win #1 and luck doesn't have to be involved for it to happen.
Buddy Pope has had a bi-polar season but he's still in a 3-way fight for the title with "The Terror" Travis Staats and rookie Reid Christensen. Pope and Staats have each won multiple features while Christensen has used consistency-the only one to start every feature so far- to stay in the fight. The season has been rough for all 3 as Staats missed a race early and had some problems in the tech shed. Pope has had his rough times on track as he's been involved in a few wrecks, not of his doing, that cost him valuable points. Christensen is still getting used to "The Daytona Prototype" #30 as set-ups are hit-and-miss on an old asphalt racecar. Charlie Staats can never be counted out and we know it's just a matter of time until the F-150 finds Victory Lane. Give it your all and you too could find Coors Light Winner's Circle!
It's been all about Tony LaPorta, Steve Johnson, Brandon Haseleu, and Jordan McMillon in this title fight for our Rent-N-Roll Gladiators. LaPorta has been the winner but Haseleu has shown that a track with character brings his winning character out. LaPorta hasn't found a handle on that surface so it's damage control at that point. Johnson and McMillon are in the middle every time but Johnson has pounced a few times to take home 2 wins thus far. Luck nhasn't been on "Scooby's" side, though, as he's let 2 slip away as well. McMillon and Haseleu show that a driver's license doesn't mean success while LaPorta and Johnson are trying to prove that they still have the fight in them. It's been a wonderful fight so far in 2012 and nothing less is expected in the finish.
Pits will open at 5 with stands at 6 and racing scheduled for 8 on Friday!!! Don't miss some of the best action in racing and Fan Appreciation Night! For more information visit www.bubbaracewaypark.com or call us at 352-622-9400!