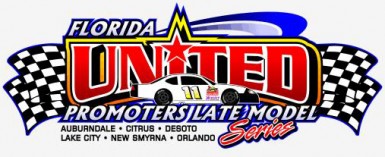 The FL United Promoters Series Super Late Models open the 2013 season with the 33rd Annual Ice Breaker 100 at Citrus Co. Speedway this past Saturday night. Wayne Anderson of Wildwood, added his second Ice Breaker win to his racing resume, his first win in this historic event came in 2009. He now joins the legendary Dick Trickle and his father Dick Anderson as the only other two time winners, the senior Anderson has four wins in this prestige event.
Nineteen cars were on hand for the Ice Breaker with 15 taking qualifying, on this cold Sat. afternoon. David Green in the Drawdy Bros. #12 set fast time with a 13.568 on the tight fast oval. Local Citrus racer Mike Bresnahan would take 2nd fastest and 2013 Rookie of the Year contender Anthony Cataldi rounded out the top 3 for qualifying. With the re-draw, the line up was set, Randy Anderson and Jonathan Guy would start on the front row.
Randy Anderson led the field for the first six laps before dad, Wayne caught him and made the underneath past coming off turn two to take the lead. The elder Anderson set sail and never looked back as he captured the 100 Green Flag Laps event. Daniel Webster of Brooksville was the runner up in his new look #33, rookie contender Randy Anderson, Bresnahan, and Devon McLeod completed the top five.
In the Fups Legends companion race, Kory Abbott took the victory over Jordan Balck, Dakota Beggette, Seth Adams, & Becca Monopoli.
The FUPS Supers & Legends next race is Saturday March 16th at Auburndale Speedway, for more info follow us at www.floridaunitedpromotersseries.com