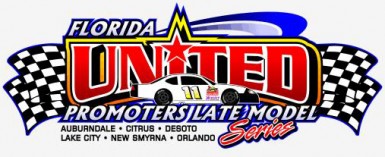 Bronson Speedway will host FL United Promoters Series presented by Tuffy Auto Service of Jonesville this Saturday May 11th with the running of the Blackwater Integration Sportsman 50, the Alan Jay Automotive Network Pro-Trucks 50 presented by the  Joey Coulter Charity 200 Racing for a Cure, and the FUPS Legends and Bando's. This will be the first visit to the track know as Florida's Premier High Bank Short Track for FL United Promoters Series Teams. We are pleased to have Bronson agree to hosting this event as we continue to expand the FUPS Brand to different venues in Florida, stated series director Rick Williams.
Sportsman point leader Brandon Morris who has one win thus far will be battling the challenges of series regulars, James Wright III, Craig Cuzzone, James Mobley, Bobby Hartin, Cody McDuffie and many more. In the Alan Jay Automotive Network Pro-Trucks it will be Jessica Green with a win last month, Jessica Murphy, Dylan Martin, and Mica Williams and a host of others all chasing point leader Steve Darvalics who won the season opener at Auburndale back in March. Legends points leader Kory Abbott will be trying for win  number four this season with Teddy Lively, Danielle Stratton, Becca Monopoli, all trying to break his dominance over the competition.
Also on the racing card for the night will be Pure Stocks, Strictly Stocks, Street Stocks, Modified's, Hornets and Spectator RacingBronson Speedway will hold Friday night practice from 5-9pm., pit entry fee is $15.00 and there will be a Pit Party with Karaoke to follow. On Saturday pit gate opens at 12pm, grandstands at 5:00pm. and racing at 7:00pm.