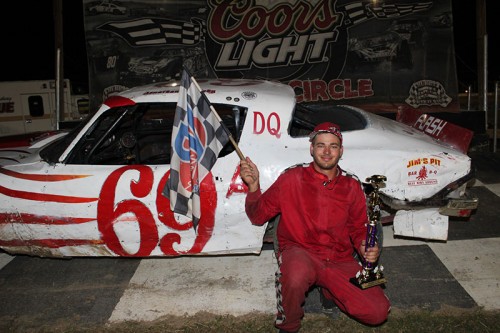 Jim Rouse, Ocala, FL- The Bubba Army Limited Sprints, Limited Late Models, Hobby Stocks, E-Mods, and 1-800-ASK GARY Thunder Stocks all put on some fantastic shows at Bubba Raceway Park on a wonderful summer night.
The 1-800-ASK GARY Thunder Stocks opened up action with Melvin Fockler leading until a lap four restart saw Brandon Elwood topple over in his #28. Elwood was okay and actually drove the car into the pits. Jason Gamble used the restart to hound Fockler for the lead and made the pass on lap seven, but he saw his lead vanish when he got loose in turn four and contact from Jonathan Appleby sent him spinning. A few late race cautions kept the field tight and Appleby would win over Gamble. Pat Mennenga finished third with Brandon Tillander fourth and William Gillam opening up his championship lead with a top five.
Shane Nichols dominated the E-Mod feature by leading the three caution affair from green to checkered. A late race spin from Devin Walker gave Jon Layerd a shot at Nichols but he couldn't make the pass leaving Nichols with the win. Layerd, Devin Walker, Heath Walker, and Dave Arivett. Nichols received a $50 bonus from Lonestar Cable and Rick Scott.
The Limited Late Models saw Tyler Clem open up a half lap lead, just to see it begin to narrow towards the end of the race. Clem maintained his composure and held on for his third win of 2013 over Kevin Mills and Chuck Jackson. Clem received a $50 bonus from Rick Scott and Lonestar Cable which was added to the money Clem Racing donates to charity after Clem's races.
Devin Walker built up some more cushion on his championship lead with a flag-to-flag win in the Hobby Stocks. Behind him, however, the fight for second was intense as Ray Ethridge and Sean Monoghan fought all night for the position. Ethridge would beat Monoghan out for second, just as Jon Layerd held off Joey Forsyth for fourth.
Rick Scott and Lonestar Cable offered a $100 bonus to the winner of the Bubba Army Limited Sprints race, but put an extra $100 up for Robbie Smith if he could come from the back to win the challenge. Mark Ruel, Jr. would jump to the lead and pull away until lap five when Robbie Smith looped the #6 in turn four. With Smith back in eighth- and with just twenty laps left- Ruel saw his opportunity. Incredible laps were put down by both Ruel and Smith, but the gap was too much to overcome and Mark Ruel, Jr. won the 25-lapper. Smith finished second (and Rick Scott gave him $50 in Victory Lane) with Terry Witherspoon, Scott Lagasse, Jr. (in his Sprint Car debut) fourth, and DJ Peeples completed the top five.
Next week we wrap September up with the Scorpion Racing Products UMP DirtCar Modifieds, Limited Late Models, Hobby Stocks, 1-800-ASK GARY Thunder Stocks, and Rent-N-Roll Gladiators. For more info, please visit www.bubbaracewaypark.com or call us at 352-622-9400.
 
 
Bubba Raceway Park Results (9/21/13):
 
 
Bubba Army Limited Sprints:
Heat 1)
1- 6 Robbie Smith
2- 83 Mark Ruel, Jr.
3- 98 Scott Lagasse, Jr.
4- 30 DJ Peeples
5- 2 Rex Howe
Heat 2)
1- 43 Terry Witherspoon
2- 14 Tyler Clem
3- 6 Brandon Grubaugh
4- 3 Otto Scrape
SCR- 99 Gene Machuga
Feature)
1- 83 Mark Ruel, Jr.
2- 6 Robbie Smith
3- 43 Terry Witherspoon
4- 98 Scott Lagasse, Jr.
5- 30 DJ Peeples
6- 14 Tyler Clem
7- 3 Otto Scrape
8- 99 Gene Machuga
9- 2 Rex Howe
10- 6 Brandon Grubaugh
 
Bubba Raceway Park Limited Late Models:
Heat 1)
1- 14 Tyler Clem
2- 01 Kevin Mills
3- 0 Chuck Jackson
SCR- 75 Jon Layerd
Feature)
1- 14 Tyler Clem
2- 01 Kevin Mills
3- 0 Chuck Jackson
SCR- 75 Jon Layerd
Bubba Army Hobby Stocks:
Heat 1)
1- 51 Sean Monoghan
2- 02 Jon Layerd
3- 55 Devin Walker
4- 16 James Erickson
5- 17 Joey Forsyth
6- 210 Ray Ethridge
7- 14 James Sullivan, III
Feature)
1- 55 Devin Walker
2- 210 Ray Ethridge
3- 51 Sean Monoghan
4- 02 Jon Layerd
5- 17 Joey Forsyth
6- 16 James Erickson
7- 76 Dave Arivett
SCR- 14 James Sullivan, III
Bubba Raceway Park E-Mods:
Heat 1)
1- 65 Shane Nichols
2- 75 Heath Walker
3- 5 Devin Walker
4- 25 Dave Arivett
SCR- 21 Jon Layerd
Feature)
1- 65 Shane Nichols
2- 21 Jon Layerd
3- 5 Devin Walker
4- 75 Heath Walker
5- 25 Dave Arivett
 
1-800-ASK GARY Thunder Stocks:
Heat 1)
1- 69 Jonathan Appleby
2- 28 Brandon Elwood
3- 34 Mark Trexler
4- 33 Melvin Fockler
5- 73 Brandon Tillander
6- 73 Don Bishop
Heat 2)
1- 33 Jason Gamble
2- 75 Pat Mennenga
3- 13 William Gillam
4- 3 Shane Williams
5- 24 Randy Strehle
SCR- 21 Cory Ross
Feature)
1- 69 Jonathan Appleby
2- 33 Jason Gamble
3- 75 Pat Mennenga
4- 73 Brandon Tillander
5- 13 William Gillam
6- 73 Don Bishop
7- 33 Melvin Fockler
8- 55 Joey Durbin
9- 21 Shane Nichols
10- 34 Mark Trexler
11- 3 Shane Williams
12- 28 Brandon Elwood
SCR- 24 Randy Strehle