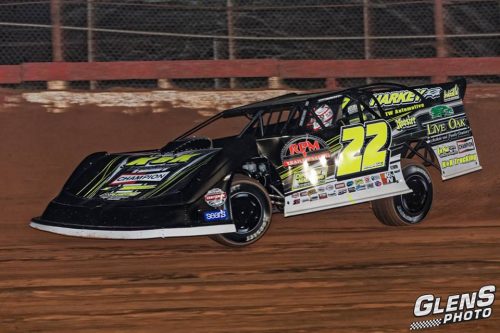 MODOC, SC – Chris Ferguson of Mt. Holly, NC drove his appropriate #22 RPM Transmissions Rocket to his third straight Jack Starrette Memorial 50 win for the ULTIMATE Super Late Model Series South East Region on Saturday night at Modoc Raceway. The win was worth $5,022 to Ferguson, and the number 22 is prevalent because Starrette used #22 on his race cars as a National Dirt Late Model Hall of Fame Car owner.
Ferguson was Starrette's driver in his #22 machine at the time of his death in a construction accident in 2010. Ferguson continued his dirt late model career using the number 22, and won the first ULTIMATE SE Championship in 2011.
After taking the lead under caution on lap 16, Ferguson led the remaining 34 laps and took a 3.673 second margin of victory over Jonathan Davenport of Blairsville, GA in the Barry Wright Race Cars "House Car." Three-time ULTIMATE SE Champion Casey Roberts of Toccoa, GA finished third, and fourth went to Brent Dixon of Elberton, GA.
The defending and two-time ULTIMATE SE Champion Dennis Franklin of Gaffney, SC took the fifth spot in the M&W Transport Longhorn. Franklin was another former Starrette driver that was looking for his third Jack Starrette Memorial 50 victory. G.R. Smith of Statesville, NC was sixth, and Michael Brown of Lancaster, SC drove to a seventh-place finish.
Brian Ligon of Augusta, GA finished eighth one lap down and ninth went to Brian Connor of Martins, GA. Jason Welshan of Maryville, TN rounded out the top ten in the Hidden Hollow Motorsports Special. Connor and Welshan completed 34 and 32 laps respectively.
Davenport was the $200 M&W Transport "Haulin' It" Fast Qualifier Award Winner with a lap around Modoc Raceway in 16.940 seconds. He earned the pole position for the main event, with Ferguson starting on the outside of the front row. When the field went green to start the race, it quickly went yellow and then red for a multi-car tangle.
Joe Langley of Lancaster, SC, Scott Shirey of Swansea, SC, and Brandon Carpenter of Grovetown, GA were done for the night without completing a lap. The complete restart saw Autolite/Fram/DirtOnDirt.com Rookie of the Year candidate Brett Hamm of Newberry, SC take the lead from his third starting spot, followed by Ferguson, Davenport, Roberts and Dixon.
By lap six, Hamm opened up a .8 second lead on Ferguson, who shaved a half a second off of that by lap eight. Hamm turned up the wick, and took back the half a second by lap ten. One wick up turn deserves another, as Ferguson closed to within two tenths of a second by lap 13. The reason Hamm began to give up ground on to Ferguson was soon discovered.
Hamm suddenly slowed on lap 16 to bring out the caution flag. The car was handling perfectly, and the engine was running strong. However, the most perfectly handing race car powered by the world's strongest engine isn't going anywhere without the part that runs from the transmission to the rear wheels called a driveshaft.
Ferguson assumed the point with Davenport, Roberts, Dixon, Franklin, Anthony Sanders of Spartanburg, SC, Smith, Brown, Connor and Welshan doubled up behind him in second through tenth respectively. Zack Mitchell of Enory, SC gave up the seven spot under caution and went to the pits. When the field went back to green flag action, Sanders retired on lap 24, and by the halfway point, Ferguson held a 3.6 second lead over Davenport.
The final caution flag of the race came out on lap 29 to bunch up the field with Ferguson leading Davenport, Roberts, Dixon, Franklin, Smith, Brown, Connor, Welshan, and Ligon in the top ten. Welshan fell off the pace after the restart, and retired on lap 32 to be credited with the tenth spot. Connor fell out on lap 34 to claim the ninth spot.
Ferguson held a 2.1 second lead on Davenport with ten laps to go, and put another second and a half on him when the checkered flag fell on lap 50, 37 minutes and eight seconds after the initial green flag started the race.
The next two races on the 2017 ULTIMATE SE schedule of events will be a pair of $4,000-to-win, $400-to-start events. Senoia Raceway in Senoia, GA will host the ULTIMATE SE Region on Saturday night, April 22, and then travel to Rome Speedway in Rome, GA on Sunday night, April 23.
Check out the official website for the Ultimate Super Late Model Series at www.ultimatesupers.com, and continue to follow our social media networks on Facebook at Ultimate Super Late Model Series and on Twitter @ULTIMATESupers to get up to the minute news and details as they become available.
OFFICIAL RESULTS OF ROUND 3 AT MODOC RACEWAY IN MODOC, SC ON 4/15/17:
POS STRT CAR # DRIVER HOMETOWN LAPS $ WON
1. 2 22 Chris Ferguson Mt. Holly, NC 50 $5,022
2. 1 49 Jonathan Davenport Blairsville, GA 50 $2,500
3. 5 101 Casey Roberts Toccoa, GA 50 $1,500
4. 7 1 Brent Dixon Elberton, GA 50 $1,200
5. 8 2 Dennis Franklin Gaffney, SC 50 $1,000
6. 11 22s G.R. Smith Statesville, NC 50 $850
7. 10 24d Michael Brown Lancaster, SC 50 $750
8. 13 4 Brian Ligon Augusta, GA 49 $700
9. 15 77 Brian Connor Martins, GA 34 $600
10. 18 29 Jason Welshan Maryville, TN 32 $550
11. 20 14 B.J. Cochcroft Leesville, SC 25 $500
12. 6 421 Anthony Sanders Spartanburg, SC 24 $450
13. 3 18 Brett Hamm Newberry, SC 16 $425
14. 4 57 Zack Mitchell Enory, SC 16 $400
15. 17 31 Tyler Millwood Cartersville, GA 16 $400
16. 16 26 Jimmy Sharpe Jr. Soperton, GA 9 $400
17. 19 42 Doug Sanders McAdenville, NC 5 $400
18. 9 7 Josh Langley Lancaster, SC 0 $400
19. 12 10 Scott Shirey Swansea, SC 0 $400
20. 14 B4 Brandon Carpenter Grovetown, GA 0 $400
ENTRIES: 20
M&W TRANSPORT "HAULIN' IT" FAST QUALIFIER: Davenport, 16.940 Seconds
PROVISIONALS: None
LEAD CHANGES: 1
LAPS LEADERS: Hamm, 1-16; Ferguson, 17-50
LAPS LED: Ferguson, 34; Hamm, 16
HARD CHARGER OF THE RACE: Cochcroft (started 20th and finished 11th)
CAUTIONS: 3 (1 Red)
MARGIN OF VICTORY: 3.673
TIME OF THE RACE: 37 Minutes and 8.654 Seconds
M&W TRANSPORT "HAULIN' IT" QUALIFYING:
POS CAR # DRIVER TIME
1. 49 Jonathan Davenport 16.940
2. 22 Chris Ferguson 16.954
3. 18 Brett Hamm 17.093
4. 57 Zack Mitchell 17.104
5. 101 Casey Roberts 17.196
6. 421 Anthony Sanders 17.216
7. 1 Brent Dixon 17.266
8. 2 Dennis Franklin 17.378
9. 7 Josh Langley 17.486
10. 24d Michael Brown 17.512
11. 22s G.R. Smith 17.513
12. 10 Scott Shirey 17.619
13. 4 Brian Ligon 17.649
14. B4 Brandon Carpenter 17.678
15. 77 Brian Connor 17.809
16. 26 Jimmy Sharpe Jr. 17.811
17. 31 Tyler Millwood 17.910
18. 29 Jason Welshan 18.090
19. 42 Doug Sanders 18.413
20. 14 B.J. Cochcroft 20.128
The ULTIMATE Super Late Model Series would like to recognize their marketing partners for the 2017 season which include: American Racer, Hoosier Race Tires, VP Race Fuels, M&W Transport, PPM Racing Products, Arizona Sport Shirts, DirtonDirt.com, Big A's Custom Graphics, AR Bodies, Five Star Race Bodies, Schaeffer's Racing Oil and Lubricants, Autolite/Fram, RockAuto.com, Safecraft, Simpson, Thomas Clarke Performance Web Design and RacingJunk.com.