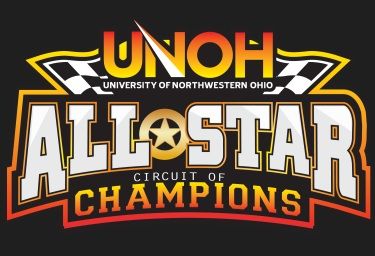 PORT ROYAL, Pa. (Saturday, Sept. 8, 2012) By Brian Liskai   Doug  The Hammer  Esh defended the PA Posse s home turf against the invading University of Northwestern Ohio All Star Circuit of Champions Saturday at Port Royal Speedway to claim the 45th Annual AB Auto Glass Tuscarora 50.
Esh, from Lancaster, Pa., had to hold off a charging UNOH All Star driver  Dangerous  David Gravel to earn his first career UNOH All Star victory.
Esh s first win of the season was worth $11,450 for Esh.
But it was Owasso, Ok. native Daryn Pittman who took home the big money.
With his sixth place finish, Pittman claimed the UNOH All Star s $20,000 check for winning the series  Eastern Region Championship.
Also, with his 10th place finish, Chad Layton was crowned the Port Royal Speedway 2012 champion.
Esh blasted around the Port s top shelf aboard his Leach s Automotive/Macri Concrete #30, and for a stretch of 11 laps he had the field right where he wanted them as the competition was bogged down in the lower and middle grooves.
Unbelievable,  Esh said in victory lane beside his Fire Protection./Pete s Bridge Street Motors/Pancho s backed machine.  During the break, I figured if we could get to the top, we could smoke them. I used up the track.
Crew chief Rob Peters is one of the best around and Dick and Leslie Leach put one hell of a team together,  added Esh.  We ve run second here pretty much many times and should have a couple wins here. This place owed us one.
We were leading an All Star race here a couple of years ago and blew a tire. It feels good to be on the stage here.
For Watertown, Connecticut s David Gravel, it was a good run, though he wished there were not two lapped cars between he and Esh on the late race restart.
I never got a shot at him wished those lapped cars weren t there because I had a great car,  said Gravel beside his P&M Transportation/Musco Fuels/Model Craft backed #89G.  We were fourth at the break (after starting
10th) and we put on a 200 (tire) on and went back a little bit. But late in the race the car really came on.
We broke a rear end in hot laps and had to thrash to get it fixed for qualifying. We didn t even get a lap in hot laps. We went out and still qualified ninth and were able to transfer out of the heat and made the dash. We learned some things tonight,  added Gravel.
Mike Wagner and Mike Erdley would bring the field to the green for the 50-lap feature. Esh started eighth and plodded through the first 24 laps while Wagner, Erdley and Brent Marks asserted themselves at the front of the field. Wagner led the first 17 laps before Marks made his move. Marks took second on lap six and used the low groove through turns 1 and 2 to take over the top spot on lap 18.
Lance Dewease, the defending UNOH All Star Eastern Region champion, and Danny Dietrich were charging through the field when they made contact in turn 1 with 24 laps complete. Dietrich flipped to bring out the red and officials stopped the race for the midway break.
Esh restarted the race in sixth and rocketed into the top five at the drop of the green. He would pass Wagner for third on lap 29. Erdley was Esh s next victim. The former Williams Grove National Open champion slid Erdley in turns 3 and 4 on lap 32 and shot around Marks coming out of turn 4 three laps later to take the lead.
Once the tires heated up, we took off,  Esh said.  Awesome job in the car with adjustments. I have a great team they did a good job. I m sick of talking tires they are what they are. We ll see what happens next year with that, but I hope this team can stick together next year.
Erdley would make up ground on the bottom, passing Marks for second on lap
42 and closing to within two car lengths of Esh with three laps to go. But, Esh dropped to the bottom and got around the lapped car of Danny Holtgraver to stretch his lead.
Erdley blew a tire on the last lap, ending any chance of victory. Marks also had a flat and fell back in the order.
Friday night s winner, Dale Blaney, who handed the UNOH All Stars their first ever win against the PA Posse at Port Royal the previous night, would bring his Ti-22 Performance backed #2 home in third, while Wagner and Danny Lasoski completed the top five.
Overall it was a pretty good weekend for us. We were good all night but I didn t get the start in the feature I needed to it was hard to pass. I didn t want any part of where Esh was running. I don t know how he did it up there, but he made it work,  said Blaney.