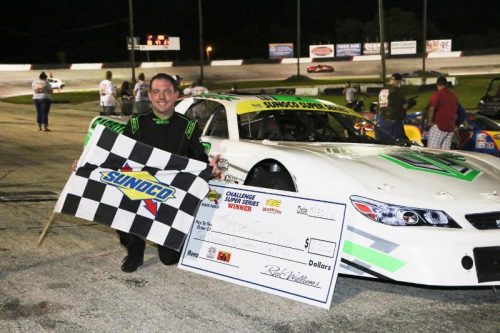 Scott Lookwood – When the Sunoco Challenge Super Series Late Models last raced at Desoto Speedway earlier this summer, Bradenton's Jesse Dutilly led the final 89 laps of the 100-lap main event on his way to a victory. He one-upped that feat in Saturday night's return engagement, rocketing up from his fourth starting spot and leading the final 90 laps on his way to another victory against the largest Late Model field of the season on his home track.
Dutilly and early leader George Gorham were battling for the lead when a caution flew for a spin involving Michael Atwell and Billy Bigley just seven laps into the event. On the restart. Dutilly and Gorham spent a couple of laps battling side-by-side for the lead after the restart. Dutilly led at the line at lap 10, cleared Gorham on a lap later and set sail from the rest of the field. Gorham, Winchell, Chris Fontaine and Devin McLeod staged a tight battle for the top five spots while Dutilly built up a three-second lead over the next 40 laps.
As Dutilly continued pulling away, Gorham settled comfortably in second half while Winchell, Fontaine and McLeod continued their fight toward the front of the pack. Anthony Sergi and Nick Neri were also in a position battle, with Sergi coming out with sixth place just prior to the halfway point.
Dylan Bigley spun just in front of Dutilly to bring out a caution and bunch up the field just past the halfway point. Fontaine lined up outside of Dutilly for the restart, but the caution flew immediately for a hard crash involving Atwell and Matt McCreary. Neither driver was injured in the melee. After a lengthy red flag period for a cleanup, Dutilly fought off a challenge from Winchell for the lead on the restart. Several laps later, Winchell and Gorham got together and spun in turn four while battling for second. Both drivers were sent to the rear of the field.
While Fontaine and McLeod settled in behind Dutilly after the restart, Billy Bigley began a charge through the field and found himself fourth when the caution flew for a multi-car crash on lap 70. On a later restart, Sergi vaulted past Bigley and McLeod to get to third behind Dutilly and Fontaine. Sergi was closing in on the runner-up spot when the caution flew again for a spin by Maryln McCreary just five laps from the finish.  Dutilly held off Fontaine on the final restart and drove away for the victory.
"That race was a battle," Dutilly said. "Chris Fontaine pushed us really hard at the end. The tires are all worn out at the end of the race and it's anybody's game on the restart. With four to go I was really worried because somebody could get ahold of you and Chris could have blasted right by me."
McLeod got by Sergi on the final restart and finished third. Bigley held off a charging Gorham to round out the top five.
The Q Auto and Injury Desoto Pro Trucks were also on hand for a 30-lap feature event. Danny Anderson started on the pole and was ahead of Chad Chastain and Cameron Cruse when the caution flew for Duane Best's spin on lap 6.  Chastain lined up outside of Anderson on the restart and needed just a pair of laps to take the top spot. He led Anderson by over a second before Anderson slowly started reeling in Chastain in the final 10 laps. Anderson would get to Chastain's rear bumper in the final two laps but couldn't get by to take the win. Nick Hernandez beat out Cruse in a thrilling battle for third.
In other action Saturday night, Darrin Ellis won the 25-lap LKQ Pick-Your-Part Pure Stock feature; Carl Thompson won the 25-lap Bomber feature; and Donnie Powers held off a last-lap challenge from Bobby Huffstutler to win the 25-lap Take Aim Gun Range Street Stock feature.
Desoto Speedway will host the Larry Brazil Memorial race for the Southern Sprint Car Shootout Series along with the J.D. Byrider Open Wheel Modifieds, Pure Stocks, Street Stocks, Modified Minis and Bombers.
07-30-2016
DESOTO SPEEDWAY RACE RESULTS
Super Late Model
30 Jesse Dutilly
47 Chris Fontaine
21 Devin McLeod
20 Anthony Sergi
28 Billy Bigley
10 George Gorham
15 Joe Winchell
67 Colin Allman
 128 Dylan Bigley
8 D. J. Hoelzle
57 Keith Zaferal
4 Marilyn McCrery
56 Robert Ford
58 John Coffman
34 Rick Carlton
17 Nick Neri
36 Chad Chastain
54 Matt McCreary
51 Michael Atwell
158 John White
Street Stock
1 4 Donnie Powers
74 Bobby Huffstutler
51 Garrett Thompson
50 Dave Blanchard
73 Jason Bartrum
11 Travis Barfield
96 Joe Humet
69 Keith Neff
23g Kenny Gibson
01 Bobby Diestler
11, 23b Todd Brown
Pure Stock
1.71 Darrin Ellis
7 Blaine Baer
3 Sherry Best
75 Carl Thompson
57 Aaron Holmes
67 Jimmie Best
72 Roger Dufrense
12 Doug Radley
Bombers
75 Carl Thompson
22 Ann Marie Ricardi
22x Randy Spicer
21 Tim Hunt
38z Zack Bridges
7k Joe Pace
57 Aaron Holmes
8.14 Adam Briggs
12 Doug Radley D. Q. racing tires
26 Glenn Swanson D.N.S.
78 Brandon Ducherers D.N.S.
Desoto Trucks
36 Chad Chastain
50 Danny Anderson
37h Nick Hernandez
22 Cameron Cruse
28 Cory Bigley
37g Michael Goddard
59x Becca Monopoli
3 Duane Best
99 Cody Martell