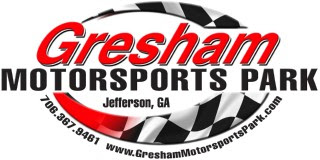 JEFFERSON, GA – After nearly a 50-year absence, Drag Racing will return to Gresham Motorsports Park with the debut of the GMP Street Drags / Shown N' Shine program this Saturday.
"Most people don't know that the first racetrack at GMP wasn't an oval, it was a drag strip," said track general manager John Close. "Local residents Hansel Wilson and Quentin Freeman built the track and they held all kinds of drag races here from 1963 through 1967. The strip featured a quarter-mile asphalt track and a dirt run-off area. It was located where the GMP back-straight trackside parking is now. There were no grandstands – spectators just stood by the track. There were also two little wooden concessions – one that cooked, one that didn't. That's great history that most people don't know about. Now, after all this time, it's pretty cool to be bringing drag racing back to Gresham Motorsports Park."
In all, Gresham Motorsports Park will hold eight Street Drag/Show N' Shine events in 2014. Each event will feature a Car Show from 2-5:30 p.m. before the Street Drag portion of the program opens its gates at 6 p.m. with the first race at 7 p.m.
There will be racing in 10 different brackets once the 'Christmas Tree' counts down on the GMP 300-foot drag strip. Most brackets are limited to street cars on regular tires. Brackets range from American Muscle to Four-Wheel Drive Trucks to Mini Vans and Compact Cars. An 'Open' Hot Rod bracket will be available for highly modified street legal cars.
Brackets are double-elimination format with the last pair racing a best two-out-of-three, winner take all format.
All cars mush have a current, valid registration and drivers must be 18 years of age or older and present a valid non-expired/revoked drivers license to compete.
Drivers 16-17 are permitted as long as they have notarized minor release form signed by their parent or guardian (Form available at www.racegmp.com.)
Earlier in the day, GMP will play host to some of the nicest iron in North Georgia with its Show N' Shine car show event.
Open to all cars, trucks, motorcycles and ATV, the Show N' Shine event cruises into the GMP infield at 2 p.m. sharp. Eight different judging divisions will be awarded trophies as best in class at the end of the meet at 5:30 p.m.
"We're looking for a strong turnout of great cars," said Close. "Our Street Drag / Shown N' Shine program director 'Boo' Carlisle has been out visiting a ton of cars shows all over the area. He's done a great job drumming up interest in Saturday's event with a real boots on the ground effort."
Saturday's GMP Street Drag / Show N' Shine program will open at 2 p.m. An all-day adult general admission ticket for both the Car Show and Street Drag program is just $5. It's also just $5 for anyone to register their vehicle to race while racers can purchase race brackets for just $5 each.
All Street Drag bracket winners – as well as Show N' Shine category winners – will receive a trophy.
Here's a look at the Gresham Motorsports Park Street Drag/Show N' Shine Schedule for this Saturday.
2 P.M. – Show N' Shine Gates Open
3 P.M. – Drag Racing Bracket Sales Begin
4 P.M. – Judging Begins
4:30 P.M. – Winner's Announced
4:45 P.M. – Awards Presentation
5 P.M. – Car Show Ends
5:30 P.M. – Facility Cleared
6 P.M. – Drag Pit Gates Open – Bracket Sales Continue
6:45 P.M. – Opening Ceremonies
7 P.M. – Bracket Racing Starts
9:15 P.M. – Racing Concludes
9:30 P.M. – Street Drag Trophy Presentations
10:30 P.M. – Facility Closes
Saturday's Street Drags / Show N' Shine event is supported by the Jackson County Sheriff's Department which urges you to drag race at GMP – not on public streets and highways. Saturday's event is also an alcohol free event with no alcohol sales or carry ins allowed.
For more information about the 2014 Gresham Motorsports Park racing season – including rules for the Street Drag Divisions and Show N' Shine competition categories – please log on to www.racegmp.com.
About Gresham Motorsports Park
Gresham Motorsports Park is located east of Atlanta, just off I-85 at Exit 140, in Jefferson, GA.  The sprawling motorsports and event complex – which underwent a multi-million dollar renovation in 2009 – features ¼- and ½-mile paved racing ovals, a 300-foot Street Drag Strip, Drifting Course, 4,000-seat main grandstand and state of the art electronic computer scoring, lighting and sound systems.  Additional information about Gresham Motorsports Park can be obtained by calling 706-367-9461 or at www.racegmp.com.  You can also follow GMP on Twitter @GreshamMotorsportsPark or on Facebook at Gresham Motorsports Park.