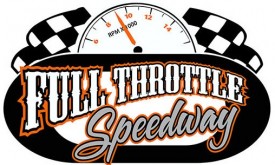 by Rick Anges
DeSoto Speedway has a long history. The east Manatee county speedway has been the home to some of the fiercest racing in Florida from Dick Anderson's win in the first Icebreaker in 1980, James Knight's valiant run for the '99 Pure Stock championship and  Jeff Choquette's first asphalt win just to name a few, it is rich with it.
Saturday  night a new era began with a new name. Full Throttle Speedway opened its gates to throngs of rabid stock car fans ready for their Saturday night fix.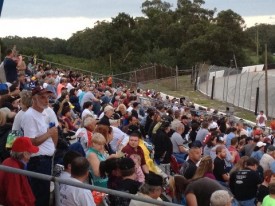 The parking lot was filled to capacity as were the pits including a field of 21 TBARA Winged sprints who put on one of their breath taking away 30 lap 7 minute features.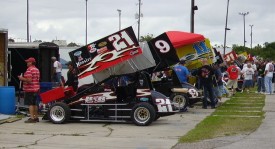 The rest of the racing was also action packed. A no holds barred Street Stock race. The side by side, door handle to door handle racing had all the fans on their feet. A little extra-curricular activity between the early leaders not only added to the excitement but no doubt made some fans of the drivers on both sides.  This class will definitely be the one to watch as season moves on.
And who can argue with 22 Road Warriors roaring around the high banks with "Racin' Jason" on the mic bringing them home to the checkers?  Watching these  guys swap paint and sheet metal is always an on the edge of your seat event. These two back bone classes have always  been the classes that draw the local fans week after week.
Pro and Rookie 4's, Legends, TQ midgets also make for some good racing. Throw in some Sprints, Sportsman, Late Models and Open Wheels as Headliners and you have a winning combo for a great weekly show.
Besides the racing the crew at Full Throttle really has the "Old Girl" looking good and as I wandered around and talked to a lot of the regulars who have been coming there for years this was one of the main topics of conversation with all positive comments.
All in all the staff and crew have a good start with a lot of happy fans and racers to kick off what should be an eventful 2013 season for "Full Throttle Speedway".