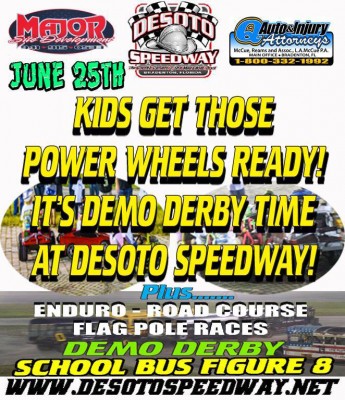 Demolition Derby returns this week to Desoto Speedway June 25th and not just one derby but two different derbys. Big car derby will be one you do not want to miss along with a smaller car derby. We also will have the kids Power Wheels derby for ages 4 to 9, it is free to enter you just bring your own Power Wheels.
When you think of school buses, you think of those bright yellow buses hauling your children to school. These buses are a little bit faster and a whole lotta crazy. Come on out this week and check out the always exciting SCHOOL BUS FIGURE 8. You're sure to be impressed and that's not all. There will be a Enduro, Road Course and Flagpole race. . All this excitement in one night and it's only $15 for Adults, $13 for Seniors, Children (6-10) $5 and 5 and under always FREE!
Grab the kids, Grandma and the whole family and come on to Desoto Speedway for Kid's Night Out. Nothing but Excitement!
Grandstands open @ 4:30 and racing gets underway at 7pm.
For more Information check us out at www.desotospeedway.net or call 941-748-3171