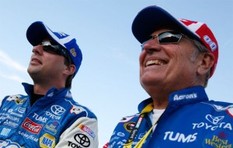 (Center Lisle, NY) NASCAR star David Reutimann, driver of the Tommy Baldwin Racing #10 and his legendary father Buzzie from Zephyrhills, Fl. will be in attendance this Friday night August 3rd.  They will both be meeting and greeting fans, signing autographs and chatting with everyone during the course of the race night.  Best of all, they will strap their helmets on and battle with the Sportsman Modified drivers during Friday nights' racing activities, hoping to show their dirt driving skills to all the folks in attendance.
David, a two time winner in NASCAR'S top division sharpened his racing skills on the dirt tracks in florida early in his career before he moved into the asphalt ranks on up to NASCAR where he has enjoyed some success with racings' best.  Driving for MICHAEL WALTRIP RACING in the famous #00 Aaron's Dream Machine Reutimann became MWR's top star until Waltrip hired Mark Martin this past off season to replace Reutimann in the driver's seat.  Short on time, and the lack of openings in the NASCAR ranks, Reutimann was hired by TOMMY BALDWIN RACING to be a team mate to Dave Blaney and drive a second entry on a part time basis.  Reutimann's job was to keep the #10 in the top #35 ranks, so Danica Patrick would be a guaranteed starter in the races she entered this season while sharpening her skills in NASCAR'S top level, and he has been able to do just that.
It has been a season of disappointment for Reutimann as the under financed team has struggled to finish races with a  rash of mechanical failures.  Reutimann did finish a solid 12th earlier this summer, but the team continues to struggle to field competive cars.  A very humble, friendly guy with deep family racing roots, David occasionally joins his father Buzzie to race Open Wheel Modifieds in Florida when the opportunity presents itself.  David maintains a stable of cars that allows his ultra competive 71 year old dad to race regularly accross the state of Florida.
Legenday Buzzie Reutimann has enjoyed a storied career driving the popular DOVER BRAKE #00 Modified to several victories across the northeast including the SCHAEFER 100 at the famous Syracuse NYS Fairgrounds.   This promises to be an exciting, fun night at Thunder Mountain Raceway Park with the REUTIMANN'S, so please join us on this special evening.
Gates will open at 5:00 p.m. with racing at 7:30 p.m.  Get there early to take advantage of this opportunity.  Who knows, maybe David will talk some of his competitors into joining him for the trip to "The Fast Track".  You just never know who might show up.  For more information, visit www.thundermountainracewaypark.com or call the speedway offices at 607-227-9602. Thunder Mountain Raceway Park – It's Along Ride To The Top, If You Want To Rock-N-Roll!