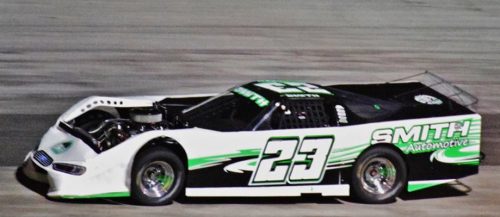 The DeSoto-Auburndale Sportsman Series is back in action for the first time since early July as the popular class will go for 50 laps Saturday night at Auburndale Speedway.  Along with the Sportsman cars, seven other classes will be in action including the Legend Cars, Mod Minis, Mini Stocks, V-8 Bombers, Scramblers, Mini Cups and the Daytona Antique Auto Racing Association will be making a special guest appearance.
It will be "The Results Companies Night" at the speedway as the company has teamed up with Auburndale Speedway as the track will be helping them gain new full time employees.  The Results Companies support Sirius XM and Healthmark with customer support and are looking for persons to fill available positions.
They will have a booth on the midway where fans can register to win a home Sirius XM radio unit (subscription service not included).
Saturday night will also feature the latest edition of Youth Nation Takeover.
Each child that enters the gate, ages 5-12, will either receive a pink or blue ticket accordingly.  To start, three tickets will be drawn and one child will get to ride in the pace car while another child will get to carry the flag in the safety truck with one other lucky child getting to drop the green flag for a race assisting flagman Julian Mullis.
Later, after the Mod Mini feature, driver Keith Roggen will draw a ticket for both a boy and girl to win a pair of Monster Truck tickets.
The DASS Series is just at it's halfway point of the season with three races down and three to go including Saturday night's event.  The first DASS race of the year here was held way back on April 16th and saw local favorite Mike Smith claim the win over Lakeland's Brett Jenkins, Jason Rendell of Lakeland, Colin Allman of Plant City and Apopka's Junior Beckner.  The other two events were held at DeSoto Speedway on April 21 and July 9 respectively and were won by Allman and Sean Bass of Lake Hamilton.
Allman currently leads the point chase trailed closely by Beckner.  Joshua Borem of Lakeland is third in points followed by Auburndale's George Gorham, Jr., and Robert Kuhn of Miami.  Rounding out the current top ten in points are Rendell, Rick Reed of Punta Gorda, Smith, Ft. Myers driver Joey Sims and current and defending New Smyrna Speedway points champion Patrick Thomas of Oviedo who was the 2015 NASCAR Division III National Champion.
All of these drivers are expected to take part, and with just one other track having the class on it's schedule, a field of over 20 should make for an exciting evening.  Other drivers that may be in attendance include Timmy Todd, Jr. of Kissimmee, Clermont's Jason Vail, Stuart VanDevender of North Ft.
Myers, Dave Colpritt of Lakeland, Bobby Mobley of Eagle Lake, Bartow's Chris Lewellen, and Bruce Bennett of Orlando among others.
Pit gates open Saturday afternoon at 2 pm with practice starting at 3:45 pm.
Grandstand gates open officially at 5 pm with DASS qualifying at 6:30 pm with racing getting under way at 7 pm.
Adult admission is $15 with seniors 55+ $13.  Children ages 5-12 are just $5 and all kids 4 and under get in free.  The family 4-pack is just $32 for two adult and two children's admissions.
OTHER NOTES:
The Race of Legends is starting to come together and will be held on Sunday, October 23 as part of "Championship Weekend".  The list of confirmed drivers continues to get bigger and now includes the likes of Gary "Hot Shoe" Balough, Mike McCrary, Mike Howell, Edward Howell, Steven Brack, Bobby Henry, Teddy Barnwell, Jeff Leserra, Cocoa Begtrup, Billy Barham, Jr., Perry Lovelady, Jimmy Crowe, Sr. Jackie "Turn Around" Brown, Jim Tuning, John Pettit and Skip Gibson with many more expected to take part driving Auburndale Speedway V-8 Bombers.
Another race date has been added for October 29.  On this night it will be "Trick or Treat the Drivers", a costume contest for boys and girls with the winning boy and girl each receive two Night of Destruction tickets, and, of course, plenty of great racing!