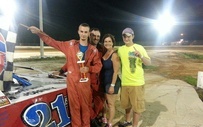 By Rob Hinckley
SATSUMA, FL (April 11) – "I saw him. He was right there."
But that was as close as Corey Crews would let Paul Snyder get. The rush of Crews' first ever Modified feature win overcame a sputtering car the last handful of laps and propelled him to the Putnam County Speedway Winners Circle Saturday evening.
"This is great," Crews said in the Winners Circle. "My very first win."
Crews started on the pole of the 20-lap main, led every lap and held off Snyder's challenges the last half of the race. Snyder, a late arrival after being rained out at another track, moved from the rear to the runner up finish.
Marion Sizemore, Larry Mott and David Crews rounded out the Top Five.
Sean Babcock led the debut of the TQ Late Models. He moved around Kevin Byers with six laps to go and won the 15-lap feature.
Byers, Chuck Cessna and Ryan Bender came next.
Scotty Sullivan wound through lapped traffic and won a wild 12-lap Gladiator finale. He beat James Sullivan and Jonathan Green to the checkered flag.
Mike Tripp made it two straight trips to the Winners Circle in his 15-year old Thunder Stock Camaro.
Jake Hartley won his second Hobby Stock feature of the season.
Racing continues this Saturday April 18 with an event recently added to the schedule. Modifieds, Thunder Stocks and Gladiators will compete. First green flag is set for 7pm.
Results:
Modifieds
1st Heat (8 laps) – 1. Corey Crews 2. Marion Sizemore 3. Mike Henry 4. David Crews 5. Tim Brown
Feature (20 laps) – 1. C. Crews 2. Paul Snyder 3. Sizemore 4. Larry Mott 5. D. Crews 6. Brown 7. Henry
TQ Late Models
1st Heat (8 laps) – 1. Kevin Byers 2. Chuck Cessna 3. Ryan Brender
Feature (15 laps) – 1. Sean Babcock 2. Byers 3. Cessna 4. Brender
Hobby Stock
1st Heat (8 laps) – 1. Jake Hartley 2. David Dowling 3. Jonathan Green 4. Craig Strickland
Feature (15 laps) – 1. Hartley 2. Dowling 3. Green 4. Strickland
Thunder Stock
1st Heat (6 laps) – 1. Mike Tripp 2. John Thorpe 3. Ken Petitt 4. Robbie Burkes 5. Codie Benton
Feature (12 laps) – 1. Tripp 2. Thorpe 3. Burkes 4. Petitt 5. Benton 6. Jeff Baer 7. Gerard Haley
Gladiators
1st Heat (6 laps) – 1. Steve Johnson 2. Jonathan Green 3. Scotty Sullivan 4. James Strehle 5. Dave Laurie
2nd Heat (6 laps) – 1. James Sullivan 2. Reid Christenson 3. Daniel Brown 4. Brian Thorpe 5. Casey Feaster
Feature (12 laps) – 1. S. Sullivan 2. Johnson 3. Green 4. J. Sullivan 5. Christenson 6. Thorpe 7. Feaster 8. Brown 9. Laurie 10. Strehle 11. Brandon Haseleu
Next Race – April 18 Modifieds, Thunder Stocks, Gladiators