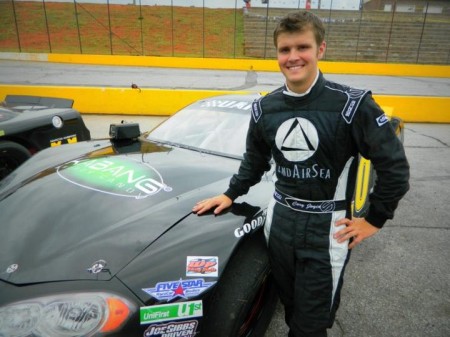 Just past the halfway point in the UARA-STARS season, rookie of the year contender Cory Joyce will travel to Concord Speedway this weekend with the No. 20 Ultimate Turf Chevy team for the second of three races in as many weeks. Looking to bounce back from a blown tire last weekend, Joyce and his team made an engine swap this week back to a built motor to prepare for the City Chevrolet 150. Coupled with Joyce's past racing experiences at the 1/2 mile oval, the Ultimate Turf Chevy team is prepped for a strong run and a finish to show for it on Saturday.

"It was really unfortunate to have a cut tire last week because we had our Ultimate Turf Chevy handling pretty well. But this week we made an engine swap back to a built motor, so I'm really excited for that. Hopefully the new motor will give us the power we need to get to the front," Joyce explained.

Just past the halfway point in the season, Joyce finds himself 13th in the point standings with one top-10 and three top-15 finishes. Though he hasn't claimed the results he's been hoping for, Joyce does believe the experience and knowledge his Cory Joyce Racing team has gained each week will help them get to consistent finishes before the season's end.

"It's been tough to get some good finishes this year. Even when we've had a really good car, we get caught up in someone else's misfortune. It's hard to deal with, but it's racing and those things happen. Hopefully we can continue to improve our car and get the solid finishes we deserve for the rest of the season."

UARA-STARS competitors hit the track for Saturday's events at Concord Speedway for practice sessions from 12:30-1:30 pm and 2:15-3:00 pm. Qualifying for the City Chevrolet 150 will be held at 5:30 pm with the green set for 8:00 pm EST. You can follow Cory in real time Saturday on CoryJoyce.com via the LandAirSea GPS tracking system or on pay-per-view by visiting www.MotorsportsBroadcasting.com. Get live updates throughout the weekend on Twitter @CoryJoyceRacing, and on Facebook at facebook.com/CoryJoyceRacing.

Follow Along: If you can't make it to Newport Speedway this weekend to check out Cory in action with the rest of the UARA-STARS competitors, make sure to log on toCoryJoyce.com/Media on Saturday night. You can watch Cory live via the LandAirSea GPS tracking system, and see live in car video during the City Chevrolet 150.

A Look Back at Caraway: Visiting Caraway Speedway for the first time in his career, UARA-STARS rookie of the year contender Cory Joyce started the Racing Electronics 150 on Saturday night optimistic about his chances at the unique, North Carolina short track. On the restart for a caution just past halfway, Joyce reported to his crew he had a right front flat and was forced to come down pit road for a replacement. Joyce returned to competition several laps down after the tire change and took home an 18th place finish.

Event Details:

City Chevrolet 150

Saturday, August 4, 2012

Concord Speedway

.5-Mile Tri-oval

150 laps/ 75 miles

Event Time: 8:00 pm EST

Follow Cory in real time.