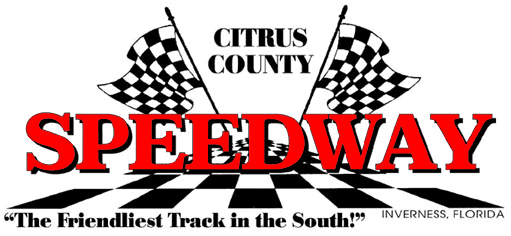 The points season is over. The Banquet is Over. Now the final race for 2012 is over, and below are the results.  This was the 1st part of the Winter Spectacular events held each year. The Second part will be Jan. 12th 2013. There will be a Friday night practice (1/11/13). The Saturday race will include:
SLM (100 laps), MMS (50 laps), SS (50 laps), PS (50 laps), and the Pro Trucks (50 laps).
If you didn't make it to this weeks events (or you did), be sure to come to the January 12, 2013 race. It'll be exciting.
Also, be sure to check out the 2013 Schedule on our web site.  Clink here to vist Schedule on the web.
| | | | |
| --- | --- | --- | --- |
| | CITRUS COUNTY | | |
| | SPEEDWAY | | |
| | Race Finishes for: | | |
| | December 15, 2012 | | |
| | | | |
| | | | |
| | Open Wheeled Modifieds | | Feature |
| Car-# | Drivers Name | Home Town | Finish |
| 289 | Richie Smith | Hernando | 1 |
| 011 | Josh Todd | Polk City | 2 |
| 25 | L. J. Grimm | Seffner | 3 |
| 121 | Devin McLeod | Zephyrhills | 4 |
| 198 | Wayne Morris | Malberry | 5 |
| 18 | Shane Butler | Bushnell | 6 |
| 127 | Kyle Maynard | Weirsdale | 7 |
| 43 | Gator Hise | Inverness | 8 |
| 13 | John Ditges | Orlando | 9 |
| 11b | Earl Beckner | Orlando | 10 |
| 01 | Herb Neumann Jr. | Inverness | 11 |
| 98 | Robbie Cooper | Bronson | 12 |
| 70 | Jeremy Gerstner | Wesley Chapel | 13 |
| 118 | Kevin Peel | Chipley | 14 |
| 2 | Steven Hise | Inverness | 15 |
| | | | |
| | | | |
| | Sportsmen | | Feature |
| Car-# | Drivers Name | Home Town | Finish |
| 69 | Mike Bresnahan | Lecanto | 1 |
| 4 | Jay Witfoth | Beverly Hills | 2 |
| 20 | Kyle Maynard | Ocala | 3 |
| 55 | Ernie Reed | Crystal River | 4 |
| 97 | Brent Cooper | Dunellon | 5 |
| 32 | Charles Shelton Bowers | Cheifland | 6 |
| 8 | Mark Davis | Alachua | 7 |
| | | | |
| | | | |
| | Street Stocks | | Feature |
| Car-# | Drivers Name | Home Town | Finish |
| 98 | Bubba Martone | Floral City | 1 |
| 3 | Curtis Flanagan | Inverness | 2 |
| 53 | Kyle Peters | Clermont | 3 |
| 52 | Tommy Stokes | Floral City | 4 |
| 48 | Scott Hendrickson | Bushnell | 5 |
| 007 | Mark Fallows | Crystal River | 6 |
| 5 | James Peters | Winter Garden | 7 |
| 31 | Tom Potts | Dade City | 8 |
| 28 | Chris Swain | Bushnell | 9 |
| 7 | Krystal Maynard | Ocala | 10 |
| 92 | Robert Kuhn Jr. | Dunnellon | 11 |
| | | | |
| | | | |
| | Mini Stocks | | Feature |
| Car-# | Drivers Name | Home Town | Finish |
| 32 | Jeremy Sharrone | Floral City | 1 |
| 46 | Dora Thorne | Floral City | 2 |
| 98 | Kevin Stone | Dade City | 3 |
| 77 | Kevin Knox | Wesley Chapel | 4 |
| 37 | Ricky Henick | Inverness | 5 |
| 10 | Shelley Mallory | Ocala | 6 |
| 50 | Jesse Mallory | Ocala | 7 |
| 5 | Kristin Clements | Lakeland | 8 |
| 46 | Shannon Kennedy | Summerfield | 9 |
| 7 | Kennth Walkins | Summerfield | 10 |
| 73 | Jason Terry | Bellview | 11 |
| 51 | Buddy Mallory | Summerfield | 12 |
| 169 | David Pate | Ocala | 13 |
| 11 | Jerry Daniels | Weirsdale | 14 |
| | | | |
| | | | |
| | Pro Figure-8s | | Feature |
| Car-# | Drivers Name | Home Town | Finish |
| 1 | Michael Cherry | Tampa | 1 |
| 01 | Mason Love | Pinellas Park | 2 |
| 85 | Thomas Peet | Floral City | 3 |
| 32 | Eric Sharrone | Floral City | 4 |
| 86 | Justin Meyer | Largo | 5 |
| 94 | Charlie Meyer | Pinellas Park | 6 |
| 88 | William Stansbury | Inverness | 7 |
| 7 | Neil Herne | Homosassa | 8 |
| 28 | Benny Harris | Spring Hill | 9 |