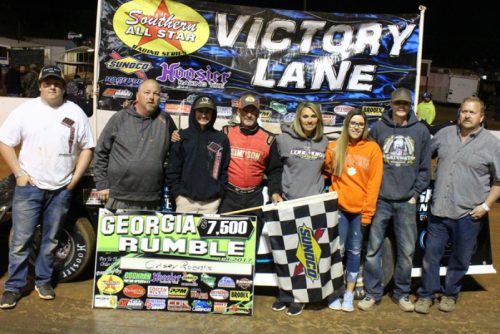 COCHRAN, GA-Casey Roberts of Toccoa, GA., paid visit number three to Southern All Star victory lane in 2017 as he moved under Travis Pennington on lap 31 who was slowed by a lapped car to get his 12th career win with the series and also pad his points lead over second place Bo Shirley.  Pennington in his first start with the series in 2017 led the first half of the event as he and Roberts swapped the lead back and forth several times.  Pennington then made one last run at Roberts on the last restart but he had to contend with a late race challenge from Michael Page to  hang on to second, third went to Page who worked the high side most of the night, fourth place went  to Austin Horton of Newnan, GA., who had his best run so far with the series this season and it moved him into the third spot on the points standings and finishing fifth was 2008 Southern All Star Rookie  of the Year Jason Fitzgerald of Jacksonville, FL., who rode the high side all night but could never get the traction he needed to advance further.
RACE TIDBITS: Ivedent Lloyd had an impressive run from 24th to 11th; Clint Smith rolled his car in qualifying, then drove back on track qualified it then had to bring out back up car, only to end his night with broke driveshaft; Hunter Peacock broke a motor in qualifying; 2004 Southern All Star Champion Shane Tankersley made his first appearance again with the series after being off for 13 years.
Roberts  Sponsors: Longhorn Chassis/Custom Race Engines/Cushman Paint & Body/Hoosier Racing Tires/M&S Concrete/Schaeffer Oil/Starrette Trucking/VP Racing Fuels
Car Count: 25
SUNOCO RACE FUELS GROUP QUALIFYING: Group A Travis Pennington 14.167; Group B Casey Roberts 13.929
Hoosier Racing Tires Heat Winners: Travis Pennington; Casey Roberts; Jason Fitzgerald; Bo Shirley
PPM Race Products B Mains:
AR Bodies Last Car Lead Lap: Shane Tankersley
COR Suspensions 10th Place Finisher: Eric Hickerson
36 Racing & Fabrication Hard Charger: Ivedent Lloyd
Race Car Engineering Hard Luck Award: Hunter Peacock
BrakeOMeter 4th Place Finisher Award: Austin Horton
Results Pending Tire Test: 1.Casey Roberts; 2.Travis Pennington; 3.Michael Page; 4.Austin Horton; 5.Jason Fitzgerald; 6.Tristan Sealy; 7.Bo Shirley; 8.Shane Tankersley; 9.Brandon Carpenter; 10.Eric Hickerson; 11.Ivedent Lloyd; 12.J R Moseley; 13.Brian Ligon; 14.Tyler Crowder; 15.T J Reaid; 16.Pearson Lee Williams; 17.Gar Dickson; 18.Kayne Hickman; 19.Zach Leonhardi; 20.Clint Smith; 21.Kelly Walker; 22.Jason Lyles; 23.Matt Perry; 24.Mark Page
DNS:  Hunter Peacock
The next Southern All Stars event will be on Saturday night April 29th at the Smoky Mt Speedway in Maryville, TN.,  a 50 lap $7,500 to win event.
For more information on the www.smokymountianspeedway.com
For more information concerning the Southern All Stars contact Lynn Acklin – General Manager: 256-924-4546 www.sasdirt.com
2017 SOUTHERN ALL STAR POINTS STANDINGS: 1.Casey Roberts 382; 2.Bo Shirley 336; 3.Austin Horton 314; 4.Tristan Sealy 304; 5.Clint Smith 302; 6,T J Reaid 294; 7.Eric Hickerson 256;  8.Tyler Crowder 246; 9.J R Moseley 212; 10.Brad Skinner 196
2017 CRUISE WITH THE CHAMPIONS/DIRTONDIRT.COM ROOKIE OF THE YEAR: 1.Austin Horton 314; 2.Tristan Sealy 304; 3.T J Reaid 294; 4. Eric Hickerson 256; 5.Tommy Taylor 58
2017 AR Bodies Challenge: 1.Eric Hickerson 106; 2.Brad Skinner 82; 3.Josh Putnam 45; 4.Brandon Overton 38.
UPCOMING SOUTHERN ALL STAR DIRT RACING SERIES EVENT:
April 29-Smoky Mt Speedway-Maryville, TN $7,500
May 6-Talladega Short Track-Eastaboga, AL $4,000
May 13-Thunderhill Raceway-Lawrenceburg, TN $4,000
2017 Southern All Star Dirt Racing Series Sponsors:
*Hoosier Racing Tire "The Official Race Tire" of the Southern All Star Dirt Racing Series *Patriot Sports "The Official Merchandise Vendor" of the Southern All Star Dirt Racing Series *Sunoco Race Fuel "The Official Racing Fuel" of the Southern All Star Dirt Racing Series
2017 Southern All Star Dirt Racing Series Marketing Partners Include: AR Bodies, Brodix Cylinder Heads, ,  COR Suspensions, Cruise with the Champions, DirtonDirt.com, H3 Performance Graphics, Integra Racing Shocks, , MSR Mafia Web Design and Service, PPM Racing Products, RockAuto.com, 36 Racing & Fabrication, Racecar Engineering, BrakeOMeter