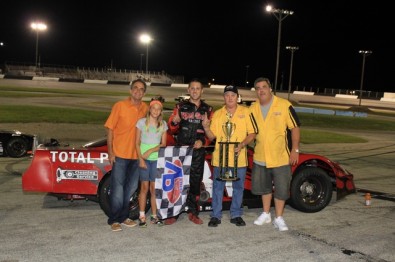 Scott Lockwood – For most of Saturday night's 75-lap, Turner Tree and Landscaping, Super Late Model feature at Full Throttle Speedway, Sarasota's Anthony Campi looked like he would cruise to an easy victory. But Riverview's Joe Boyd had other ideas after staging a late rally of his own.
Campi and Boyd shared the front row for the night's main event. Campi jumped out to an early lead and needed just 16 laps around the 3/8-mile oval to begin lapping traffic. By the time the race reached 25 laps, Campi had already lapped half the field.
The night's first caution came out when Bradenton's Dennis Colletti spun right in front of third-place running and Bradenton resident Jessie Dutilly on lap 27. On the restart, Campi flexed his muscles and pulled out to nearly a six-second lead at times over Boyd and Dutilly. On lap 53, Boyd and Dutilly found themselves spinning in turn one, but were allowed to keep their positions on the restart.
A rash of caution flags over the next several laps gave Boyd and Dutilly a shot at Campi, who was able to fend off his challengers about a lap into each run. On lap 57, Dutilly got second from Boyd, who fell all the way to sixth place after being trapped on the track's outside line for several laps. A few laps later, Dutilly was getting pressure from Jeff Scofield for second place. The duo swapped positions several times until Scofield made contact with Dutilly with 10 laps left and spun, knocking himself out of contention for the win.
Boyd had worked his way back up to fourth before the final restart. He quickly picked off Chris Fontaine and a quickly-fading Dutilly, who would fall all the way to seventh in the final finishing order. Boyd began closing on Campi, getting to the leader's bumper several times in the final four laps. Boyd tried to get under Campi heading to the white flag, but Campi held off the challenge and finished off the race by leading every lap in a winning effort.
Fontaine, who has competed regularly in the NASCAR Craftsman Truck Series, finished third despite an earlier spin. Scofield came back to finish fourth and Steve Gill rounded out the top five.
Campi pocketed an extra $100 for leading at the race's halfway mark. Dutilly was the night's fastest qualifier with a lap of 14.385 seconds. Fontaine won the hard charger award after starting ninth and finishing third. Jake Perkins, who ran in the top five for the first half of the race, claimed the Hard Luck award after being knocked out in an accident and finishing 14th.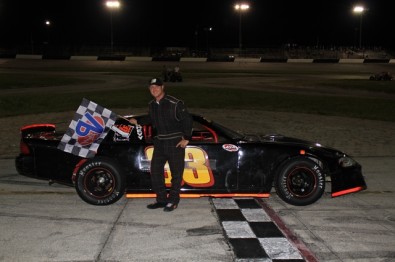 In Street Stock action, Duane Best was looking to add another feature win to his already-impressive resume at Full Throttle Speedway. For the first 15 laps of the 25-lap feature, Best opened up nearly a half-lap lead before a caution flag brought Bill Vandevender and Ander Jackson, who started shotgun on the field, back into contention.
On a restart with about seven laps left, Vandevender needed two laps to get by Best. From there it was clear sailing for Vandevender, who won his first race of the season. Jackson got by Best in the final laps for second place. Earlier in the evening, Best and Richard Nelson won the heat races.
In other action, Chris Gimmler took the win in the T.Q. Midget feature, while Myakka City's Sherri Best won the feature in the Rookie 4 for the third week in a row.
Cliff Wilham took the Outlaw Modified Feature; and Rick Sirmans took the checkered flag in the Modified Mini feature.
Justin Teston took his first career feature win in the Road Warriors division, and Bradenton's Ronald Robinson finished the night with a win in the Pro 4 class.
Next week, the Late Model Sportsman class highlights the action at Full Throttle Speedway. Pro and Rookie Trucks, Bandeleros, Dwarf Cars and Street Stocks, Pro and Road Warriors will also be in action.
Results from Full Throttle Speedway 5-18-2013
Turner Tree and Landscaping Super Late Models
1.81 Anthony Campi Plant City
2. 5 Joe Boyd Riverview
3. 47 Chris Fontaine Lakeland
4. 07 Jeff Scofield Plant city
5. 67 Steve Dorer Lakeland
6. 5x Steve Gill Sarasota
7. 30 Jessie Dutilly Bradenton Fast time
8.00 Anthony Cataldi Umitilla
9. 70 James Glover ClearwaTER
10. 97 Patrick Starpoli Miami
11. 4 Dennis Coletti Bradenton
12. 22 David King Alturas
13. 14 Kraig Hall Owens Bourgh Kentucky
14. 59 Jake Perkins Ocala
15. 10 Jason Miller Lehigh
Rookie 4
1.3 Sherry Best Myakka City
2.11 Zach Rogers Clearwater
3.41 Marina Petty Venice
4.41t Tino Gleusner Venice
5.55 Josh Widner
T.Q.Midgets
1.51 Chris Gimmler Palm Beach Gardens
2. 30 Rob Kohler Naples
3. 63 Mike Belusar Punta Gorda
4. 11 Jimmie Wilkens Ft. Pierce
5. 23 Steve Maier Port St. Lucie
6. 7 Jamie Barnum Brooksville
7. 58 Stu Chamberlain Bokeelia
Pro 4
1.05 Ronald Robinson Bradenton
2.91 Jessica Ostrovskis St. Pete
3.99 Johnny Marra Cape Coral
4.26 Brian Hillyer North Port
5.73 Randy Johnson Bradenton
Street Stock
1.33 Bill Vandevender N. Ft. Myers
2. 91 Ander Jackson Punta Gorda
3. 3 Duane Best
4. 80 Richard Nelson Port Charlotte
5. 7 Blaine Bear Port Charlotte
6. 67 Jimmy Best Myakka City
7. 10 Tim Miller Jr. Bradenton
8. 64 David Bowman Bradenton
9. 19 Jimmy Middendorf Naples
10. 36 Stuart Vandevender N. Ft. Myers
11. 1 Mark Picklesimer D.Q.
Road Warriors
1.13 Jason Teston Lehigh
2. 8 Shane Leonard Cape Coral
3. 33 Chris Loney Naples
4. 81 JAMES Dellea 3rd. Port Charlotte
5. 63 Kyle Best Myakka City
6. 18 Logan Leonard Cape coral
7. 80 Richard Nelson Port Charlotte
8. 43 Mark Petty Venice
9. 73 Aaron Hardgrove Lehigh
10. 15 Clint Snyder North Port
11. 44 Rick Hess Englewood
12. 97 Chris Scott Nokomis
13. 51 Jarrett Cornell Ft. Myers D.Q.
Outlaw Modified
1.00 Cliff Welham North Carolina
2.22 Kyle Rice Labelle
3. 19 Kevin Campbell Tampa
4. 04 Tom Myers St. Pete
5. 61 Paul Richards Jr.
6. 5 Kevin Endee Eljobean
7. 28 Raymond Jones Arcadia
8. 56 Jim Lafreniere Florida
9. 9p John Parrish Tampa
10.26 Mike Endee North Port
11.14 Dan Akard Ft . myers
12.10 Robert Campbell Tampa
13. 9 Antonio Gonzales Cape Coral
14. 51 Mark Patton N. Ft. Myers
Modified Minis
1.32 Rick Sirmans Pineallas Park
2. 01 Tom Zimmerman Largo
3. 6 Dave Davis Bradenton
4. 5 Justin Hunt
5. 88 William Rohrer Myakka
6. 82 Tim Herrington Zerperhills
7. 45 Mike Kerrivan Myakka