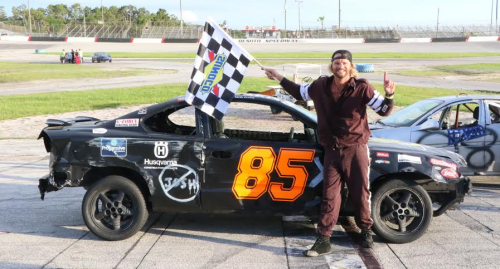 SCOTT LOCKWOOD – Not even a two-month break could slow down Richard Campbell out of Sarasota for most of Saturday night's action at Desoto Speedway.
 If not for a broken axle, Campbell may have swept all three events in Desoto Speedway's Enduro-style classes. Duane Campbell made sure that things would remain in the family, capping off a night of mayhem and destruction in Desoto Speedway's summer Kid's Night Out.
 The Enduro cars kicked off the night with a 35-lap feature. Richard Campbell, driving a new car for the series, grabbed the lead at the standing start and took command of the race. He would dodge backmarkers – and crashed and broken down race cars – on his way to a flag-to-flag victory. Duane Campbell finished second, with Nick Draganov taking third.
The cars then took to the track for a 10-lap road course race through the track's infield. Richard Campbell took the lead at the start and survived the rough-and-tumble affair that saw the track littered with debris for the win. Duane Campbell and Draganov were second and third.
Richard Campbell took the lead three laps into the 10-lap flag pole race, an event where cars had to maneuver around "poles" on the straightaways. Just before the halfway point the rear axle failed on Richard Campbell's car, allowing Duane Campbell to assume the top spot and drive on to the victory. Nick Draganov finished second, and Kyle Case rounded out the
podium in third.
In other action Saturday night, Wally Smith lapped all but one bus on his way to taking the victory in the 20-lap School Bus Figure 8 feature; Gerald Overstreet outlasted Aaron Yankee to win the small car demolition derby; and Jeff Cox won the big car demolition derby.
Desoto Speedway will be closed next weekend for a drifting event and returns to racing action on July 9 with the DASS Sportsman, a 75-lap feature for the Take Aim Gun Range Street, Stocks, Pure Stocks, Mini Stocks, Modified Minis and Bombers.
06-25-2016
 DESOTO SPEEDWAY RACE RESULTS
 Enduro
 1. 85 Richard Campbell
 2. 08 Duane Campbell
 3. 01 Nick Draganov
 4. 14 Michael Meek
 5. 2 Matt Carpenter
 6. 111 Kyle Case
 7. 869 Joe Lombardi
 8. 702 Carl Arrigoni
 9. 7m Molly Lombardi
 10. 07 Trevor Appling
 11. 367 Kyle Best
 12. 61 Stephen Babcock
 13. 80 Bill Osborne
 14. 55 Steve Majors
 15. 3 James Prochaska
 16. 302 Leigh Sterrett
 17. 42 Anne Osborne
 18. 708 Justin Arrigoni
 19. 5y Arron Yahnke
 20 20 Billy Benoit
 21. 02 Josh Bridges
 22.
Road Course
 1. 85 Richard Campbell
 2. 08 Duane Campbell
 3. 01 Nick Daraganov
 4. 5y Arron Yanke
 5. 2 Matt Carpenter
 6. 809 Joe Lombardi
 7. 708 Justin Arrigoni
 8. 14 Michael Meeks
 9. 55 Steve Majors
 10. 111 Kyle Case
 11. 07 Trevor Appling
 12. 7m Molly Lombardi
 13. 302 Leigh Sterrett
 14. 42 Anne Osborne
School Bus
 1. 16 Wally Smith
 2. 25 Jeremy Bates
 3. 4 Amy Jones
 4. 76 James Kaweki
 5. 69 Trevor Appling
 6. 31 Gator Volk
 7. 14 Alex
 8. 6 James Volk
 9. 61 Glenn Keller
Flag Pole
 1. 08 Duane Campbell
 2. 01 Nick Draganov
 3, 111 Kyle Case
 4. 302 Leigh Sterrett
 5. 42 Anne Osborne
 6. 708 Justin Arrigoni
 7, 55 Steve Majors
 8. 07 Trevor Appling
 9. 85 Richard Campbell
 10. 2 Matt Carpenter
 11. 869 Joe Lombardi
 12. 7m Molly Lombardi
 13. 367 Kyle Best
 14. 14 Michael Meek
Little Demo
 1.13x Gerald Overstreet
 2. 5y Aaron Yahnke
 3. 869 Joe Lombaddi
 4. 871 Dalton Ellis
 5. 708 Justin Arrigoni
 6. 99f
 7. 20 Billy Benoit
 8. 14 Troy
Big Demo
 1. 96 Jeff cox
 2. 681 John Cash
 3. 69 Zac Giles
 4. 869 Joe Lombardi
 5. C77 Michael Cox
 6. 20 Billy Benoit
 7. 5y Aaron Yanke
 8. 581 Ricky Rinehart
 9. 238 Todd Cox
 10. 13x Brandon Gibson
 11. 14 Randy Kile