No. 33 Rheem Chevrolet News and Notes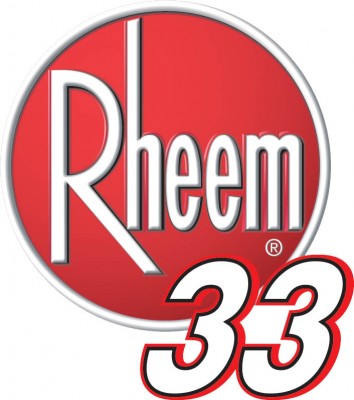 Taking on the Truck Series at Michigan International Speedway… Cale Gale will make his NASCAR Camping World Truck Series (NCWTS) debut at Michigan International Speedway on Saturday afternoon, August 18.  The Sunoco Rookie of the Year contender currently has two NASCAR Nationwide Series (NNS) and two Automobile Racing Club of America (ARCA) Racing Series starts at the two-mile oval.  Most recently, Gale competed in the ARCA Racing Series event at Michigan International Speedway in July 2011.  After starting from the pole, the Mobile, Ala. native led 64 laps but suffered a flat tire with four laps remaining in the 100-lap event relegating him to a 19th-place finish.
Taking a Trip Home for ESR Crew Member… The NCWTS' annual stop at Michigan International Speedway will give Eddie Sharp Racing (ESR) team member, Jeff Keller, a chance to race near his old stomping grounds.  Keller, who joined ESR in August 2011, was raised just 35 miles from Michigan International Speedway in Lyons, Ohio, and later lived in Ann Arbor, Mich.  Keller is ESR's shock specialist and helps on the No. 33 Rheem Chevrolet team of Gale during race weekends.
Meet Cale Gale… The NCWTS will feature an open garage at Michigan International Speedway on Friday, August 17th.  At 4:00 p.m., NASCAR fans will be invited into the garage to get a first-hand look at what goes on during a NASCAR race weekend.  At the same time, the series' will host an autograph session in the garage near gate 55c.  Wristbands are required to receive an autograph.  Following the autograph session, Gale will join teammate Justin Lofton for a question and answer session at the Chevy Stage.  Come out to meet ESR's driver lineup at 5:15 p.m. in the fan zone.
Rheem Crew Members Goes to the Movies… Greg Powell, the front tire carrier for Cale Gale and the No. 33 Rheem Chevrolet team, made his Hollywood debut on Wednesday, August 8, in Nitro Circus The Movie 3D.  Powell, a graduate of the University of Maryland, has been riding bikes and doing stunts with his cousin, Travis Pastrana, since they were young.  By 2004, the Nitro Circus crew was putting on live shows across the country and on MTV.  For more information about Nitro Circus The Movie 3D, or to find a theater near you, visit: http://nitrocircus.com/go/the-nitro-circus-3d-movie/.
Battling for Points… Gale picked up two positions in the NCWTS championship points battle following the Pocono Mountains 125 at Pocono Raceway earlier this month.  With three top-10 finishes this season, Gale is solidly within the top 15 in drivers points, ranking 12th, and ranks 14th in the owner points standings.  Currently second in the Rookie of the Year point standings, Gale is chasing down leader Ty Dillon.
Follow Cale… Follow Cale Gale, driver of the No. 33 Rheem Chevrolet Silverado, on twitter @CaleGale and Facebook (facebook.com/CaleGale), and check out CaleGale.com for the latest news and updates.
Get the Inside Scoop…  Follow Eddie Sharp Racing on Twitter or become a fan on Facebook to get real-time updates and behind-the-scenes information:  @TeamESR or facebook.com/teamesr.
Watch and Listen… The NASCAR Camping World Truck Series will make its annual stop at Michigan International Speedway this Saturday, August 18.  SPEED will broadcast final practice (2:00 p.m. ET, Friday) and qualifying (9:30 a.m. ET, Saturday) from Brooklyn, Mich.  Live coverage of the VFW 200 will be aired on SPEED, MRN & SiriusXM NASCAR Radio, channel 90, beginning at 12:00 p.m. ET.
From the Driver's Seat
Cale Gale Quotes… On racing at Michigan International Speedway:  "I'm really excited about racing at Michigan International Speedway this weekend with the No. 33 Rheem Chevrolet.  It should be a pretty interesting weekend with the new pavement.  I expect the new surface will allow for multiple grooves of racing and a lot of side-by-side action.  We have three practices this weekend, which will give us plenty of time to run through changes and set up options on our Rheem Chevrolet.  Jerry [Baxter, crew chief] and the guys have worked really hard to get our Silverado ready; we are all looking forward to getting on the track in Michigan."
From the Pit Box                      
Jerry Baxter Quotes… On getting ready to race at Michigan International Speedway:  "We're really looking forward to getting to Michigan International Speedway with the No. 33 Rheem Chevrolet.  Our team participated in a tire test there two weeks ago.  The track seems to be more aerodynamic than mechanical; we were able to run wide open all the way around the track for 70 laps.  We only had two trucks at the tire test, so it will be interesting to see what it's like with a bunch of trucks.  Cale has raced at Michigan before, and has run well there in the past.  We're taking the truck that we raced at Chicagoland Speedway last month when we finished in the top 10, and hope to follow that up with another strong run."