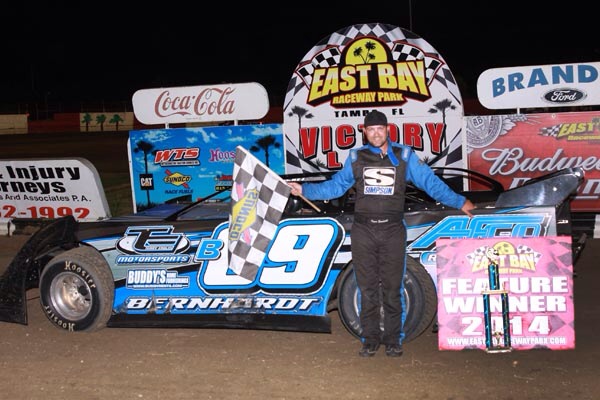 GIBSONTON — At East Bay Raceway on Saturday night, feature winners on the 1/3-mile clay oval Bryan Bernhardt winning the Late Models, Forrest Gough in the Limited Late Models, Brandon Yates in the Outlaw Fours, Kayla Jones in the Motorstats.com 4 Cylinder Bombers and Ashley Humfeld in the Ladies Powder Puff.
In the Late Model 25-lap feature it was Bryan Bernhardt picking up his second win of the year after a close call on the opening lap. Bernhardt was able to hold off hard charging Phillip Cobb and David Pollen, Jr. Pollen, Jr. and Cobb won their heat races.
In the Limited Late Model 15-lap feature it was Forrest Gough picking up his eighth feature win of the year. Dalton Myers would finish second with Jeremy Simpson third. Gough and Richard Livernois, Jr. won their heats.
In the Outlaw Fours 15-lap feature it was Brandon Yates picking up the win after early leader Brian Barse broke his motor. Nick Hebrank would finish second with points leader Zach Amundsen third. Barse would win the heat race.
In the Motorstats.com 4 Cylinder Bomber 15-lap feature it was Kayla Jones picking up her third feature of the year moving her up to second in points. Finishing in the second position would be Bailey Purcell and Richard Humfeld third. James Paes would win the heat race.
In the Ladies Powder Puff 12-lap feature it was first time Ashley Humfeld picking up the win with Angela Mayhew and Connie Humfeld third.
Action continues next Friday night on September 12th with the go-karts with their practice sessions starting around 6:15 pm and the racing around 7:30 pm and on Saturday September 13th with the Late Models, East Bay Sprints, Q Auto & Injury Attorneys Street Stocks, V8 Warriors and the Sunshine Micro Sprints. For information, visit eastbayracewaypark.com or call 813-677-7223.
EAST BAY RACEWAY
Saturday's results
Late Models (25-lap feature)
1. B69 Bryan Bernhardt
2. 03 Phillip Cobb
3. 88 David Pollen, Jr.
4. 105 David Schmauss
5. 11J Jamie Slatton
6. 311 Kenny Monahan
7. 95 Steven Mathis, Jr.
8. 46M Kyle Musselman
9. 11M Megan Meyer
10. 141 Mavrick Varnadore
11. 83 Wayne Hayes
12. 87 John Norris
13. 25 Gary Foxworth
14. 3 Billy Boyd, Sr. (DNS)
Limited Late Models (20-lap feature)
1. 21 Forrest Gough
2. 54 Dalton Myers
3. 73 Jeremy Simpson
4. 71 Richard Livernois, Jr.
5. 102 Jason Pope
6. 985 Henry Burnside
7. 66 Ricky Land
8. 22 Billy Howard, Jr.
9. 7 Mark Pickelsimer
10. 0 Darrell Taylor
11. 27 Scotty Williams
12. 222 Troy Dittebrand (DNS)
Outlaw Fours (15-lap feature)
1. 53 Brandon Yates
2. 9 Nick Hebrank
3. 20 Zach Amundsen
4. 41 Mark Moniz
5. 42 Candie Moniz
6. 5 Brian Barse
7. 77 Rachelle Rudolph
8. 19 Jake Hampton
9. 33 Don R. Quinn (DNS)
Motorstats.com 4 Cylinder Bombers (15-lap feature)
1. 4 Kayla Jones
2. 14B Bailey Purcell
3. 04x Richard Humfeld
4. 82 Devon Smith
5. 09x Brett Calonge
6. 4×4 Britt Mann
7. 47 Buddy Clay
8. 22 George Handy
9. 10 Randy Tyler
10. 0P Wayne Kissam
11. 48 James Paes
12. 17 Joe Rhodes
13. 5 Eddie Summitt (DQ in tech No Muffler)
Ladies Powder Puff (12-lap feature)
1. 82 Ashley Humfeld
2. 4 Angela Mayhew
3 04x Connie Humfeld