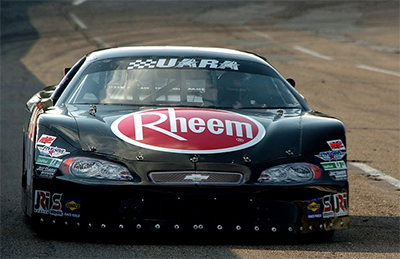 DENVER, NC (October 8, 2012) – Brandon Jones made it back-to-back top-five finishes in the United Auto Racing Association (UARA) STARS Series with a fifth-place run at Anderson (S.C.) Motor Speedway on Saturday night.  The young racer drove a clean event and saved his tires enabling him to pick up five positions during the closing laps and record his fourth top-five finish of the 2012 season.
Jones returned to Anderson Motor Speedway for his second UARA-STARS event at the 3/8-mile speedway.  With a fast No. 33 Chevrolet from Eddie Sharp Racing (ESR), Jones was able to record the third- and ninth-quickest laps during the two practice sessions.  The young driver posted a 15.869-second lap during time trials to secure the 11th starting position for Saturday night's Goodyear Tire & Rubber Company 150.
With tires at a premium, Jones logged laps while calmly waiting for his opportunity to make a move through the field.  The field was regrouped when the caution flag was displayed with just 30 laps remaining.  As the race restarted, Jones immediately began his charge through the field and toward the front of the pack.  During the closing laps, Jones was able to pick up several positions to cross the finish line in fifth-place.
"We had a really strong No. 33 Chevrolet this weekend at Anderson Motor Speedway," commented Jones.  "I'm really proud of the effort of my Eddie Sharp Racing team, and I'm already excited to get back on the track next weekend.  I feel like we've shown a lot of improvement as the year has progressed-we're proving that we're a competitor week after week.  We hope to be back up front and contending for the lead next week at Tri-County (N.C.) Motor Speedway."
Jones will be back behind the wheel in the UARA-STARS Series on Saturday, October 13, at Tri-County (N.C.) Motor Speedway