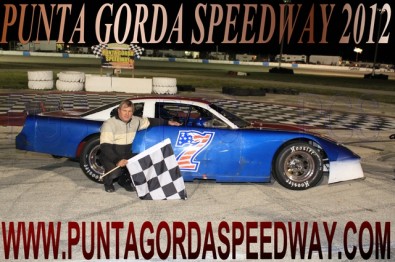 Saturday, Saturday, Saturday, if you were not at the Punta Gorda Speedway Saturday night, you missed a full, on the edge of your seat, night of racing action. To some, it seemed as if it was full moon racing, cars returning home not like them came in and others, it was a repeat of their race before.
The features started off with the Dwarf cars that ran bumper to bumper and side by side with the 08 of Rob Kohler as the leader. The 14 of Bo Bass was right there and battled Darren Bass for second  till ten to go when Bo Bass got by Kohler for the lead. Two laps to go the drive shaft broke on the 08 and the finish was Bo Bass of Eustis, Darren Bass and Larry Hubbard jr for third.
Road Warriors came out next and put on a heck of a show that was filled with cautions till they settled in and Chris Loney of Naples was fighting to stay ahead of the pack. Jason Miller took over the lead and never looked back as a real battle was going on for those next spots. When all the smoke cleared and some hard fought door to door racing, it was Richard Nelson that finished second Rocket Rick Reed was third.
Street Stock race at times seemed to be a race of drive through them not around them but the real race was Ryan Pancoast out of N. Ft Myers that took the lead away from a hard fighting Richard Nelson. "Back in the winner circle again" , it was Ryan Pancoast, with the 88 of Jimmie Meiser second, Shane Leonard third and Richard Nelson that got shuffled back to fourth on the last restart.
Super Late Models came out for 100 laps and these boys were in it to win it, on the first lap, but that didn't work out so good for some. Daryl Shelnut set fast time but it would be Joe Winchell that was in the front row with Wayne Anderson outside for the start of the race. Side by side the green is dropped and Anderson tried to get a jump on Winchell but Winchell hung on the inside, Shelnut got in the mix taking the 22 of David King with him. Going into turn one, bumping going on, out of two, trying to make the track wider than it was, going down the back stretch and the big one happened before one lap was in the books. Into the tires protecting the turn three opening it was Joe Winchell of Dade City and David King that got the worst of it and some badly tore up race cars to bring out the Red flag but everyone was ok. After the big wreck was cleaned up it was back to a double file restart since there was no laps on the board and it was Anderson on the pole with Richie Anderson outside. Wayne jumped out to the lead and Richie could not make the pass so he dropped in behind for second while Shelnut was in third. This is how they ran when we passed the half way mark, was something wrong with Shelnuts car or was it Waynes night, but then there is Richie Anderson who was putting the pressure on Wayne. Lap 60 Shelnut kicks in and passes Richie and sets his sights on Wayne who was driving the wheels off to stay in the lead. Lap 68, Shelnut gets past Anderson and that is how they ran till five to go.
Something broke on the 51 of Richie Anderson who dropped back and finished out the race but that third spot went to Randy Anderson. Randy Anderson made his way back up through the field after getting caught up in that first lap wreck and restarting in the rear. Joe Boyd would finish fourth and Billy Bigley fifth. " Back in the winners circle" to make it three in a row was Daryl Shelnut and Wayne Anderson was second.
Late Model Sportsman ran thirty laps that went off smoothly the first half but when the drivers saw the half way mark it was a different kind of race. The 09 of Donnie Ollie Jr sat on the pole while fast qualifier Josh Williams outside and at the start of the race Ollie took Williams high to the wall and Williams had to fall into second. It was Ollie and Williams till lap nineteen when Gary McFall got sent to the rear for the 98 of Danny Brown going around. Every restart Williams was being pushed closer to the wall while others tried to take advantage and go to the inside. Ten laps to go the 12 of David Williamson blows up and the 22 of Williams was looking more and more like an open wheel car. All bunched up and fighting for the same spot on many restarts Ollie went in the pits on lap 29 while McFall gets sent to the rear again with five to go. Josh Gorniak who drives from Homestead every race was now your new leader for a lap and it was on till the end, with bumper to bumper, side by side and "Back in the winners circle" it was Gary McFall that crossed the line first to win his second in a row feature. Aaron Williamson came out of nowhere to finish second and Greg Gorniak was third.
Pro 4 came out next and it was Kris Bridges that took the early lead till Paul Richards Jr got by on lap five. Bridges chased Richards the rest of the feature while the battle was going on between Dan Collver, Jessica Ostrovskis and Skyler Null who had that car hooked up for the night. When the checkers flew it was Paul Richards Jr "back in the winner circle ", Kris Bridges, Dan Collver and Skyler Null passed Ostrovskis on that last lap for fourth.
Cowboy Cadillacs was the last feature of the night and Jeff Deeble of Port Charlotte was in the lead till John Pummell got by on lap five. Deeble had to go to the pits with a beat up truck on lap eight and it was Pummell and Mike Bialecki that battle the remainder of the race. John Pummell Jr was the winner with Bialecki second and Trey Almand came home in third.
Next weeks racing action you do not want to miss
NOVEMBER 17 -PRO TRUCK-50, RT 25, R.W. – PRO 4, C.C,
OUTLAW MODIFIEDS, T.Q. MIDGETS,
FAN PARTICIPATION
visit our web site for all up to date information at www.puntagordaspeedway.com
or find us on Face Book at PGS Racing
resutls from 11-10-2012
Super Late Model
1. 7 Daryl Shellnut Lake City (fast time)
2. 84 Wayne Anderson Wildwood
3. 4 Randy Anderson Wildwood
4. 5 Joe Boyd Riverview
5. 28 Billy Bigley Naples
6. 59 Dustin Dunn Jupiter
7. 51 Richie Anderson N. Ft. Myers
8. 97 Brian Dorer Winter Haven
9. 28b Dylan Bigley Naples
10. 5x Steve Gill Bradenton
11. 25 Lee Arnold Naples
12. 55 Scott Walters Naples
13. 177 Ray Hester Lakeland
14. 57 Joe Winchell Dade City
15. 22 David King Alturas
Late Model Sportsman
1. 68 Gary McFall Venice
2. 13 Aaron Williamson Lakeland
3. 6 Greg Gorniak Homestead
4. 82 Josh Calvert Port Charlotte
5. 51 Michael Atwell Naples
6. 98 Danny Brown Lehigh
7. 22 Josh Williams Port Charlotte (fast time)
8. 12 David Williamson Lakeland
9. 67 James Dubose Arcadia
10. 09 Donnie Ollie Jr. Lehigh D.Q.
Street Stock
1. 47 Ryan Pancoast N. Ft. Myers
2. 88 Jimmy Meiser Lehigh
3. 18 Shane Leonard N. Ft. Myers
4. 80 Richard Nelson Port Charlotte
5. 33 Jim Middendorf Naples
6. 57x David Bowman Bradenton
7. 38 Jeff Gustafson D.N.S.
8. 2. Bobby Fischer Naples D.N.S.
Road Warriors
1. 10 Jason Miller Lehigh Acres
2. 80 Richard Nelson Port Charlotte
3. 1 Rick Reed Punta Gorda
4. 14 Randy Kile Lehigh
5.33 Chris Loney Naples
6. 97 Chris Scott Nokomis
7. 29 Phil Ellis Englewood
8. 22 Ann Marie Ricardi Naples
9. 17 James Stokes
10. 13 Justin Teston Lehigh
11. 44 Rick Hess
12. 5 Jeremy Daring Lehigh Acres D.N.S.
Pro 4
1. 61 Paul Richards Jr. Naples (fast time)
2. 63 Kris Bridges Venice
3. 00 Dan Collver N. Ft. Myers
4. 87 Skyler Null N. Ft. Myers
5. 91 Jessica Ostrovskis St Pete
6. 04 Ryan Collver N.Ft. Myers
7. 28 Corey Bigley Naples
8. 56 Stephen Babcock Punta Gorda
9. 99 Johnny Marra Cape Coral
10. 3 Chuck Null N. Ft. Myers
Cowboy Cadillac's
1. 86 John Pummel Jr. Arcadia
2. 92 Mike Bialecki Arcadia
3. 88 Trey Almand Port Charlotte
4. 99 Stuart Vandevender Cape Coral
5. 22 Ric Mills Arcadia
6. 8 Jeff Deeble Port Charlotte
7. 63 James Wright Naples
Dwarf Cars
1.14 Bo Bass Eustis
2. 25 Darren Bass Claracona
3. 56 Larry Hubbard Jr. Cape Coral
4. 33 Roger Richmond Port Charlotte
5. 77 Larry Hubbard 3 rd . Cape Coral
6. 21 Sammy Mancuso Naples
7. 75 Ray Counts Sissonville,W. Va.
8. 08 Rob Kehler Naples
9. 17 John Bailey Sarasota
10. 73 Tony Jenky Loxahatchie
11. 49 Darrell Fischer Loxahatchie