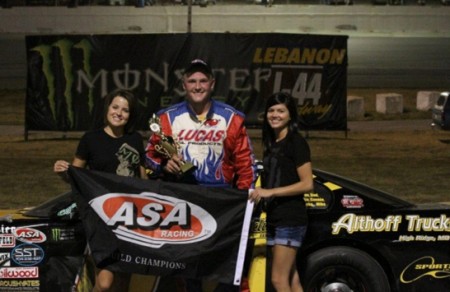 Kevin Ramsell/ASA Racing PR
DAYTONA BEACH, FL (Friday, August 10, 2012) – Much of the attention so far this season with the ASA Member Track National Championship has been the stellar undefeated runs by Shelby Stroebel and Lance Gatlin.  But there are other ASA Member Track competitors that could see themselves in contention for the National title if things go their way.
Both Stroebel and Gatlin will be in action this Saturday night. Gatlin was supposed to race last Saturday but that event was rained out.  Stroebel is still the overall leader with an average of 3.6429, while Gatlin leads the East with an average of 3.5027.
There are other competitors who could have a shot if they took over the point lead at their respective ASA Member Tracks. Some have a higher national average than their track's leader.  Remember, in order to have an opportunity to be the National Champion, a driver must win their ASA Member Track championship first.
Lebanon I-44 Speedway, an ASA member Track in Lebanon, MO, has a great battle between a veteran and a rookie this season.  Matt Wallace, son of NASCAR Nationwide Series driver Mike Wallace, is currently second in points behind Mike Slone in the ASA Late Model standings.  Wallace had mechanical issues last week allowing Slone to open up his lead.  Wallace does have a higher average than Slone, and actually Stroebel and Gatlin, in the National Standings due to having more events in the books.  He has an average of 3.7290 while Slone has a 3.4778.  If Wallace takes over the point lead at Lebanon I-44 Speedway, he could find himself in contention for the National title.
Stroebel has a comfortable lead in the ASA Modified standings at Meridian Speedway, an ASA Member Track in Meridian, ID.  He holds a 182-point lead over Rus Ward and 336-point lead over Jentry Pisca in the track standings.  Ward has a national average of 2.8666 while Pisca has a 2.566.
Dennis Queen is the current points leader at Newport Motor Speedway, an ASA Member Track in Newport, TN.  He comes into this weekend with an average of 3.6050, which puts himself into second place overall.  Queen has more completed events than both Stroebel and Gatlin to help give him the higher average.
Even though Gatlin has won all of the feature events so far at Lonesome Pine Raceway, ASA Member Track in Coeburn, VA, he holds a 74-point lead over Kevin Wolfe and an 80-point lead over Ryan Stiltner in the Limited Late Model standings.  Wolfe has a national average of 2.7021 while Stiltner has a 2.7202.
Ace Speedway, an ASA Member Track in Altamahaw, NC, has a tight points battle in their Late Model division.  Dustin Rumley currently holds a ten-point lead over Rodney Cook and an 18-point lead over defending ASA Member Track National Champion Barry Beggarly.  Rumley has the highest average among his fellow Ace competitors going into their next event on Friday night with a 2.9086.  Cook has an average of 2.6403 and Beggarly has 2.7644.
Michael Hale is looking good to defend his 2011 Maverik Modified championship at Rocky Mountain Raceways, an ASA Member Track in West Valley City, UT.  He currently has a 192-point lead over Roger Wilson and a 216-point lead over Mark Ith Jr. Lynn Hardy, who won last Saturday, is only 219 points behind Hale.  Hale has a national average of 2.7474 while Wilson has a 2.8362. Ith has an average of 2.4724 while Hardy has an average of 2.4688.
Shasta Speedway, an ASA Member Track in Anderson, CA, is rebuilding their great racing program under new management this season and they are seeing positive results.  Kyle Borden currently leads the ASA Modified standings with a 68-point lead over Mike Wright and an 86-point lead over Micah Parmer. Borden has a national average of 1.3704.  Wright has an average of 1.1516 with Palmer having an average of 1.096.
The closest point battle among the top eight tracks competing for the National Championship can be found at State Park Speedway, an ASA Member Track in Wausau, WI.  Mark Mackesy is trying to defend his 2011 Super Late Model championship but is only 14 points ahead of Mark Eswein and 24 points to Neil Knoblock.  Mackesy has a national average of 2.6826 but both Eswein and Knoblock have a higher average.  Eswein has a 2.7786 while Knoblock has a 2.7881.
"The championship battles at our ASA Member Tracks help create the battle for the ASA Member Track National Championship," Dennis Huth, ASA President said.  "Our ASA Member Tracks need to settle their local battles first before looking at the overall picture in the national championship.  When you look at each track's standings, it is easy to say that the track championship and the ASA Member Track National Championship battles are heating up. The action on the track will be exciting and fans need to watch it in person."
Throughout the season, drivers competing in the premiere divisions at eligible ASA Member Tracks are in the running for the 2012 ASA Member Track National Championship.
Speednetdirect.com, for the fifth year in a row, will tabulate the National Championship standings.  Using a proprietary formula that creates an average based on wins, finishing positions, number of cars passed, car counts and events.  The driver who wins their track championship and has the highest average over the other ASA Member Track champions will win the 2012 ASA Member Track National Championship.
Full standings are available at www.speednetdirect.com.   Click on the ASA Member Track logo at the top of the page.
To learn more about the ASA Member Tracks and Sanctioned Series in your area, please visit www.asa-racing.com. Follow ASA Racing on Facebook at www.facebook.com/american.speed.assoc and on Twitter at @ASARacing.
You can also look for the nearest ASA Member Track, get the weekend schedule, ASA Series information right on your smartphone by downloading the ASA Racing App for the iPhone and Android phones for free.  Just search for ASA Racing on iTunes and the Android Market and get the app today for FREE!
The American Speed Association started as a single racing series in 1968 and is a fast growing racing sanctioning body today. The ASA Member Track program sanctions dirt and asphalt short tracks along with road courses around the United States, as well as a variety of regional and national touring series. For more information call (386) 258-2221, or send an email to info@asa-racing.com. The latest news and information from all the racetracks and tours involved in the ASA can be found by visiting www.ASA-Racing.com.
ASA®, ASA Racing®, American Speed Association® are registered trademarks of Racing Speed Associates, LLC.
ASA MEMBER TRACK NATIONAL CHAMPIONSHIP
STANDINGS
1. Shelby Stroebel (Meridian Speedway) 3.6429
2. Dennis Queen (Newport Motor Speedway) 3.6050
3. Lance Gatlin (Lonesome Pine Raceway) 3.5027
4. Mike Slone (Lebanon I-44 Speedway) 3.4778
5. Dustin Rumley (Ace Speedway) 2.9086
6. Michael Hale (Rocky Mountain Raceways) 2.7474
7. Mark Mackesy (State Park Speedway) 2.6826
8. Kyle Borden (Shasta Speedway) 1.3704