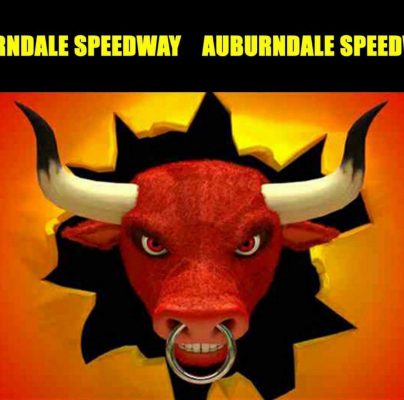 It was the V-8 Bomber class headlining the action Saturday night at Auburndale Speedway and the drivers would not disappoint as they put on a great show for a nice crowd on a cool, clear, yet comfortable evening.
It would be Kyle Peters topping the 14 car field in time trials with a lap of
16.377 seconds. Peters, making his first start of 2017 in his ultra-fast Camaro, was just a bit faster than James Wright III who turned in a lap of
16.503 and Carl Thompson, Jr. who tripped the clocks at 16.651. The top six would be inverted, though, meaning that Aaron Holmes would start his key lime green mount from the pole.
Holmes wasted little time getting to the lead while Peters quickly made his way up to fourth by lap nine. On lap 12, Peters slid under Wright and took over third just as the only caution of the event flew for Danny Burchfield who had stopped at the top of turn four. The restart proved to be an interesting one as Carl Thompson, Jr., the first driver to elect to start on the outside lane, grabbed the lead from Holmes and brought David Purvis with him.
Action continued under green flag conditions as Holmes got back by Purvis for second spot on lap 23 with Peters following suit two laps later. Holmes had his car hooked up to perfection and he drove around Thompson on lap 29 and began to pull away. Peters quickly worked his way by Thompson and set sail after Holmes.
Peters was able to move up on Holmes' bumper and even give him a tap or two over the final few laps but Holmes was super tough, especially off the corners, and he held on for a very popular victory. Peters had to settle for the runner-up position while Wright got around Thompson late in the going to nab third spot. Brandon Duchscherer took the checker in fifth. Josh Todd, who had to start scratch on the field, claimed sixth trailed by Mike Hubbard, Burchfield, Bubba Healey, Ricky Norman, Adam Briggs, Ronnie Abney, Purvis and Nick Malverty.
SAR Racing dominated the Legend Car action as teammates Seth Adams and Michael Cherry split the heat race wins. Cherry came back to lead the opening three laps of the 25-lap feature before Adams took over and led the rest of the way to remain unbeaten here so far this season. The event ran green to checker with Sprint Car veteran Shane Butler coming home third in one of the Bob Wilson stable of entries.
Alan Hiefnar took the checker in fourth with L. J. Grimm fifth. Sixth place went to Jason Welage followed by Greg Welage, Cale Nolen, Gavin Sexton and Blake Boyette. Mark Bibeau did not start.
Bruce Cozad looked strong in easily winning the Mini Stock heat but as the field took the green flag for the feature race, Cozad's car suddenly lost power scattering the field. Cozad was done for the night as track crews cleaned up some water that had spilled from his machine.
After the race finally went green it was John Cummins, Jr. leading the way for seven laps before Chris Narramore, Sr. stormed by and then raced to his third consecutive win to start the new year. Cummins held on for second in front of Fred Martin, Gordon Weaver, David Meyers, Sr., Tony Davidson, Colt Cecil and Cozad.
The Scrambler class put on the best race of the night as nearly the entire field ran right together from the drop of the green to the checker. Anthony Carroll was driving the race of his life holding off all challengers until a caution flag for T. J. Tanner's spin in turn four slowed the pace on lap 13.
Dustin Wilson battled Carroll on the restart and Wilson finally forged ahead and eventually took a hard-fought win over heat winner Shane Bennett and a disappointed Carroll. Fourth went to Glen Swanson ahead of Keith Cantrill, William Kerns and Tanner.
The Figure-8 cars wrapped up the evening with their usual wild 25-lap contest.
Preston Davis led wire to wire to score the win although he received plenty of pressure from Michael Cherry who settled for second with Joey Caterelli third. Wayne Calkins actually brought out a red flag on lap ten as his car suffered some kind of a problem and he slowed to a stop in the infield with a brief fire taking place that was quickly extinguished.
Calkins was actually able to return to the race where he eventually finished fourth ahead of Cliff Rousseau, Chuckie Henry, Jared Meyer, Ed Schultz and Wayne Whitehead.
Racing at Auburndale Speedway continues with the final Sunday afternoon race of the early season on February 19th featuring twin 50-lap races for the Sunshine State Challenge Series (SSCS) Sportsman and Pro Trucks. Racing
starts at 2 pm.