No. 33 Rheem Chevrolet News and Notes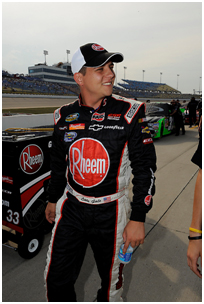 Second Chance at Iowa… Cale Gale and the No. 33 Rheem team had a fast Chevrolet and a strong run during their last trip to Iowa Speedway, but late-race contact resulted in a 26th-place finish for the Sunoco Rookie of the Year contender. After practicing inside the top 10 and qualifying sixth, Gale maintained his position near the front of the field. Gale was racing in the seventh position on lap 182 when he and another competitor made contact as a result of tight racing coming off a restart. The incident ended the night for both drivers as they emerged from their cockpits. After spending the entire race in the top 12, Gale was credited with a 26th-place finish in the American Ethanol 200 at Iowa Speedway.
• Sweet Home Alabama… Gale joined Eddie Sharp Racing (ESR) teammate Justin Lofton in Birmingham, Ala. on Friday afternoon to promote next month's NASCAR Camping World Truck Series (NCWTS) race at Talladega (Ala.) Superspeedway. The teammates helped kick off the college football season with a tailgate party at WJOX-FM where they greeted fans and handed out free tickets before going to visit the third-grade students at Moody Elementary School. The duo wrapped up their day at a private meet and greet with breast cancer survivors at America's First Federal Credit Union in Trussville, Ala. The drivers surprised three lucky ladies with autographs and free tickets to the fred's 250 at Talladega Superspeedway. After the event in Birmingham, Gale traveled to his hometown of Mobile, Ala. to join Rick Crawford and the staff at Mobile International Speedway as they announced their plans for 2013. As the defending winner of the Automobile Racing Club of America (ARCA) Racing Series' Mobile ARCA 200, the driver of the No. 33 Rheem Chevrolet was available for interviews during a press conference to announce the ARCA Racing Series' return to Mobile on March 9, 2013.
Cale Gale, driver of the No. 33 Rheem Chevrolet
• Battling for Points… With just eight races remaining in the 2012 NCWTS season, Gale is currently ranked inside the top 15 of both the championship driver and owner point standings. Gale, who has scored three top-10 finishes this season, is ranked 13th in driver points and 15th in owner points. Currently second in the Rookie of the Year points, Gale is chasing down leader Ty Dillon.
• Follow Cale… Follow Cale Gale, driver of the No. 33 Rheem Chevrolet Silverado, on twitter @CaleGale and Facebook (facebook.com/CaleGale), and check out CaleGale.com for the latest news and updates.
• Get the Inside Scoop… Follow Eddie Sharp Racing on Twitter or become a fan on Facebook to get real-time updates and behind-the-scenes information: @TeamESR or facebook.com/teamesr.
• Watch and Listen… The fight for the championship continues this weekend as competitors of the NASCAR Camping World Truck Series return to Iowa Speedway on Saturday, September 15. Get ready for all the action with coverage of qualifying from the 0.875-mile track on Saturday at 6:30 p.m. ET. Live coverage of the American Ethanol 200 presented by Hy-Vee will be aired on SPEED, MRN & SiriusXM NASCAR Radio, channel 90, beginning at 8:00 p.m. ET.
From the Driver's Seat
Cale Gale Quotes… On getting back to Iowa: "I'm really looking forward to getting back to Iowa Speedway with the Rheem Chevrolet this weekend. I enjoy the track and the style of racing there. It's like a big Richmond-small enough where you use a lot of brake, but big enough that you still carry momentum through the corners. We had a strong Rheem Chevrolet during our last trip to Iowa in July; we were good in practice and qualifying and were able to race inside the top 10 most of the night. Hopefully this time we'll be able to stay out of trouble and bring home a solid finish. Jerry [Baxter, crew chief] and all the guys have been working hard to make sure that we finish out the season strong. I can't thank my team at Eddie Sharp Racing or my sponsor Rheem enough for standing behind me all year. To be able to race a full season in the NCWTS has been a dream come true."
From the Pit Box
Jerry Baxter Quotes… On getting ready to race at Iowa Speedway: "We're very excited to get back to Iowa Speedway with the Rheem Chevrolet this weekend. We ran well in July, and plan to unload with our truck pretty similar to how we finished the last race. The whole Rheem team has a lot of confidence going into the race this weekend; we know that we can run well at Iowa. Hopefully we can stay out of trouble and keep up the momentum going into our first four-race stretch of the season."