Kentucky Driver Remains Perfect in Three Visits to Dirt-Covered Berlin Raceway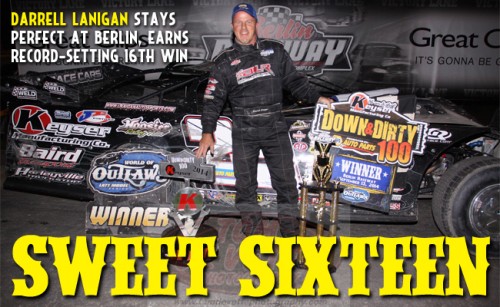 MARNE, Mich. – Sept. 13, 2014 – Darrell Lanigan of Union, Ky., maintained his perfect record at Berlin Raceway with a $15,000 victory in Saturday's third annual Keyser Manufacturing Down & Dirty 65 Presented by NAPA A-Main.
With his16th World of Outlaws Late Model Series victory of the season, Lanigan, 44, of Union, Ky., broke his own single-season wins record on the national tour and ensured that the he needs only to enter the season-ending World of Outlaws World Finals Nov. 6-8 at The Dirt Track at Charlotte to clinch his third WoO LMS championship.
"We broke a record and that's definitely something to be proud of," said Lanigan, who broke the record he set in his championship-winning season in 2012. "And to be the only winner of this event is definitely special, too."
Advancing from the fourth starting spot, Lanigan battled back and forth with polesitter Jeep Van Wormer of Pinconning, Mich., for the lead early in the 65-lap race before taking command for good when Van Wormer ran into trouble as the two leaders raced through slower traffic on lap 13.
Slipping too high in turns three and four, Van Wormer tagged the wall and slowed directly in front of Lanigan's Club 29 Race Car, causing Lanigan to get into the back of Van Wormer's Rocket Chassis. The contact sent Van Wormer spinning as Lanigan continued running and assumed the lead.
"I have to apologize to Jeep," Lanigan said of his involvement in the lap-13 accident. "It looked like he got up in the wall and then he kind of came back down. We had a head of steam coming in there and got into him. It wasn't nothing on purpose." ↓ Read the rest of this entry…