Wins First Ever Big-Block Modified Race at Eldora Speedway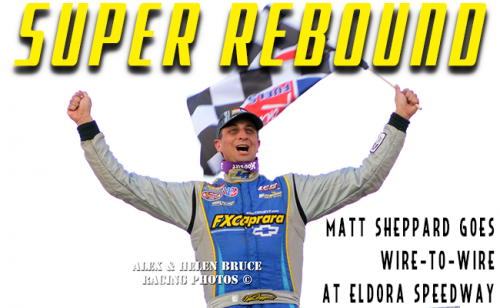 ROSSBURG, O.H. – July 20, 2016 – The 25-lap Super DIRTcar Series Big-Block Modifieds invitational exhibition at Eldora Speedway Wednesday night saw Matt Sheppard lead the field from green to checkered to score his first ever Big-Block modified feature at the 'Big E.'
"It means a lot to win here. I mean, after last night anything that could go wrong went wrong," said Sheppard about his sixteenth place finish the night before. "Turning it around tonight just shows how great this team is and how fast this race car is."
As the special feature kicked off at the legendary half-mile, Sheppard jumped out to a sizable early lead as Brett Hearn followed in second.
The first caution of the night was brought out on lap four as second place runner, Hearn, slowed to a stop in turns one and two for a shredded tire.
On the restart, the crowd saw Rich Scagliotta, Frank Cozze, and Peter Britten battling for the second spot.
Britten was running up against the outside wall trying to gain some ground on Scagliotta in second place and was able to charge to the outside and chase him down for the second spot. ↓ Read the rest of this entry…