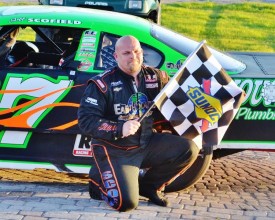 By SCOTT LOCKWOOD
Desoto Speedway
For the first three quarters of the 30th running of the Icebreaker 100 this weekend at Desoto Speedway, 2014 Brighthouse Series and Desoto track champion Jesse Dutilly looked like he'd start 2015 in a place he found quite often in 2014: victory lane.
But after a mechanical failure 26 laps from the end of the race brought the Bradenton's driver's hopes of winning the track's biggest race of the year to a screeching halt it was veteran driver Jeff Scofield who was left holding the trophy in front of the sun-drenched crowd in Eastern Manatee County.
Dutilly started on the pole and led the first five laps before being overtaken by Scofield for the top spot. As Scofield, Dutilly, Chris Fontaine and Anthony Cataldi battled for the top spot Cataldi and Fontaine tangled, triggering a melee that collected several cars and sending Cataldi to the pits with damage. He was able to rejoin the field before the restart after quick repairs.
Dutilly passed Scofield for the lead on the outside on a lap 21 restart and wasted no time pulling out to a 10 car-length lead over Scofield, Fontaine and defending race winner Joe Boyd. He had over a one-second advantage over Scofield when the caution flew for Troy McNabb's spin in turn four. ↓ Read the rest of this entry…