Hard-charging Matt Sheppard finishes 2nd to claim Super DIRTcar Series point lead going into Charlotte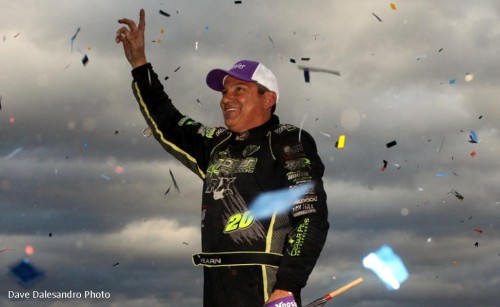 MIDDLETOWN, N.Y. – October 27, 2014 – Brett "the Jet" Hearn has been making a habit of winning at Orange County Fair Speedway. He picked up his 11 th career Eastern States Big Block Modified victory there Sunday, October 26, his third in a row.
"It takes a lot of people to make this happen," the Sussex, N.J. said in Victory Lane after Sunday's 200 lapper. "There's a lot of hard work, a lot of preparation goes into this thing and you come here on race day and try to put it all together."
Hearn made a clean sweep during Eastern States Weekend, fast timing Friday with a lap time of 20.763 and winningSaturday's 358-Modified feature race. He started Sunday's Super DIRTcar Series event on the pole, with Tim Hindley at the outside pole. At the green flag, Hearn took the lead, but it was Stewart Friesen, of Sprakers, N.Y., who cruised to second over Hindley.
Several cautions early in the race kept the leaders from picking up momentum, but Hearn was strong enough on every restart to maintain his position over Friesen. In lap 60, Bob McGannon went into the wall in turn four to bring the eighth caution of the race, and soon after the pits opened for mandatory pit stops. ↓ Read the rest of this entry…