Three-time champ was one of series' original racers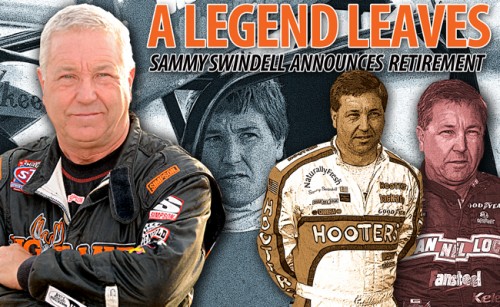 CONCORD, N.C. – Aug. 25, 2014 – The numbers and statistics are only a measure of the legend, but Sammy Swindell will be remembered as one of the greatest drivers in World of Outlaws history.
Swindell, who on Monday announced his retirement from full-time racing effective immediately, is a three-time World of Outlaws STP Sprint Car Series champion who achieved 294 victories. The Memphis, Tenn., area native was one of the original Outlaws who helped grow the series from its 1978 origins at Devil's Bowl Speedway into the premier sanctioning body it is today.
A calculating driver on the track, Swindell also is highly respected for his skills in building and setting up his cars, dedicating his life to perfecting the science of racing.
"Sammy's talent is more than a driver, he is an innovator," World of Outlaws STP Sprint Car Series Director Carlton Reimers said. "He was one of the 'Big 3′ along with Steve Kinser and Doug Wolfgang in the early days, and he persevered through the years. He was a threat to win every night. I hope he and Kevin find all the success they want." ↓ Read the rest of this entry…